Beer
Lord Hobo's revamped taproom opens Friday with pizza and new beer releases
In an exclusive interview, Boston.com spoke with the company's founder and CEO about The Humble Castle.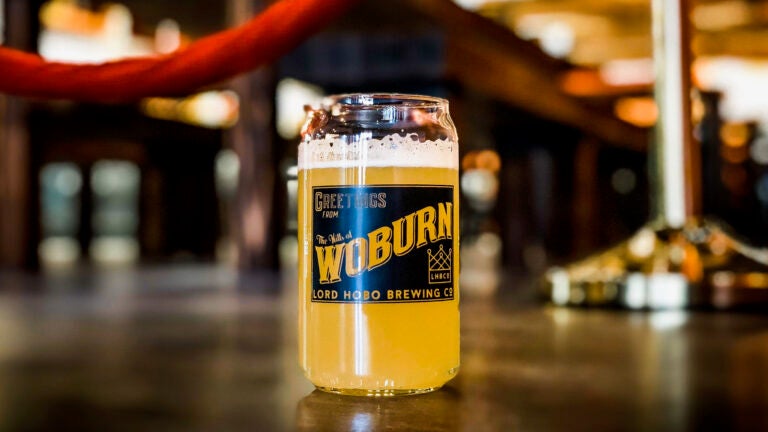 The gates to The Humble Castle are officially opening.
After closing in May for extensive renovations, the 3,500-square-foot taproom at Lord Hobo Brewing Company in Woburn debuts at 3 p.m. on Friday with a slew of new beers, expanded seating, and, for the first time, food. The company has dubbed the beer hall The Humble Castle, where both lords and hobos (and everyone in between) are welcome.
The Woburn brewery opened in 2015 after the success of the Lord Hobo beer hall in Cambridge, and had a functioning but small taproom where customers could grab a drink or two. The focus, however, was on making beer.
"Most breweries start out with a taproom model first and then [focus on] distribution," said Daniel Lanigan, founder and CEO of Lord Hobo, in an exclusive interview with Boston.com. "We were the opposite. We're now in 15 states. Once we established that, we turned our attention inward."
With the help of Joe the Architect, a boutique architect firm in Somerville, the taproom was transformed into a spacious beer hall with chandeliers, steel beams, plenty of wood, and 14 large, communal tables in addition to bar seating; the space now seats 150 people and can hold upward of 180. Lanigan is especially proud of the fact that guests can now see into the brewery from anywhere in the taproom, whether they're coming in to fill up a growler or sitting down to enjoy a pint.
Perhaps most importantly, Lord Hobo's tap offerings have expanded dramatically: With 40 tap lines available, around 20 are from Lord Hobo, a vast increase from the six or seven the taproom used to serve. All the core favorites are there — Boomsauce (the brewery's flagship IPA), Hobo Life, Virtuoso — along with a handful of new beers that include three stouts, a gose, and a triple IPA called Museum, which Lanigan described as having "no heat" despite its whopping 11 percent ABV. In the next few months, the brewery will release even more newcomers, including a mango version of Boomsauce. Rotating guest beers are also available, along with root beer and nitro cold brew coffee.
Joining the beer hall is chef Matthew Bullock, formerly of Lord Hobo's Cambridge beer bar; he'll focus on salads, snacks, and pizzas. Starting at 3 p.m. daily, guests can order The Figgy, a white pie with a sweet garlic base, mozzarella, and dried figs; and the seasonal Fall Veggie featuring mascarpone cheese, roasted delicata squash, taleggio, and honey.
"The support has been pretty overwhelming," Lanigan said. "People are super excited about it. Before, the taproom was loud and uncomfortable. Now we've put a ton of effort into making it awesome and just a better overall experience."
Part of that effort has meant bumping up the number of speakers in the taproom from two to 30 to give the room better acoustics. It's a big perk for the live music and DJ nights that are planned for the near future, along with trivia and yoga classes. An artist-in-residence program featuring international and national artists will be another important feature of the new space.
"What I like to do is, every four to six weeks, swap out the artwork," said Lanigan, who has opened a number of bars, including the venerable The Moan & Dove in Amherst, The Dirty Truth in Northampton, and Alewife in Baltimore and New York City. "It gives the room a fresh feel. I've done this [resident artist program] for 17 years of my career, and it gets to help out the community."
And in Woburn, community is key.
"We love Woburn. There's a lot of industry here," Lanigan said. "Historically, it's always been a blue-collar town. We have 100 staff members now, many employed from here. It's cool to be in a blue-collar town making beer."
Lanigan said that while the focus is on the new taproom, he's always looking to expand the brewery to Boston and, surprisingly, Florida. The lack of small breweries in the Sunshine State makes it a viable new region to conquer — and, he said, the weather is pretty sweet, too.
Lord Hobo Brewing Company taproom, 5 Draper St., Woburn; Mondays–Sundays from 11 a.m.–midnight; lordhobobrewing.com