Beer
16 New England IPAs every Bostonian should try
These recommendations come straight from the experts.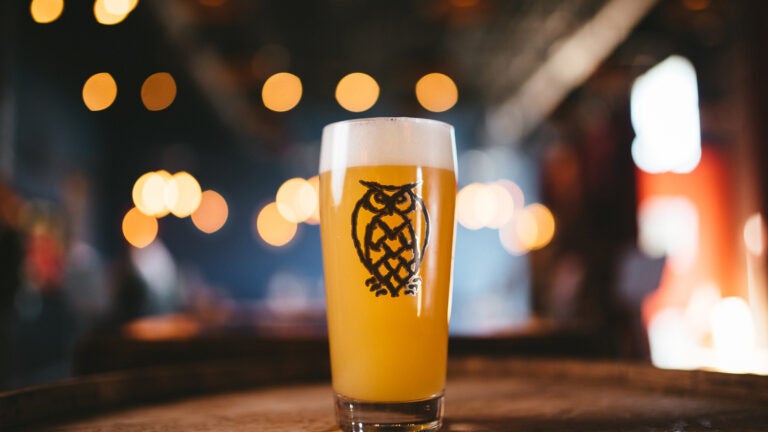 Inspiring both declarations of adoration and fierce vitriol, the New England IPA has emerged in recent years as a love-it-or-hate-it style of beer. The unfiltered IPAs are hazy, juicy, and aggressively hopped, and like it or not, they're sticking around for a while. We reached out to stalwarts in the Boston beer industry — along with a few artists, athletes, chefs, and TV personalities — who shared their current favorite NE IPAs (plus one IPA from New York).
Every Bostonian must try…
1. Voltage from Mystic Brewery in Chelsea
"I've been a fan of Mystic's farmhouse styles for a long time, and it comes as no surprise that they brew some pretty spectacular hoppy things, too. Voltage is plush and tropical, bitter but not cloyingly so. It's bursting with tons of candied orange and grapefruit notes, but won't kill your palate." —Suzanne Hays, beer director at Row 34
2. Preserve & Protect from Bissell Brothers in Portland, Maine
"I don't get out much these days, so I'm lucky that I have easy access to most of my favorites when I want a beer. That said, I'm always happy when I get my hands on some Bissell Brothers. The Substance is a classic, of course, but Preserve & Protect is a cool IPA they introduced this year as a tribute to their dad. I love a great beer with a great story behind it!" —Esther Tetreault, founder of Trillium Brewing Company
3. Woods & Waters from Maine Beer Company in Freeport, Maine
"I absolutely love Maine Beer Company's Woods & Waters. It was the only booze I missed while I was pregnant and the first adult beverage I consumed, albeit a small pour, after Will was born. It's piney and hoppy and so refreshing with its citrus notes. I love how Maine Beer Co. created this beer to commemorate the Woods and Waters National Monument at [Mount] Katahdin in Maine." —Anna Perna, head baker at Blackbird Doughnuts
4. Tubular from Orono Brewing Company in Orono, Maine
"I think the trick to get these beers right is to make them just drinkable enough, while still packing the 'thickness' representative of the style, and this brand hits it perfectly. I am happy to be able to get it more and more, in cans and on draft, as they continue to grow." —Peter Bissell, founder of Bissell Brothers
5. Heady Topper from The Alchemist in Stowe, Vt.
"I used to drink Stella and Corona, Carlsberg, whatever, never even had an IPA. I was sitting at Eastern Standard with Kevin Youkilis; he's a huge beer guy, as you know. He has his Loma Brewery, and the manager came up and said, Hey, I've got this secret beer list, do you wanna see it? And Youk's like, Love it, thanks, and the manager came down with two Heady Toppers. My first IPA I ever had was a Heady Topper, and I went home to my wife — we got two more [of them] — and I said, 'What the f*** have we been drinking our whole lives?' Obviously that set the bar pretty high." —Shawn Thornton, former Bruin
6. The 87 from Night Shift Brewing in Everett
"Night Shift's The 87 was one of my first introductions to New England IPAs. To this day, it's still super juicy, super hazy in all the right ways. I believe it pairs well with one of my favorite dishes: slightly spicy homemade ramen." —Casey Furtaw, "Resident Beer Enthusiast" at Beat Brew Hall
7. The Cat's Meow from Exhibit 'A' Brewing Company in Framingham
"Cat's has all the tropical fruitiness you expect in an NE IPA, with a touch of grapefruit bitterness at the end. It also isn't too hazy and has a nice brightness." —Kristen Sykes, founder of BABES (Boston Area Beer Enthusiasts Society)
8. Jigsaw Jazz from Fort Hill Brewery in Easthampton
"I just stumbled upon this one and was a bit reluctant as it's 9.3 percent ABV, but I'm glad I gave it a try. It drinks so deceptively smooth for that! It gets a bit boozy at the end, but not in a bad way, and the Citra dry hop makes for a true citrusy, pithy finish." —Maureen Fabry, brewer and founder of CraftRoots Brewing
9. Rebel Raw Double IPA from Samuel Adams in Boston
"I'm a big fan of Double IPAs, and Boston certainly has an intoxicating supply of great locally brewed DIPAs. One of my favorites is the Rebel Raw Double IPA from Samuel Adams. Even at 10 percent, this is a smooth, easy drinking beer with tons of flavor. Unfortunately, it's in very limited release so I'm always on the lookout for it." —Tom O'Keefe, founder of BostonTweet 
10. VT IPA from Long Trail Brewing Company in Bridgewater Corners, Vt.
"[This beer] is impressive in every way, with a citrus and tropical fruit aroma and flavor, low bitterness, and creamy mouthfeel, and it's $10 for a six-pack of 12-ounce cans. With NE IPAs pushing $20 and higher, this is a nice change." —Suzanne Schalow, founder of Craft Beer Cellars
11. Nico from Foam Brewers in Burlington, Vt.
"I dig that they've done something unique with an IPA that isn't over the top and for hype. Nico still has the foundation and flavors of a good NE IPA, but with some unexpected flavor characteristics that are very welcomed in my glass…like the subtle creamy-sweet vanilla, and banana, that lends itself to more old-world beer styles." —Heidi Geist, artist at 48 Beer Project
12. Wrench from Industrial Arts Brewing Company in Garnerville, N.Y.
"When it comes to a hazy IPA, nothing makes the juice wolves howl more than the words 'citra and mosaic,' and Wrench, the hazy, sticky, more than full-bodied IPA from Industrial Arts fits that bill. Longtime brewer Jeff O'Neil has figured out the best way to coax all the tropical flavors out of the hops and deliver into a light-consuming, orange-hued ale. Brewed in New York's Hudson Valley and in cans and on tap around the region, if you see it, buy it and see if it makes you sing to the moon." —John Holl, senior editor of Craft Beer & Brewing
13. Six Seam from Idle Hands in Malden
"I think one of the most underrated breweries in the area right now is Idle Hands. Their Six Seam is a phenomenal IPA and flies a little under the radar. You gotta love the baseball theme running through the brewery, too." —Eric Fisher, WBZ meteorologist
14. and 15. VT IPA from Long Trail Brewing Co. in Bridgewater Corners, Vt. and Virtuoso from Lord Hobo Brewing Co. in Woburn
"I think when it comes to New England IPAs, there's a common misconception that the only good ones need to be waited in line for or traveled for. LH and LT have created ones that are available for everyone, all the time. Both [are] hazy, juicy, and check all the boxes." —Kay Lorenz, owner at Craft Beer Cellars Braintree
16. Congress Street from Trillium Brewing Co. in Boston
"It's hard for me to mention [a New England IPA] without saying Trillium. Their IPAs — and pale ales, too, some of their pale ales are like 6 percent ABV — are just fantastic." —Chris Lohring, founder of Notch Brewing Co.
Responses have been edited for clarity and grammar.