Beer
Jack's Abby is opening a taproom in North Station this winter
The brewery will transform the train bar into a beer haven called Track Zero Taproom.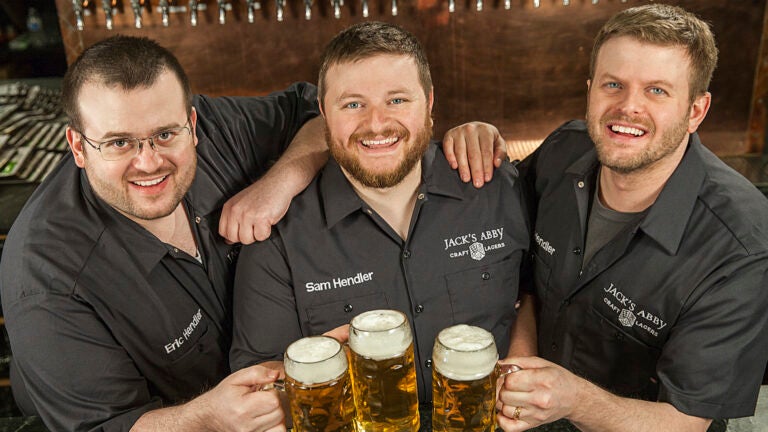 There's going to be a better way to break up your commute starting this winter, and it involves beer.
Jack's Abby will take over the train bar in North Station this winter, transforming the space into Track Zero Taproom. While an opening date hasn't been set, a brewery representative told Boston.com in an email that the taproom plans to open in late 2018 or early 2019.
The location is situated directly on the North Station platform that services the Orange Line, the Green Line's C and E branches, and various lines on the Commuter Rail.
While the takeover will be gradual, the brewery has already installed the 10 tap lines that will pour seven beers from Jack's Abby — expect to see core favorites like House Lager, Hoponius Union, Blood Orange Wheat, and Post Shift Pilsner — and three from its experimental offshoot, Springdale, which will always include a rotating IPA. Limited releases, sours, and beers from Jack's Abby's Kellerbier series will also be in rotation.
The brewery is still finalizing details on a food menu.
"We are always excited to bring our beer to people outside of Framingham, though up until now, we have only done this through events or tastings with our retail partners," co-founder Jack Hendler said in an email. "This great opportunity came up at North Station and we jumped on it! We hope that Track Zero becomes the go-to spot to grab a beer for commuters and event attendees alike."
Launched in 2011, Jack's Abby operates a popular beer hall and kitchen at their Framingham brewery. Their core beers are primarily lagers, but in 2016 the company launched Springdale, a new arm of the brewery that experiments with ales, IPAs, and barrel-aged beers.
Track Zero Taproom isn't the only addition coming to TD Garden. A $100 million investment was recently announced, which will aim to add 50,000 square feet, a capacity increase of approximately 400, and new amenities — including new bars and pop-up food options — over the next two years.