Beer
Turtle Swamp Brewing is opening a winter beer hall in Roslindale
The cozy pop-up will open Nov. 30.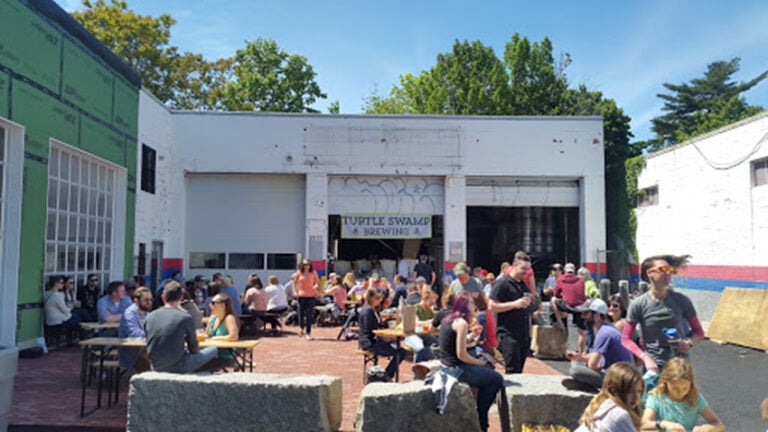 The days of summer beer gardens may be over, but with temps hitting the low 20s this week, another seasonal concept is in sight: the winter beer hall.
And Roslindale might just be your next stop for cozy beer drinking.
The Roslindale Substation, located in Roslindale Village, will be the site of the Turtle Swamp Winter Bierhalle opening on Nov. 30, where the brewery will offer six rotating beers in the historic building constructed in 1911. The space will offer open seating, local artwork, and pop-up food options from local restaurants.
After Trillium Brewing ran a successful pop-up beer garden in the substation last year, Roslindale Village Main Street's substation committee began looking for another brewery to bring the neighborhood together during the colder months. Wanting a local business to take over the space, they reached out to Turtle Swamp Brewing in nearby Jamaica Plain.
Nicholas Walther, Turtle Swamp's co-founder and brewer, said the whole thing happened fast.
"As of two weeks ago, we had no idea it was going to happen," he said. "The space is fantastic. It's huge and open and wonderfully old."
The beer hall's six tap lines will feature a rotating selection of Turtle Swamp's nine beers, including their flagship: Orange Line, a New England IPA. Visitors will also be able to find the JP Porter, the Serendipitous Pale Ale, the Toll Gate IPA, and more.
Walther shared that a new beer will likely be launched during their run at Roslindale. He's not yet sure what it's going to be — but "it'll probably be a New England IPA, since everyone loves them right now."
Turtle Swamp's beer hall will run until Jan. 15, at which point the brewery might have the option to extend its stay depending on the timing of a permanent tenant that hopes to move in. Alia Hamada Forrest, executive director at Roslindale Village Main Street, was unable to confirm who that tenant might be, though she did hint that it might be another brewery.
"We hope that it is beer-related," she said. "The setting is perfect for it."
The Turtle Swamp Winter Bierhalle will be open on Fridays, Saturdays, Sundays, and potentially Thursdays. And Walther hopes the brewery will be able to extend if given the opportunity.
"We would love to continue serving our beer there for as long as people want it," he said.
Turtle Swamp Brewing at the Roslindale Substation Building, 4228 Washington St., Boston; Thursdays and Fridays from 4 p.m.–11 p.m., Saturdays from noon–11 p.m., Sundays from noon–7 p.m., turtleswampbrewing.com