Beer
You can drink beer to help the wildfire relief efforts in Northern California
Sip to give back at these New England breweries.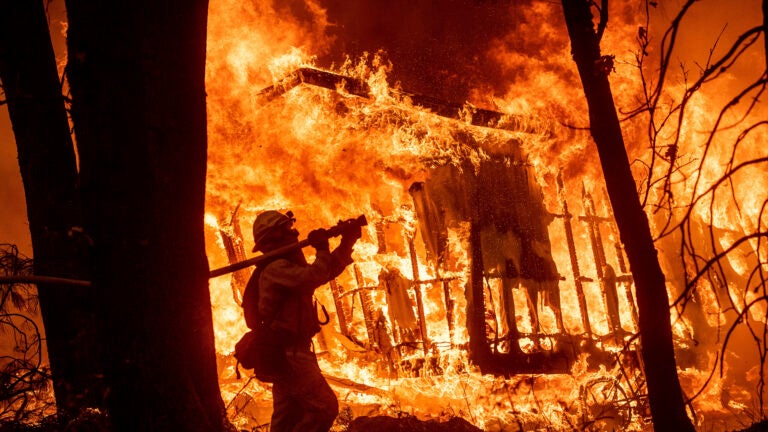 The Camp Fire wildfire that devastated Northern California this month is "considered the deadliest and most destructive in California history," according to the San Francisco Chronicle, leaving at least 88 people dead and 13,972 homes destroyed.
Many volunteers, organizations, and companies have stepped up to help with the relief efforts. You can help, too, including by drinking an aptly named brew.  
Ken Grossman, founder of Chico, Calif.-based brewery Sierra Nevada Brewing Company, posted a letter to the brewery's website announcing its new "Resilience Butte County Proud IPA."
Many of you have asked if we will be brewing a fundraiser beer to support Camp Fire relief efforts. The answer is a resounding "yes."

We are proud to announce the upcoming release of Resilience Butte County Proud IPA. We will be brewing Resilience on Giving Tuesday, November 27 and donating 100 percent of the beer sales to the Camp Fire Relief Fund. In addition, we are also asking every brewer in America to brew Resilience and do the same.

I'm sending a letter to brewers across the country, inviting them to join us in this effort. We are working with malt, hop and yeast suppliers to provide raw ingredient donations to all participating breweries and are asking those breweries to donate 100 percent of their sales to the fund, as well.

We know that the rebuilding process will take time, but we're in this for the long haul. Our hope is to get Resilience IPA in taprooms all over the country to create a solid start for our community's future.

Thank you to every Sierra Nevada employee across the country for your support; we'll get through this together.

Ken
According to Sierra Nevada's website, updated at 5 p.m. on Wednesday, "More than 1,000 breweries have signed up to brew #ResilienceIPA." New England is well represented in this count, with more than 50 regionally-based breweries adding their names to the list.
"As soon as Sierra Nevada made the announcement, I think that pretty much every brewery in the United States had to at least consider their call to action," said Brendan Van Voris, marketing director at Everett-based Down the Road Beer Co.
Down the Road has since launched into action, excited by the opportunity to contribute to the cause, as well as by the collaborative nature of the project. Stone Path Malt in Wareham donated the malt for Down the Road's version of the brew, which Van Voris expects will be ready in two to three weeks.
"The product is not going out to mass market per Sierra Nevada's request. It's going to stay in the taproom only," Van Voris said. "It will be available for packaged takeaway and in cans, and it will be available on draft, and all of the proceeds will be donated."
Van Voris predicted that the supply will last about two months.
According to Van Voris, all of the breweries were given the same recipe, but without detailed instructions on timing.
"We're all brewing essentially the same recipe, but each brewery will surely add their own kind of flair," Van Voris said. "It'll be interesting to see how different versions of the same beer compare across the different breweries both in the area and in the country in general."
Check out the list of New England breweries involved as of this article's publication:
Connecticut:
Willimantic Brewing Company (Willimantic)
New England Brewing Co. (Woodbridge)
Athletic Brewing Company (Stratford)
Stony Creek Brewery (Branford)
No Worries Brewing Company (Hamden)
Black Hog Brewing Co. (Oxford)
Little House Brewing Company (Chester)
Bad Sons Beer Co. (Derby)
Back East Brewing Company (Bloomfield)
Kinsmen Brewing Co. (Milldale)
Brewery Legitimus (New Hartford)
Steady Habit Brewing Company (Haddam)
Maine:
Liquid Riot Bottling Co. (Portland)
Allagash Brewing Company (Portland)
Bigelow Brewing Co. (Skowhegan)
Urban Farm Fermentory (Portland)
Tributary Brewing Company (Kittery)
Mason's Brewing Company (Brewer)
Kennebunkport Brewing Company (Kennebunk)
Sebago Brewing Company (Gorham)
Foundation Brewing Company (Portland)
GFB Scottish Pub (Old Orchard Beach)
Corner Point Brewing Company (Berwick)
Massachusetts:
Down the Road Beer Co. (Everett)
Night Shift Brewing (Everett)
Wachusett Brewing Company, Inc (Westminster)
Cape Cod Beer (Hyannis)
Independent Fermentations Brewing (Plymouth)
Wormtown Brewery (Worcester)
Lord Hobo Brewing Co. (Woburn)
Second Wind Brewing Company (Plymouth)
Seven Saws Brewing Company (Holden)
As Built Brewing (Franklin)
Exhibit 'A' Brewing Company (Framingham)
Trillium Brewing Company (Canton)
Start Line Brewing Company (Hopkinton)
Bright Ideas Brewing (North Adams)
New Hampshire:
Monadnock Brewing Company (Langdon)
Schilling Beer Co. / Resilience Brewing (Littleton)
Cisco Brewers Portsmouth (Portsmouth)
Out.Haus Ales (Northwood)
Great North Aleworks (Manchester)
Copper Pig Brewery (Lancaster)
Bad Lab Beer Co. (Somersworth)
Deciduous Brewing Company (Newmarket)
Throwback Brewery (North Hampton)
Rhode Island:
Grey Sail Brewing of Rhode Island (Westerly)
Taproot Brewing Company (Middletown)
Newport Craft Brewing and Distilling Co. (Newport)
Isle Brewers Guild (Pawtucket)
Shaidzon Beer Co. (West Kingston)
Vermont:
Magic Hat Brewing Company (South Burlington)
Kickback Brewery (Westford)
Switchback Brewing Company (Burlington)
Foam Brewers (Burlington)
Four Quarters Brewing (Winooski)