Beer
One Mass. Whole Foods wants you to be able to drink beer and wine as you shop
"Here in Massachusetts it's not that common."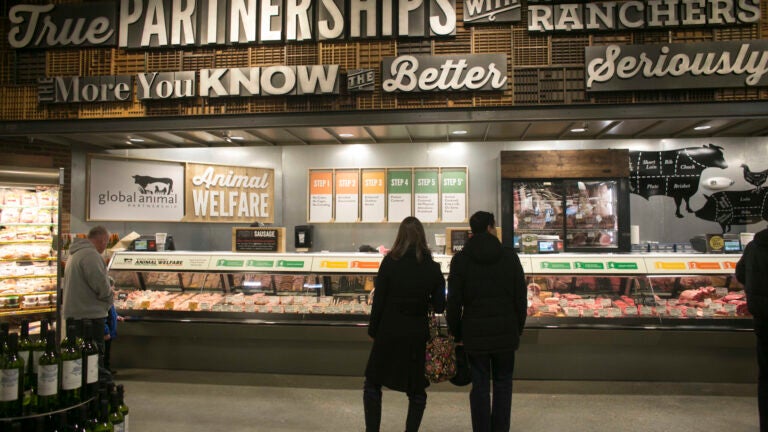 You may be familiar with "paint and sip" but "grocery shop and sip"? Well, the Whole Foods in Sudbury is looking to provide that experience.
Company officials presented the idea to the Sudbury town government at a recent meeting, requesting a restaurant pouring license that would allow beer and wine to be served to customers while they shop. The beer and wine would be sold near where the Whole Foods, at 536 Boston Post Road, has its seating area and prepared food.
"Here in Massachusetts it's not that common," Michael Scott, an attorney with Nutter McClennen & Fish LLP who was representing Whole Foods, said during the meeting. "But it's starting to become more common."
Other supermarket companies are trying to improve the shopping experience for their customers, and this is one way Whole Foods has done it, according to Scott.
"They've done it at many of the other stores around the country," he said. "Just so far we have not done it in Massachusetts."
But it could be a bit before the beer and wine starts to flow. Sudbury is already at its maximum for liquor licenses, as the board of selectmen discussed during the meeting. The town would need to petition the state Legislature for it to gain another one — the maneuver would have to be approved at a Town Meeting. No action was taken at the meeting.
The business Scott could most closely compare the concept to was Eataly, located within Boston's Prudential Center. He described that while there are places to sit down and dine, patrons can also buy an alcoholic beverage and walk through the various shopping areas.
"It adds a nice feature to being able to go to the store," Scott said. "The store becomes a gathering place in any event."