Restaurants
A popular beer garden will return to downtown Boston this summer
Trillium Garden on the Greenway is coming back.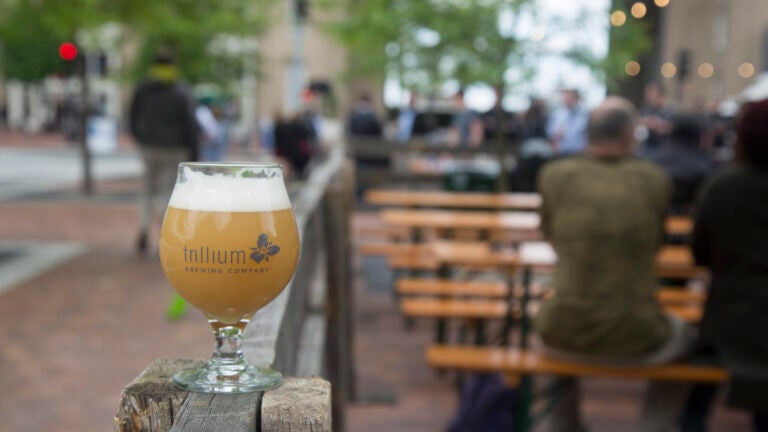 There's a light at the end of the cold weather tunnel, and it looks a lot like a beer garden.
On Thursday, Trillium Brewing Company and the Rose Kennedy Greenway Conservancy announced that Trillium Garden on the Greenway will return for a third summer. The downtown Boston pop-up offers beer and wine on the corner of High Street and Atlantic Avenue.
"After a couple of incredible seasons on the Greenway, we can't imagine summer without the Trillium Garden!" said Esther Tetreault, co-founder of Trillium Brewing, in a press release. "We love looking out at historic Rowes Wharf while watching the beautiful revitalization of Boston's downtown landscape by the Rose Kennedy Greenway Conservancy…with a beer in hand, of course. Their commitment to fostering shared spaces and community-building is perfectly aligned with our values and we're proud to support their initiatives through the Garden on the Greenway."
The beer lineup will include new lagers and a rotating selection of Fresh Press ales, which feature Trillium's Wild Ale mixed with fresh pressed juices like watermelon and mint, and cucumber and pear. Wine from Westport Rivers Vineyard & Winery will also be available, and garden-goers are allowed to bring in their own food from elsewhere.
While an opening date hasn't been announced yet, Trillium did share the Garden on the Greenway's operating hours: Wednesdays–Fridays from 2 p.m.–10 p.m., Saturdays from 11 a.m.–10 p.m., and Sundays from 12 p.m.–6 p.m.
The brewery has expanded rapidly since opening in Fort Point in 2013, and recently announced that it will open a beer garden and taproom in the Fenway this summer, as well as build a larger production facility, restaurant, and taproom in Canton. Garden on the Greenway launched in 2017, and returned for a second season last summer.