Beer
Allagash Brewing is not following the latest craft beer trends. It is winning awards.
"That might have given us some extra credibility in the judges' eyes."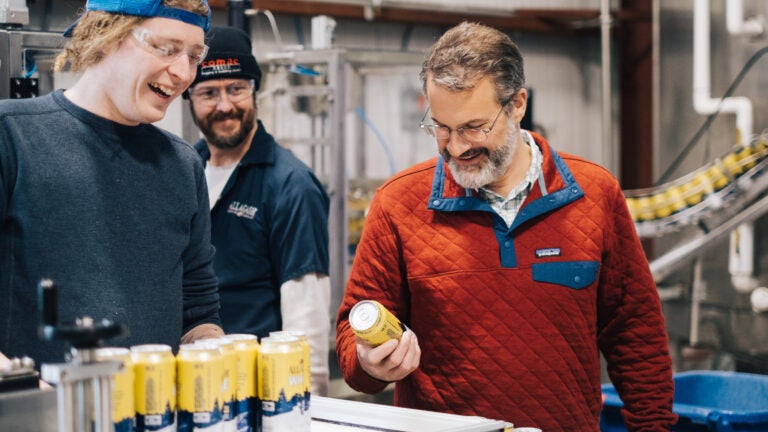 Rob Tod sticks to what he knows — both as a business strategy and in personal taste.
"I actually kind of get grief from people around the brewery for not branching out into more of our other beers," the Allagash Brewing co-founder told Boston.com.
For 23 years, Tod says his "go-to" beer has been his Portland, Maine-based brewery's iconic Belgian ale, Allagash White. Even when asked about what he likes to drink other than beers from his own brewery, the answer doesn't change.
"I honestly love Allagash White more and more as time goes by," Tod said.
Apparently, he isn't the only one who appreciates his work. Last week, Tod won a prestigious James Beard Award for outstanding wine, spirits, or beer producer, becoming the third brewer ever to receive the medal. Allagash beat out the heads of two wineries and two distilleries at the May 6 ceremony in Chicago.
"I hadn't even prepared a speech," Tod said.
Despite his surprise, Tod suspects he and his team team were recognized in part for their devotion to the craft of Belgian-style beer.
"I think a lot of our success comes from the core values we put in place early on at the brewery," he said.
Allagash was founded in 1995 as a one-man operation: just Tod and a 15-barrel brewing system that he "literally welded together" himself. To American drinkers, Belgian-style beers were as foreign as the country they come from when the brewery introduced Allagash White in 1996. Two years later, the spiced wheat beer won a gold medal — the first of several —at the World Beer Cup.
Since then, Allagash has continued to experiment with Belgian style, from Tripels and sessions to barrel-aged and fermented beers.
And unlike some other longtime craft brewers, Allagash hasn't tried to cash in on the New England IPA craze that has recently consumed the beer scene, especially in the Northeast. Allagash isn't trying to sell hoppy or hazy or juicy.
"There are a lot of great, innovative breweries out there, so I think the fact that we've stuck to only brewing Belgian-inspired beer has helped us be consistent, while still being able to be really creative in the beer we brew," Tod said.
Of the well over 150 beers that the brewery has created over the last two and a half decades, only one has ever been labeled as an IPA. Tod said he doesn't foresee Allagash getting into New England IPAs at any point in the future.
"Our dedication to Belgian-inspired beer has made that a pretty simple decision," he said. "We're kind of recognized for not following trends, but still innovating, and that might have given us some extra credibility in the [James Beard Award] judges' eyes."
Tod said the brewery will continue to focus on experimenting with the Belgian style. In the meantime, he's branching out in his own way. After surfing, Tod said he's taken to drinking Allagash White — wait for it — in a can, getting in a plug for one of the brewery's newest offerings.
"It has been really fun for me to try a beer I've been enjoying for 23 years in a new way," he said.
Apparently there are some beer trends that Tod can get behind.