Beer
Dorchester Brewing Co.'s expanded taproom and new rooftop will open in time for New Year's
The local craft brewery hones in on the community with an exciting new space.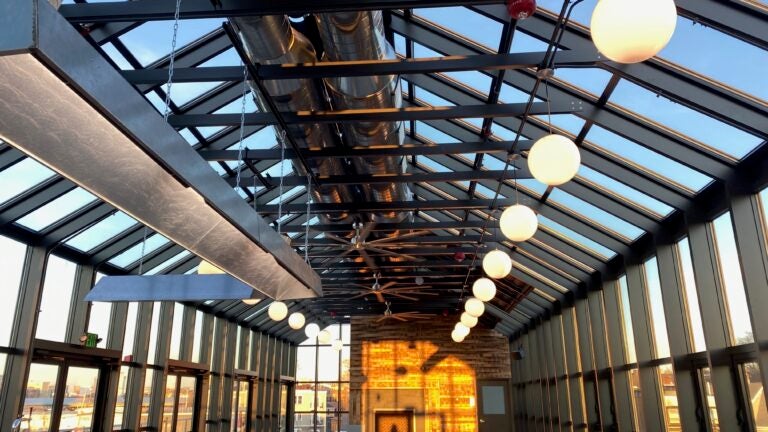 Dorchester Brewing Company is kicking off 2020 by opening a massive expansion on New Year's Eve.
The craft brewery, located in Boston's largest neighborhood, is upgrading from a 2,000 square-foot taproom and outdoor patio to an 8,000 square-foot behemoth that features the first brick-and-mortar location for barbecue popup M & M BBQ.
And that's only the first floor. On the roof is an open-air 2,000 square-foot patio and a 2,200 square-foot glass atrium where guests can sip beer by a fireplace and drink in skyline views.
"We're the first thing you see when you come into Dorchester down Mass. Ave.," co-founder and CEO Matt Malloy said in an interview. "So, go big or go home."
The site was once the home of a sheet metal manufacturing company until the brewery opened in July 2016. Head brewer Todd Charbonneau draws from his decade of experience at Harpoon to craft Dorchester Brewing's beers in the adjoining production space. The team also produces beer for local and regional companies. The taproom currently pours 23 craft beers, and in recent weeks added its own wine that's produced with Franklin's La Cantina Winery, as well as a hazy cider collaboration with Somerville's Bantam Cider.
With a sign out front that reads "Dorchester" instead of "Dorchester Brewing Company," it's no surprise that brewery celebrates the community.
"Our goal was to hire people from Dorchester, Mattapan, and Roxbury as a way to bring jobs to our community as well as to bring manufacturing back to Dorchester," said Malloy, who moved to the neighborhood 15 years ago once he felt that the South End had lost its diversity.
The expansion began in January 2019 and tapped the expertise of local companies. RODE Architects — principals Eric Robinson and Kevin Deabler live in Dorchester and consider the brewery their local watering hole — designed the space, and Stack + Co. completed the construction. The team sourced materials from local businesses, like nearby Concord Electric Supply, whenever possible.
Though construction lasted less than a year, you could say that this new evolution was in the works from the start in hopes that the taproom would boom. Before the brewery first opened, Malloy and his neighbor Gary Barsomian-Dietrich, a woodworker, spent weeks milling beams abandoned by the previous tenant. They stashed pallets of the lumber so that a future expansion would match the aesthetic of the existing space.
The interiors embrace the feel of a working brewery, with glinting steel, reclaimed wood, and exposed ductwork. A space on the first floor will display artwork by local artists and will be home to concerts and events for 60 to 80 people.
The crowning achievement is the roof with a patio and glass-walled atrium. Inside, the bar boasts a glossy countertop and chevrons of wood, mirroring the design of the first floor. Communal tables also crafted by Barsomian-Dietrich fill the space. Malloy's favorite aspect is the gas fireplace set within a stunning wall of wood reclaimed from wine barrels. The barrels were imported from Spain and used to craft a Marsala wine barrel-aged stout for New-York based brewery Evil Twin.
"My favorite joke is that you can après ski anytime you want in Dorchester now," Malloy said.
Another big addition is an onsite kitchen for M & M BBQ, a local purveyor of sauce-slathered ribs, mac and cheese, pulled pork sandwiches, and chicken. Owner Geo Lambert will soft open his concept on New Year's Eve, serving a tasting menu of hot sandwiches, hand-cut fries, warm pretzels, and more. He'll expand the signature items from his popup menu to include beerhall favorites like sausages, wings, fries, and pretzels when the restaurant officially opens in January.
Of what's been brewing lately, Malloy talks of the community more than just the company.
"We're just a brewery," Malloy said. "We love our community. This is exactly what we were hoping for."
Dorchester Brewing Co.; 1250 Massachusetts Ave., Boston; Sundays and Mondays from 11:30 a.m.-9 p.m.; Tuesdays-Thursdays from 11:30 a.m.-11 p.m.; Fridays and Saturdays from 11:30 a.m.-12:30 a.m.