Beer
Faces Brewing Co. eyes imminent opening in Malden
"A silver lining to the pandemic has been the reinvigoration within our communities to support local small businesses."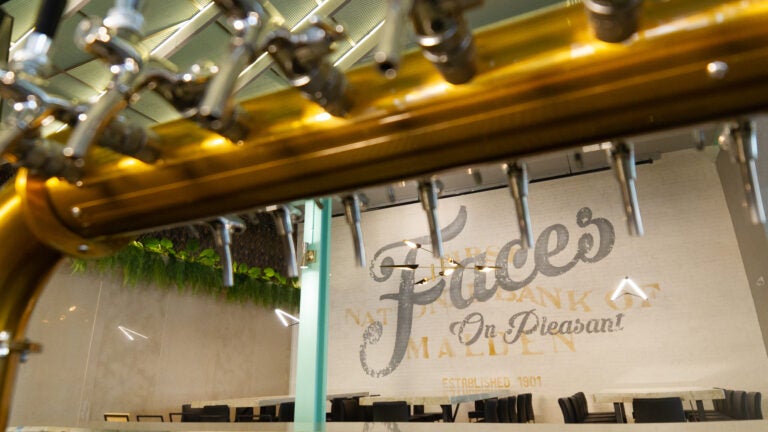 With the June 8 launch of Phase 2 of Gov. Charlie Baker's four-phase reopening plan now including breweries, Faces Brewing Co. in Malden Center is banking on the fact that you might need a beer. 
The new gastropub and brewery is also home to some bank history. Formerly the First National Bank in Malden, the building at 50 Pleasant St. is the site of the nation's first armed bank robbery in 1863.  
The name "Faces" conjures fond memories for those who shimmied under disco lights during the 70s and 80s at the Cambridge nightclub of the same name, until it shuttered in the early 90's. The Martignetti family owned the spot as well as the Cambridge bowling alley and restaurant Lanes & Games, which closed in 2017 after 34 years. 
Now, the next generation is continuing their family history of hospitality. Co-owners and brothers Anthony, Bob, Dan and Joe Martignetti, along with their sister Julie Cotton, are the team behind the new spot. They tapped childhood friend Eddie Ducharme, who'd been studying yeast genetics in graduate school, and Danielle Coons to craft brews, with Ezra Gold as the head chef to round out the team. 
Construction began in January 2019 and by March 2020, they were nearing the home stretch—installing custom banquettes, crafting a table out of a repurposed bank vault door—ahead of a planned spring opening. Then, COVID-19 changed plans for everyone the world over. 
"Maybe this is unique to the City of Malden—which has been fantastic to work with from start to finish—but it seems like state and local governments are working with restaurants and other shuttered businesses to help us get through an unprecedented global health crisis," co-owner Bob Martignetti told Boston.com. "Malden has been willing to meet us more than halfway on a variety of obstacles so that we can open up when the time comes and provide a safe dining experience to our patrons."
On the heels of Faces' opening, Bob Martignetti spoke about his business's quick about-face and how the community is investing in the industry's comeback.   
Name: Bob Martignetti
Restaurant: Faces Brewing Co., Malden

What is Faces Brewing Co.'s COVID-19 story?  
The timing of the COVID-19 pandemic lined up almost identically to our anticipated opening date. With restaurants being shuttered by the state and not much information to go off of, our plans for a soft opening were shelved indefinitely and we began charting a new course. We did our best to guess at how reopening would look, and brainstormed a number of contingency plans, depending on how long restaurants might be closed down and what reopening may look like. As other states started to approve the opening of outdoor seating at restaurants, we put together a proposal to convert our parking area into a covered beer garden that would adhere to social distancing requirements.
A few months ago, we didn't intend to package our beer for to-go can sales initially. But we've had to adapt on the fly, and we opened at the end of May with our first four can releases on sale.
What has been the hardest part so far?
Every day brings a new set of challenges and adjustments that need to be addressed. The final touches of our construction being halted by the shutdown left a lot of projects in limbo. We had a large sign set to be installed that sat a few miles down the road in the fabricator's shop for the last two months. Once the construction halt was lifted, we got that installation scheduled and the sign erected. There's been a million things like that, from the minor inconveniences of shipping delays to formulating social distancing guidelines for our servers in advance of official regulations being announced. 
Outside of the financial ramifications, the hardest part is the disappointment. We're a family business and there's been a lot of sweat equity that's gone into getting this restaurant and brewery open. It's been a group effort to transform this historic bank into a space we're really proud of. Not being able to have the grand opening we imagined has been disappointing, but it is still satisfying to have patrons walk into our brewery, see the finished product, and walk out with a case of our beer.
What do you think restaurants need right now?
'Restaurants' is such an expansive category, that any assessment I give is sure to be inadequate. COVID-19 has devastated so many industries and restaurants have been hit as hard as any. Credit is due to the state of Massachusetts for acting quickly to ease restrictions on bars and restaurants in order to help us weather the storm. Acting expeditiously necessitates painting with a broad brush, and this will leave some restaurants and bars feeling hung out to dry. I'm sure all restaurants can agree that nothing short of reopening for dine-in patrons is likely to help the many floundering restaurants cover their rent. We aren't equipped to answer as to the needs of other businesses in our industry, but I imagine a reopening for dine-in patrons is the only action likely to help the many floundering restaurants cover their rent.
A silver lining to the pandemic has been the re-invigoration within our communities to support local small businesses. For instance, we didn't announce that Faces would be opening for can sales until the night before. We essentially opened up for can sales without warning and still got a great response and had a line around the corner, at times. The support from both from the people of Malden and the craft beer community at large was tremendous.