Beer
15 Mass. breweries are participating in the global Black is Beautiful beer initiative
"We felt that we wanted to be a part of that conversation and show that the craft beer trade is united around social justice," said Ray Berry, founder at White Lion Brewing.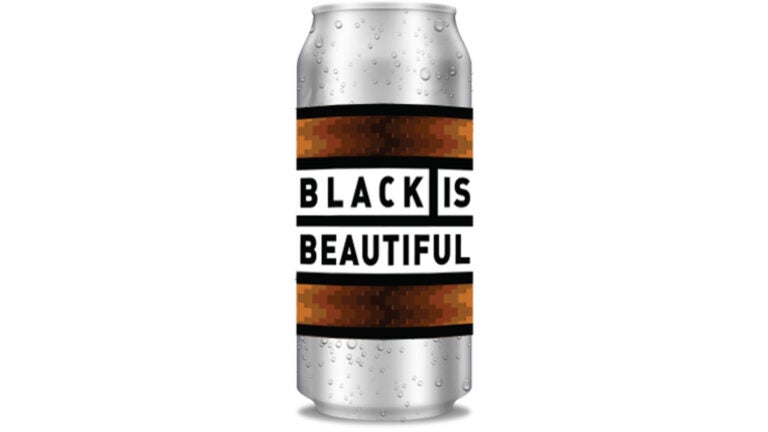 It all started in San Antonio, Texas.
In early June, Marcus Baskerville, the founder and head brewer at San Antonio's Weathered Souls Brewing, launched the Black is Beautiful initiative, a call-out to the brewing community to bring awareness to racial injustice. The idea was relatively simple: Weathered Souls would provide a base recipe for an imperial stout, along with label designs and social media directives. The ask? After making their own version of the stout, participating breweries would donate 100 percent of the proceeds to local foundations supporting police brutality reform and legal defenses for those who have been impacted by racial injustice.
"As someone who has personally dealt with the abuse of power by the police, this recent turmoil the country is facing has hit home for me," Baskerville, who is Black, wrote on the Black is Beautiful website. "As I write this, I contemplate how the country can move forward, how we as the people, can create change, and what it will take for everyone to move forward with a common respect for one another. For us, we feel that this is our contribution to a step."
More than 1,000 breweries are now on board, including breweries in all 50 states and 19 countries. In Massachusetts, 15 breweries have signed on to brew the beer. Some of them are staying true to the original recipe, which includes chocolate malts and Cascade hops and comes in at 10 percent ABV; others are choosing to add their own twist.
"Baskerville…gave a huge gift to the mostly white craft beer community," said Paul Gentile, co-owner of Beverly's Gentile Brewing and one of the participating breweries. "Make this beer, donate all the money. Here is the recipe, here is the label. He and his team deserve all the credit."
Find out more about the 15 local breweries that are brewing Black is Beautiful, including when you can pick up their version, which foundations they're donating to, and why they decided to join this worthwhile cause.
Release date: End of July
Foundations: Legendary Legacies and NAACP Worcester
What to know: 3Cross made a few ingredient adjustments, but otherwise stuck to Weathered Souls's recipe.
"We hope that our participation in this collaboration will help further the conversation surrounding issues of equality," Dave Howland, founder at Worcester's 3Cross, told Boston.com. "This is a first step for us as we look for additional ways to support equality in our business and our community as a whole." 
Release date: July 16
Foundation: ACLU
What to know: The Somerville brewery put their own spin on Black is Beautiful to create a 6.2 percent oatmeal stout. Cans will be sold online starting at 5 p.m. on July 16, and are available for contactless pickup and at-home delivery.
"We've had many discussions on how we can take our allyship to the next level through internal and external actions as a company, so we were very excited to see this project come about," said Lee Hatfield, Aeronaut's communications manager.
Release date: Late August
Foundation: Multicultural Bridge
What to know: "At times, it's hard to know how to support people of color and the Black Lives Matter movement," said Christine Bump, co-founder at Big Elm in Sheffield. "When I saw the Black is Beautiful beer project, it immediately felt right to be able to show support by doing what we are good at — making beer."
Big Elm's version of the beer will including adding coffee to create a coffee stout. Keep an eye out for its release at the end of August.
Release date: July 3
Foundation: NAACP Berkshires
What to know: Bright Ideas, which is located on the MASS MoCA campus in North Adams, added Tahitian vanilla and Dominican cocoa nibs to the recipe, while also brewing it at a lower ABV — 7 percent.
"In our small and predominately white community, we want folks to know that we welcome all walks of life, but that we also support the Black Lives Matter movement," Makayla-Courtney McGeeney, taproom supervisor and marketing coordinator at Bright Ideas, shared. "We're continuing to foster a culture of inclusivity and kindness around craft beer. Doing an international collaboration is a really special thing, especially during a pandemic when in-person collaborations aren't possible right now. It reinforces the camaraderie that draws folks to craft beer in the first place."
Release date: July 14
Foundation: NAACP Legal Defense and Educational Fund
What to know: Norwood-based Castle Island stuck to Weathered Souls's original recipe, though Adam Romanow, founder and president of the brewery, said that production equipment, ingredient origins, and source water will likely cause all the beers that are following the original recipe to vary slightly from one another. Romanow also expressed the brewery's enthusiasm for joining the initiative, telling Boston.com that "racial justice isn't a political issue — it's a human rights issue, and we refuse to be silent on it."
Release date: August 6
Foundation: North Shore MA NAACP
What to know: "For [co-owner] Christen and I, as white business owners in a mostly white suburb, the Black Lives Matter movement that gained international steam after the murder of George Floyd caused us to reexamine our role in the conversation," Gentile shared. "Personally, being welcoming and kind to others was no longer enough. Being not racist is not a strong enough position. We needed to be anti-racist. We needed to start using the privilege of our whiteness to advocate for Black people and people of color."
The brewery is replacing the recipe's call for dark chocolate malt with Perla Negra, which is made from Patagonia malt in Chile. Gentile said they'll have about 15 to 20 cases of 16-ounce four packs to sell for $20.20 each.
Release date: Late July
Foundations: NAACP Boston and various NAACP Vermont chapters
What to know: Harpoon's Black is Beautiful variation — a tropical stout that comes in at 7 percent ABV — will be available on draft at the Boston beer hall later this month, then joined by a four-pack release later in the fall. 
Release date: Mid-July
Foundation: Black Lives Matter Boston
What to know: "The brewing community is very tight knit and collaborative," said JP Gallagher, co-founder and brewer at Lost Shoe in downtown Marlborough. "So when we saw that Weathered Souls was hosting this collaboration and using it as a platform to support people of color and promote inclusion, we wanted to stand alongside them and the hundreds of other breweries participating in this collaboration worldwide."
Gallagher and his team made their version of Black is Beautiful following the original recipe with one exception: They're conditioning the beer on Burundi coffee that was roasted and cold brewed on site.
Release date: August 21
Foundation: NAACP Legal Defense and Educational Fund
What to know: The Beverly brewery's twist on Black is Beautiful is a true collaborative effort with a neighboring cafe. Co-founder Ben Garry told Boston.com that Old Planters teamed up with Kelly Mackin at Half Baked Cafe to create a salted toffee stout, with Mackin providing the brewery with some of the ingredients.

"Kelly has always been a great voice in our community in regards to equality, so we were honored she came onboard with us," Garry said.
Release date: July 31
Foundation: Families for Justice as Healing
What to know: Both Sam Adams taprooms — one in Jamaica Plain, one in downtown Boston — will start offering cans of Black is Beautiful to go on July 31. At the downtown taproom, the stout, which follows Weathered Souls's recipe, will be offered with a raspberry cheesecake and original cheesecake pairing from Delectable Desires, a Samuel Adams Brewing the American Dream entrepreneur.
Release date: August 7
Foundation: Lawyers for Civil Rights
What to know: Trillium is collaborating with Springfield's White Lion Brewing to produce their own version of Black is Beautiful, modifying the recipe by adding whole vanilla beans from Papua New Guinea. Guests will be able to find it at all of Trillium's open taprooms and White Lion's retail outlets.
"Earlier this year we initiated a public dialogue about inequality and racism within the craft beer community, inspired by the #iamcraftbeer movement launched by Dr. J Beckham, equity and inclusion strategist for Craft Beer For All and Brewers Association diversity ambassador," JC Tetreault, founder and brewer at Trillium, said in a press release. "Building upon her message of unity and hope, we chose to support the impactful work of The Lawyers for Civil Rights. The work they are doing is visible, sustainable, and aligns with our core values."
Release date: Late August
Foundation: TBD
What to know: True North Ale, an Ipswich brewery that opened in 2017, is still in the planning stages of its Black is Beautiful production, which it will start sometime in August. Once it's released, True North founder Gary Rogers said that the beer will be available on draft and in four packs to take home.
"We're a small, young brewery with limited clout in the greater market, but we are committed to doing our part to eradicate systemic racism," Rogers said. "One way that we can do that is through raising awareness. And brewing a great beer and offering it to the local community is a great way for us to accomplish that."
Release date: July 17
Foundation: KodeConnect
What to know: Vitamin Sea founder Dino Funari told Weathered Souls that they'd have a hard time selling an imperial stout during the summer. So he proposed the idea of pivoting to a blackberry marshmallow fruited sour instead — and the Texas brewery was all in.
"We brewed it as a collaboration with our good friends that are opening the forthcoming Brockton Beer Company," Funari told Boston.com. "[CEO] Pierre [Alexandre] and his crew have been longtime supporters of us and we had always told them that we'd be there to help them in any way that we could. Back during our homebrew days, breweries like Barrel House Z and Mast Landing gave us opportunities to create awareness of our brand through collaborations. This was a perfect opportunity for us to pay it forward."
Release date: August 7
Foundation: Healing Racism Institute of Pioneer Valley
What to know: "White Lion is one of five Black-owned breweries in the Commonwealth," Ray Berry, founder at White Lion, told Boston.com. "Obviously we are in tune to some of the systemic issues that plague our society and felt that there was no better way to rally and be part of a broader conversation. We felt that we wanted to be a part of that conversation and show that the craft beer trade is united around social justice."

The Springfield brewery has teamed up with Trillium to put their own spin on the imperial stout (see above), which will be available at White Lion retail outlets starting August 7.
Release date: July 21
Foundation: FreshStart 508
What to know: Starting at 4 p.m. on July 21 at both the Worcester and Foxborough taprooms, Wormtown will offer its take on Black is Beautiful, adding chocolate and lactose to the original recipe to create a creamy chocolate milk stout. Their chosen foundation, Worcester-based FreshStart 508, addresses the issue of mass incarceration by providing positive mentoring, preventing substance abuse, promoting independent living skills, and other community-based solutions.