Beer
Daniel Lanigan, CEO of Lord Hobo, doesn't know when — or if — his Cambridge pub will ever reopen
"After 10+ years of never closing, our neighborhood bar has been collecting actual dust," Lanigan wrote.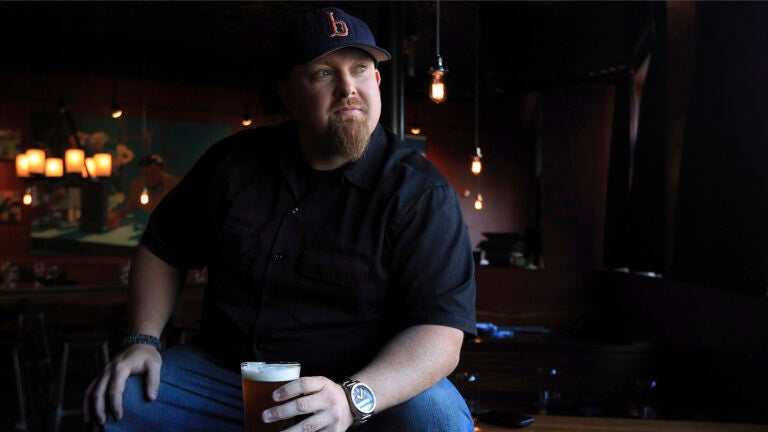 Daniel Lanigan hasn't opened Lord Hobo Cambridge in over four months.
Like so many other business owners in Massachusetts, the founder and CEO of Lord Hobo Brewing Co. has faced arguably the most difficult chapter in his career, as the pandemic continues to cause upheaval in the restaurant industry. On Sunday, Lanigan detailed the issues his company — and, in particular, Lord Hobo's Cambridge pub — is facing with a Facebook message posted to the Lord Hobo Cambridge page.
Lanigan shared just how difficult it would be to reopen his bar at less than a third of its capacity, how the numbers aren't worth putting his staff at risk, and how debt has continued to pile up. He also made a plea for the government to step in, asking for rent coverage, investment from the city for four-season patios, and a significant stimulus package. Without real help, he wrote, "the industry that so many of us have dedicated our lives to will be destroyed as we know it."
Read the full post from Lanigan below.
I don't know.

That is the answer I give every day to the question of "When are you re-opening Lord Hobo?"

I closed Lord Hobo Cambridge on March 13th. We had no choice. And I supported the governor's decision. That was 138 days ago.

After 10+ years of never closing, our neighborhood bar has been collecting actual dust. That room has been a bar since 1933. I told my staff at the time we would re-open. I was certain of it. I laid off all 33 people, encouraged them to file for unemployment, and told them to make sure [to] file for the extra $600/week. I continued to pay for half their health insurance and paid some for their unused vacation pay. My landlord has been fair. He agreed to cut the rent in half for a few months, defer those payments, and we'll see what happens in the fall.

We thought about doing take-out, selling beer to go (and now we could finally sell cocktails to go), but I just can't make the numbers work. With the inside dining restrictions, our capacity goes from 92 to 29. It's possible that a combination of food to go, alcohol to go, inside dining for 29…COULD work, but do I want to ask my team to come back to make less money, put them at risk for COVID-19, and risk putting myself further in debt?

We did get a PPP loan. But it made no sense to pay people to stay home. We used it for some rent and utilities as required, but mostly it went to our vendors. Like every other restaurant, we buy our products on credit. Some are seven day terms, some 14, some 60, so we carry a balance of roughly two-thirds [of] our monthly revenue at all times. I could not leave those vendors hanging. They have creditors, too. So we paid the fish company, the linen company, we paid Night Shift and the knife sharpening guy. And now that money is gone. And the extra $600/week from unemployment is gone.

We don't have a patio. So for now we remain closed. And with each month that goes, by our rent will add up, our debt will grow, our team of 33 will remain unemployed, and the likelihood of us ever serving a customer again will diminish. And we are not alone. This is the conundrum facing tens of thousands of other restaurants nationwide. The few that are open now are primarily relying on temporary outside seating. But what will happen to them in November when the temperature drops?

The restaurant industry is in big trouble. And all the companies that rely on restaurants are in big trouble. We need another significant round of PPP. We need the $600/week to continue. We need health insurance to be covered. We need rent covered. We need payroll taxes lowered. We need stimulus. We need investments from our cities for four-season patios. We need laws relaxed. … Without real leadership, guidance, and a long term plan, the industry that so many of us have dedicated our lives to, will be destroyed as we know it.

Winter Is Coming.