Beer
Roundhead Brewing Co. will bring beer and pizza to Hyde Park this fall
"I would like to be an example for those brewers coming behind me," said co-owner and head brewer Luis Espinoza.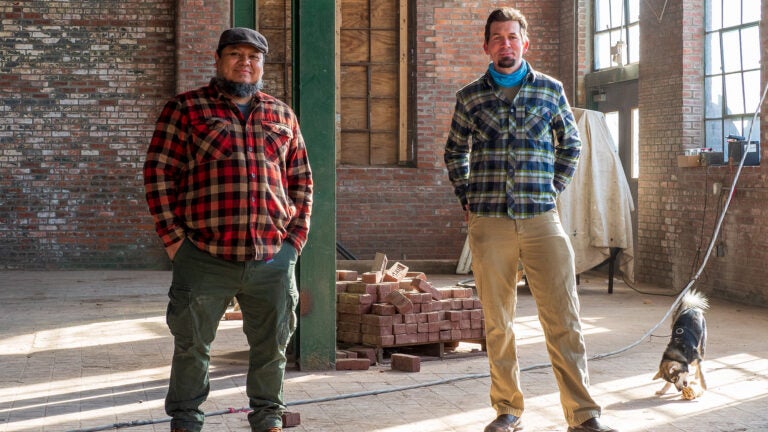 Luis Espinoza has been tinkering with beer recipes as a home brewer for the past decade, but he'll soon have a much larger brewing playground when Roundhead Brewing Co. opens in Hyde Park this fall.
Founded by Espinoza and Craig Panzer, the brewery will put down roots in an old Hyde Park warehouse with a historic past. It's also billing itself as the first Latino-owned brewery in New England — Espinoza, who is Roundhead's head brewer, is originally from Peru.
Panzer and Espinoza first met in April 2019. Their kids played soccer together in the Jamaica Plain Youth Soccer program, and the fathers soon found common ground over their love of craft beer. Panzer had brewery experience, working at Otter Creek Brewing and Wolaver's Organic Ales, while Espinoza's 10-year home brewing credentials were coupled with 20 years experience working as a chef. 
"When I met Craig, there was a click," Espinoza said. "We matched very well."
At the time, Espinoza was hosting beer tastings. He invited Panzer to a tasting event with family and friends. 
"That was the first time seeing the community come together [over Espinoza's beer]," Panzer recalled. "It was just really special, being able to meet new people from Luis's work life and from his family."
The two eventually found a home for Roundhead Brewing at One Westinghouse Plaza, a complex that, in the 20th century, housed B.F. Sturtevant Co., a manufacturing leader in industrial air cooling and ventilation systems. The factory buildings within the plaza have since become commercial and residential units, with businesses that include a marketing studio, a children's toy manufacturer, and a welding and fabrication company named Death Metal Werks.
Roundhead Brewing's taproom is an expansive brick space with 35-foot-tall ceilings and large windows. Once it opens, it will feature a pizza kitchen, a bar, and an outdoor patio, with the brewery's steel tanks in plain view. At the bar, visitors will be able to order a selection of Espinoza's core and seasonal beers, which range from saisons to IPAs to Berliner Weisses. Core beers include the Peruvian Lager, an unfiltered session beer; Quantum Reggae, a dragon fruit Berliner Weisse; Powerhouse IPA, a New England IPA; and Doble o Nada, a Double IPA.
The public won't have to wait until the taproom opens to get a taste, though: In May, Roundhead will brew its first licensed batch of Powerhouse IPA. Panzer said they are working with a handful of local retailers to stock the beer, and will also take preorders to sell directly to consumers. 
Panzer and Espinoza credit the community for getting the brewery to where it is today. They have utilized the investment platform Mainvest, raising more than $75,000 of its $100,000 target, with almost a month left before the campaign ends. They tapped into neighborhood organizations that have helped with bookkeeping and accounting, such as the Jamaica Plain Neighborhood Development Corporation. They're also using local supplies in the brewery's production of beer, with water coming from the Quabbin Reservoir and ingredients sourced from local farmers.
While Panzer said he isn't sure how pandemic-related restrictions might come into play when the taproom opens, he's excited at the prospect of what a normal day might look like.
"I get emotional quickly when I think about the doors opening," he said. "It's a lot of hard work to see dreams be realized. And I think we've all experienced a very difficult year. When we're able to open our doors, when we're able to welcome people inside safely, it will be a beautiful day. … If we need to be curbside, then being able to see each other will mean in the doorway. But the moment when we're able to be at a table together with a neighbor and safely cheers glasses, that, to me, is a historic moment."
As one of a small handful of Latino brewery owners in the country, Espinoza hopes to see Roundhead's opening serve as an inspiration to other brewers with his background.
"I would like to be an example for those brewers coming behind me," he said. "I don't want to to be the last — I hope there are more coming. I hope I can be an example for them to make this dream come true."
To learn more about Roundhead Brewing Co. and its Mainvest campaign, check out the video below.
Get Boston.com's browser alerts:
Enable breaking news notifications straight to your internet browser.