Beer
Level99 opens in Natick with a taproom, beer hall, and interactive challenges
CEO Matt DuPlessie said the venue was designed "to get people off their butts."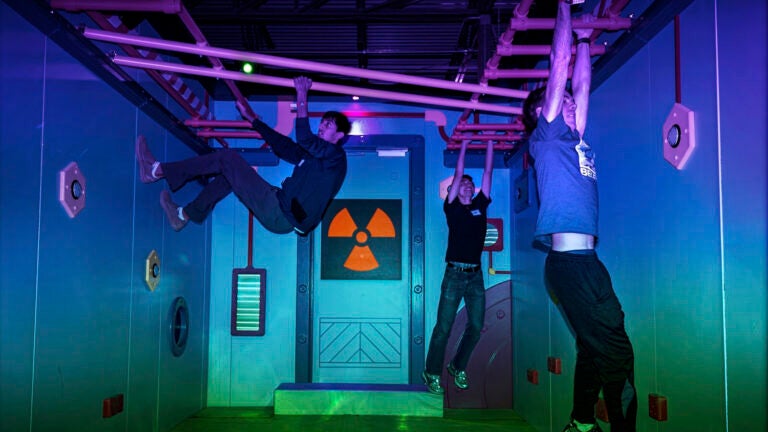 At Level99, the floor is lava.
At least, it is in one of the entertainment venue's interactive rooms, where guests swing on ropes over shimmering LED lava. In other areas, teams weave through laser beams to steal a jewel, use their bodies to steer a rolling ball maze, and navigate across a moving plank to board a pirate ship. And when all that activity works up an appetite, there's an indoor beer garden and taproom serving food and drink to keep guests sated.
Level99 opened within the former Sears space in the Natick Mall on Monday, debuting a 48,000-square-foot venue with 43 challenge rooms, as well as a taproom and beer hall from Night Shift Brewing and a kitchen from the Little Branch Hospitality team (Branch Line, Shy Bird, Eastern Standard).
The entertainment venue can host up to 450 players at a time while offering more than 100 challenges that are categorized by four groups — physical, mental, communication, and skill — and housed within rooms, arenas, and huts. Teams can spin around inside a giant combination lock, make their way through an apocalyptic obstacle course, and search for hidden symbols within local art pieces. In the arenas, individual players can face off in player-versus-player competitions.
"I woke up one morning in the middle of 2016 having had a dream about a cool way to combine things that had never been done before," said Level99 CEO Matt DuPlessie, who previously founded 5 Wits, another immersive adventure experience. "I've spent the last five years trying to make it real."
Part of that dream included partnering with a brewery. DuPlessie said he worked with Level99's investor group, Act III Holdings (Cava, Life Alive, Tatte), and its CEO, Ron Shaich, to find a great fit.
"We started with a long list and worked our way down, and Night Shift just rose to the top as being a group that really loves to create and that admires the craft of sculpting new beverages and new culinary options," DuPlessie said. "That really matched up with our ethos at Level99 of crafting better entertainment."
Within Level99, the Everett-based brewery opened a 92-seat taproom with full table service and a 140-seat beer hall with counter service and communal tables. The drink lineup features beer, hard seltzer, wine, and cocktails, including a Level Up IPA brewed for the space.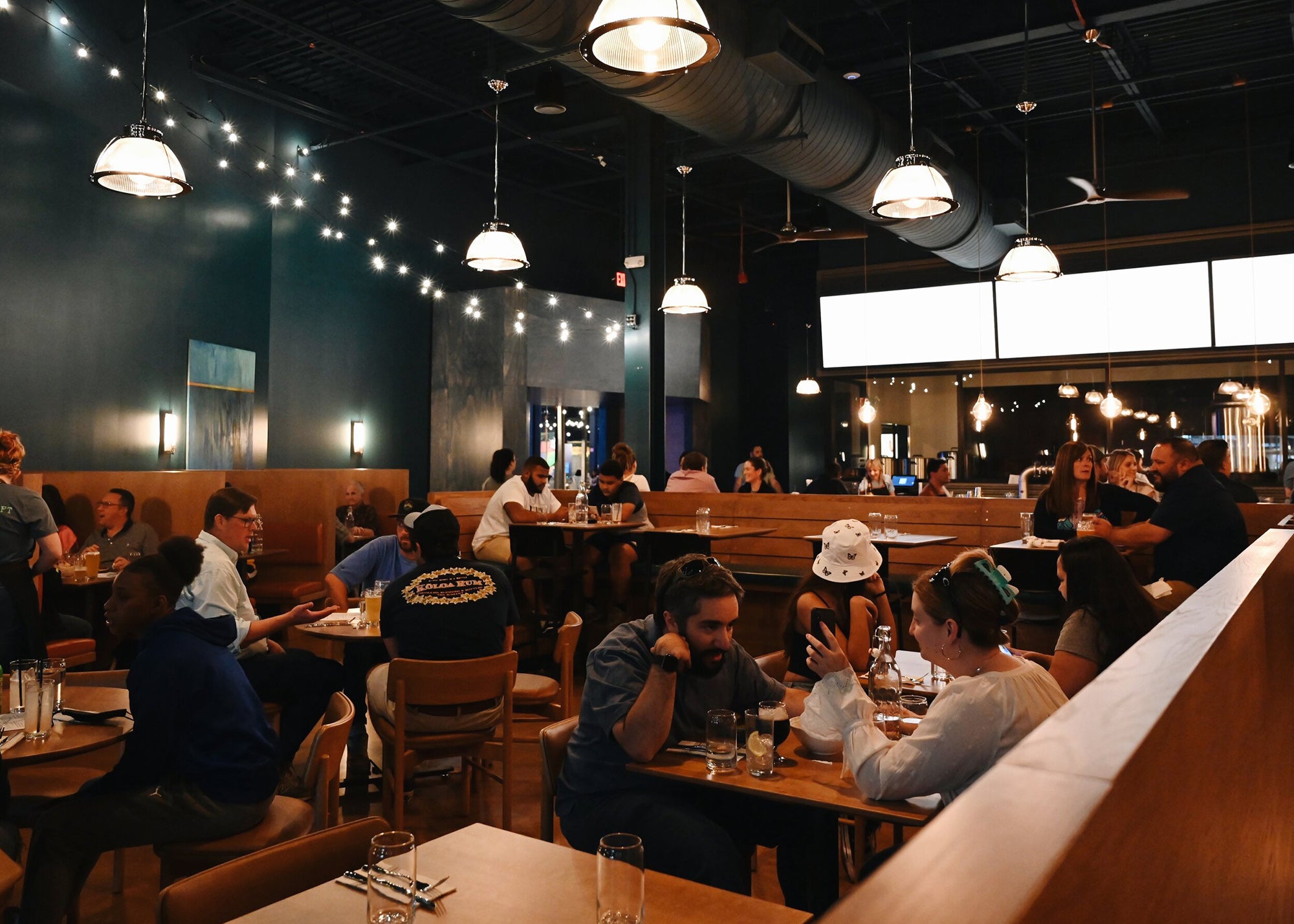 "We've talked about other fun ideas to play with once things get up and running," said Rob Burns, co-owner of Night Shift Brewing. "So many of the rooms that have cool themes; it's ripe for room-themed collaborations."
Burns said that the Night Shift team was attracted to the project because it felt like a "taproom experience unlike anything in the world."
"It feels like you're walking through an Instagram account that has visited the coolest places in the world while sipping a great craft beer," he said. "I think that was a fun, new take on what a craft beer experience could be."
To eat, diners can find Detroit-style pizza, Korean fried chicken, miso glazed salmon, and pretzels with honey mustard and pimento cheese sauce. There's a beef brisket cooked for 24 hours in stout beer, and a Caesar salad made with fried capers and a soft cooked egg. Little Branch Hospitality's Andrew Holden said that the dishes should intentionally feel familiar while using "thoughtful ingredients."
"There's a lot of different ways that I think guests will want to use Level99 and Night Shift Natick," Holden said. "Some might come for a great beer and beverage experience. Some might be here to do the challenge rooms as their first priority and have food as a complementary backdrop. Others, I think, will find that the quality of the food is so high that the restaurant really becomes a destination unto itself."
Level99 seems to have opened at an ideal time, as people look for ways to get out of the house now that businesses are reopening and more Massachusetts residents are vaccinated.
"Level99 is designed to get people off their butts, to get off the couch, to put down your phone," DuPlessie said. "I think people are tired of looking at screens and sitting on their couch. They want to get out and interact."
Online reservations haven't launched yet, but visitors can purchase tickets ($29.99 for two hours, $39.99 for four hours, $49.99 for an all-day pass) at the venue. Hours are Sundays through Thursdays from 11 a.m. to 10 p.m., and Fridays through Saturdays from 11 a.m. to midnight. Visitors under 18 must be accompanied by an adult.
And no matter what, don't step on the lava.
Newsletter Signup
Stay up to date on all the latest news from Boston.com