Beer
Turtle Swamp Brewing's Roslindale beer garden will close in September
"No one ever went inside."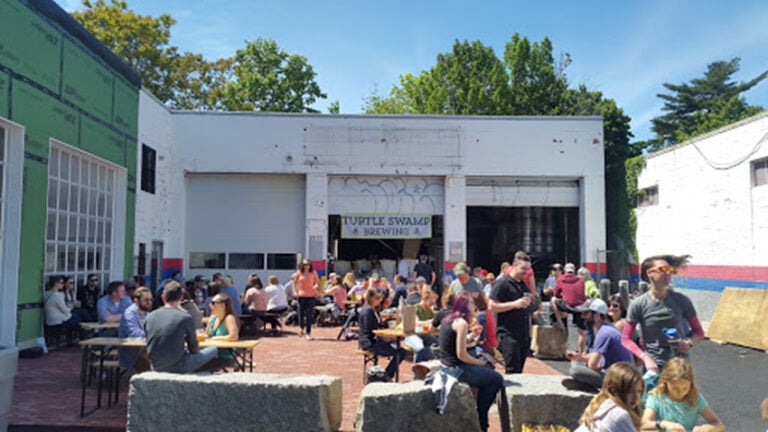 In a Facebook post published Wednesday, Jamaica Plain brewery Turtle Swamp Brewing announced that its Roslindale offshoot, located at the Roslindale Substation, will shutter on September 25.
"It is with great sadness that we must announce that, due to the impacts of COVID, we will be closing our Roslindale Beer Garden in the Substation," the post read. "We thank all of you who have supported us over the past 2 1/2 years. We have loved hosting your hangouts, parties, and celebrations."
Nicholas Walther, Turtle Swamp's co-founder and brewer, told Boston.com that the reason behind the closing was "generically COVID."
"After COVID happened, we were shut down for three months, and then no one came back," Walther said. "No one ever went inside. We even got some outdoor seating, but you don't go to the Roslindale Substation — that beautiful, big building — to sit outside."
Walther said that over the past year and a half, they were unable to operate the Roslindale location for roughly six months.
"The winter was terrible," he said. "And then even this summer, no one came again because they're still a little worried about being inside. It was a big family place, and most people's kids aren't vaccinated. We have a lot of people that come to Jamaica Plain from Roslindale because they can sit on the patio there."
Fans of the Roslindale beer garden still have time to enjoy Turtle Swamp's beers there. The garden will remain open on Fridays and Saturdays through August, before switching to Saturdays only in September. Its final day of business will be September 25, which coincides with the Roslindale Porch Fest.
Turtle Swamp initially debuted its Roslindale offshoot in November 2018 as a "winter bierhalle." It went on to host retro game nights, trivia, movie nights, food pop-ups, and other events.
The brewery's Jamaica Plain taproom, located at 3377 Washington St., is unaffected and will remain open for business as usual.
"The JP taproom is as busy as ever," Walther said. "JP has a big open patio. We have the big garage doors that can open up to all the space where people can sit. It's just that Roslindale didn't come back."
Sign up for The Dish
Stay up to date on the latest food news from Boston.com.