Beer
Night Shift Brewing and Tracksmith teamed up to brew a Boston Marathon beer
On Your Mark, Gose is out now.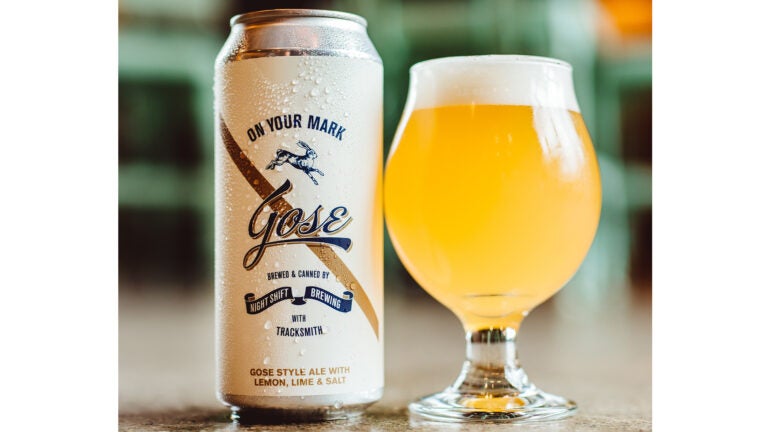 As the 125th anniversary of the Boston Marathon approaches, runners who make their way across the finish line might be expected to guzzle water, pop a bottle of Champagne, or reach for the closest energy drink.
Night Shift Brewing is hoping they crack open a can of beer, too.
The local brewery recently teamed up with Tracksmith, a running brand with a retail store on Newbury Street, to make On Your Mark, Gose, a gose-style ale with lemon, lime, and sea salt.
"It's our take on a beer version of a Gatorade that we can offer people at the end of a race," Night Shift co-founder Michael Oxton said. "It's a very traditional, almost ancient style, but then we're hitting it with lemon and lime to modernize it."
In previous years, Tracksmith has teamed up with now-closed Mystic Brewery to collaborate on beers for the marathon. Louis Serafini, Tracksmith's senior manager of community, said that for this year's iteration, Night Shift and Tracksmith debated on what style would work best for post-race hydration.
"In the past we've done a saison and a gose," Serafini said. "Initially, we were leaning towards a lager, something light and drinkable. We went back and forth and came back to the idea of doing a gose again, just because it's such a great post-run beer."
Erin Engelson, digital community manager for Night Shift, was on the same page.
"We wanted something that we would personally enjoy post run and that we think other runners would enjoy post run," Engelseon said. "So obviously a stout or something like that was out. We were looking for something fairly light and a little fruity, and we loved the idea of having some sea salt thrown in there as well — something that feels really thirst quenching and rewarding after a run."
On Your Mark, Gose is currently available on tap and in cans at Night Shift's taprooms in Everett and Lovejoy Wharf, as well as its Owl's Nest locations. Tracksmith will also have the beer on hand during its run club meetups on Wednesdays and Sundays, and at a series of events at its store, dubbed "the Trackhouse," over marathon weekend. On Oct. 7, the Trackhouse will host a happy hour kick-off party at 6:30 p.m., where attendees can try the beer (RSVP required). It'll also be available during a live podcast recording with professional runner Nell Rojas on Oct. 10 at 6 p.m., and at a viewing party on Marathon Monday from 9 a.m. to 4 p.m. After that, it might be hard to get your hands on the gose again.
"I think we'll have enough to last us through the marathon, but we didn't make a huge amount," Oxton said. "If people love it and it's a huge success, we can definitely consider it for next year."
Sign up for The Dish
Stay up to date on the latest food news from Boston.com.