Beer
Space Craft, a new beer from Sam Adams, uses hops that have been to space
You can find it at Sam Adams taprooms starting Nov. 16.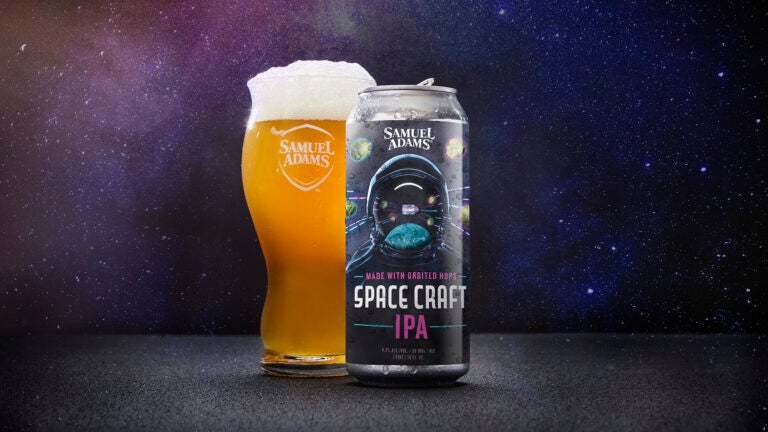 You could say that Sam Adams's new beer is, quite literally, out of this world.
That's because Space Craft, a West Coast-style IPA debuting Nov. 16, is made using hops that have orbited Earth. The hops caught a ride on the Inspiration4, the world's first all-civilian mission, which launched Sept. 16 and traveled 300 miles above Earth for two days, 23 hours, and three minutes. Fittingly, the Space Craft four-pack costs $22.33.
As the official beer of Inspiration4, operated by SpaceX's Dragon spacecraft, Sam Adams sent 66 pounds of Mosaic and Citra hops into space, which was then used to brew the celestial beer. The 6.2 percent IPA features notes of grapefruit, guava, and passionfruit.
While pre-sale cans have already sold out, thirsty customers grounded on Earth can order the beer on draft at the company's Jamaica Plain brewery on Nov. 16 and downtown Boston taproom on Nov. 17, just in time for the peak of the Leonid meteor shower.
In addition to sending its hops on a cosmic mission, Sam Adams also donated $100,000 to St. Jude Children's Research Hospital. The donation was part of the mission's goal to raise $200 million for St. Jude, which is focused on helping children beat cancer and other life-threatening illnesses. The fundraiser exceeded its goal after SpaceX CEO Elon Musk contributed $50 million upon Inspiration4's return on Sept. 18.
Sign up for The Dish
Stay up to date on the latest food news from Boston.com.