Beer
Harpoon Brewery is hosting a pop-up beer garden during the playoffs
Stop by to pregame before you head to TD Garden.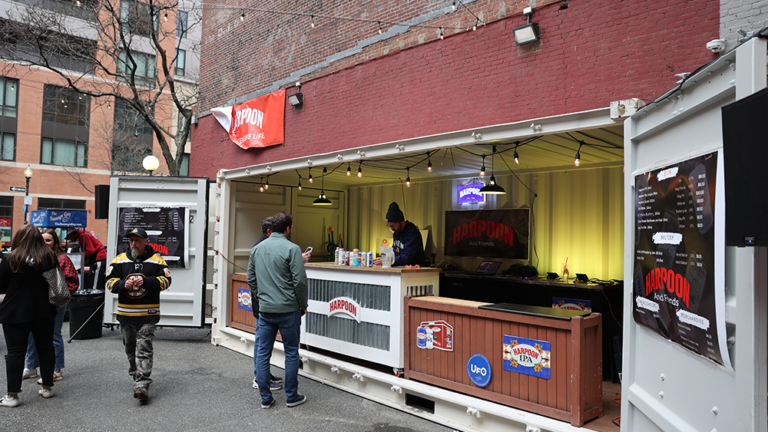 The Celtics and Bruins games are in full swing at TD Garden, and before you head over to take in the action, you may be looking for somewhere you can get a cold glass of beer beforehand. Harpoon Brewery has launched a pop-up beer garden that will open three hours before each playoff game, located on Canal Street.
"There's something for everyone to enjoy," Charles Storey, chief of employee and customer engagement at Harpoon, said of the beer selection. "It's a nice urban space, and then you add to that the excitement around having our home teams doing so well."
The beer garden first welcomed guests on April 15, when the Celtics faced off against the Atlanta Hawks, for the NBA playoffs. It hosts up to 300 guests looking to pregame in a parking lot in the West End, surrounded by old brick buildings. Bistro lights are strung around the space, and beer barrels serve as tables. Speakers play music, and visitors can also enjoy games, like corn hole and giant Jenga.
A variety of beers will be available for guests to purchase. Harpoon IPA, as well as Harpoon's Rec. League, a pale ale low in calories and alcohol, can be bought. Drinks from UFO Beer Company, Clown Shoes Beer, Long Trail Brewing Company, and Arctic Chill Hard Seltzer will also be sold. Visitors can indulge in food from The Sausage Guy, known for serving classic Italian sausage and hot dogs near Fenway Park.
Storey said that he is excited to see what the outcome of the playoffs could be.
"I'm old enough to remember the glory days when the Celtics and Bruins were repeat champions," he said. "I think what is special about this playoff run is that both teams are doing so well in their leagues. There's this opportunity for both teams to make it to the finals and win the championship."
Harpoon Brewery pop-up beer garden, 110 Canal St., Boston.
Sign up for The Dish
Stay up to date on the latest food news from Boston.com.