Breweries & Bars
GrandTen's Medford Rum is steeped in history
What's the difference between a New England style rum and a Caribbean rum? South Boston's GrandTen Distilling has revived the former.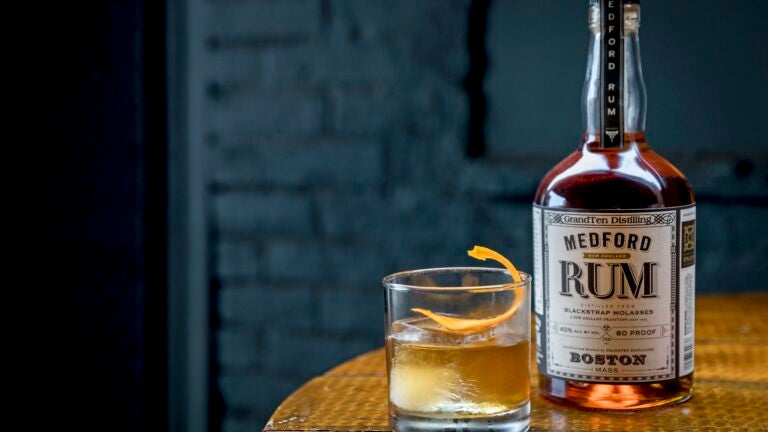 GrandTen Distilling opened in South Boston in 2011, but the distillery produces a rum with origins that go back way further than that.
According to the Medford Historical Society, a brand of rum called "Medford Rum" was produced starting in the early 1700s. It's the rum Paul Revere drank on the evening of April 18, 1775, before his ride to Lexington to warn that the British were coming, as cited in Barbara Kerr's "Glimpses of Medford: Selections from the Historical Register" (Charleston: History Press, 2007). GrandTen Distilling cofounder Matt Nuernberger is aware of the lore, and likes linking the history to his relatively new beverage.
"The story goes that on his 1775 ride to Lexington, Paul Revere took a detour through Medford in order to avoid the Redcoats that were chasing him," says Nuernberger, referencing the book. "As it happened Isaac Hall, the Medford distiller, was also the captain of the Medford minutemen. Although Revere's stay was brief, it was long enough for Captain Hall to pour him several stirrup cups of rich old Medford Rum, which 'would have made a rabbit bite a bulldog.'"
Medford Rum continued to be produced for more than 100 years after that famous midnight ride, but due to Prohibition laid mostly dormant in the years afterward. GrandTen bought and launched their own version of Medford Rum in the spring of 2014.
"There was a point I think in the '50s and '60s that M.S. Walker was making a Medford Rum, and then the brand went dormant," says Nuernberger. "When we started GrandTen we set out to revive it."
There are differences between Caribbean rum and the New England style the Medford brand falls under. While Caribbean rum is not a monolith — the spirit is made differently in Puerto Rico than it is in Jamaica or Barbados — the New England version is generally "thicker and less sweet than its Caribbean cousin," according to the New York Times. Rum production caught on in the American colonies and peaked in 1770, according to the Times, when six million gallons of Caribbean molasses were imported to the American colonies. There's an ugly history here, too, involving the trade of some New England rum to West Africa in exchange for slaves sold to the Caribbean.
GrandTen's Medford Rum follows the New England colonial rum tradition taste-wise. Made with blackstrap molasses and wild New England yeast in a copper still, Medford Rum has flavors of butterscotch or vanilla more akin to a bourbon than some rums you may be used to.
"It's a little bit drier, but I would say there's still a nice sweet note to it," says Nuernberger.
Because of Medford Rum's whiskey characteristics, Nuernberger says the spirit goes well in an Old Fashioned cocktail, which GrandTen sells a lot of at its South Boston cocktail bar. Other spirits from GrandTen include Wire Works Gin and South Boston Irish Whiskey.
Need weekend plans?
The best events in the city, delivered to your inbox.