Breweries & Bars
Jacob Wirth, Boston's historic German beer hall, is reopening with modern updates
The 150-year-old German beer hall, a Boston landmark, is making a comeback under new ownership.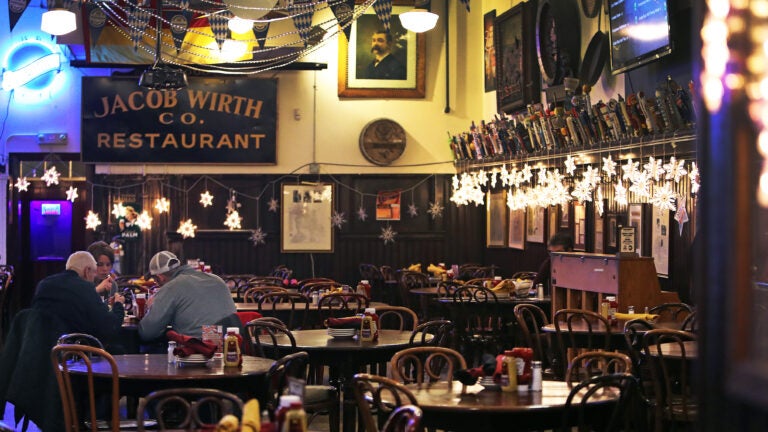 If the walls of the Jacob Wirth building could talk. That's what Jamison LaGuardia, vice president of sales and operations with Royale Entertainment Group, said as he stood inside the hollowed out former bar and restaurant, with nothing but wood panels and a piano standing in the 4,100-square-foot space.
"We started looking upstairs, and there was an old safe up there," said Jacob Simmons, vice president of project management at City Realty Group, now the owners of Jacob Wirth. "This is the fun stuff when you get these 200-year-old buildings — you find that old safe or an old candy patent."
City Realty is joining up with Royale, who will be in charge of operations, to bring the famous Boston landmark back to slinging German beers soon enough, as first reported by Boston Business Journal.
What was Boston's second-oldest continually operating restaurant has sat vacant for a handful of years now — not because of COVID-19, which is what most people assume upon finding out of its closure, Simmons said. A fire started in one of the upstairs apartments in 2018, and since then, the people of Boston have wondered what would become of the decades-old establishment.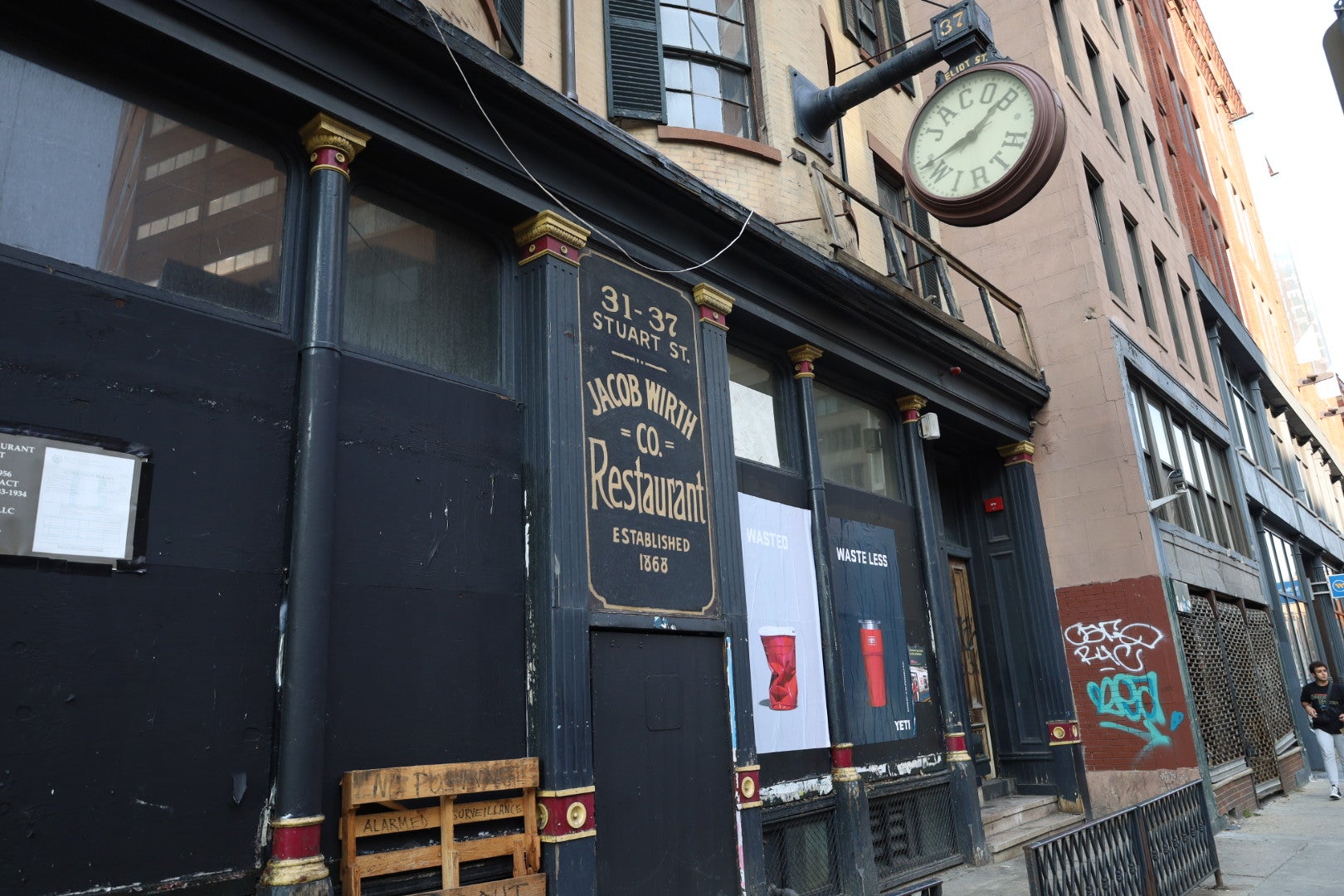 It's coming back as itself — mostly.
"We want to keep the nostalgia going," LaGuardia said. "We're going to bring it up to 2023 standards, but we're going to keep the heart and soul of this place."
Jacob Wirth opened in 1868 by its namesake, who immigrated to Boston from Germany. One of the restaurant's claims to fame, according to its website, is that it was the first bar to distribute Anheuser-Busch beer. Wirth, the owner, was also one of the co-founders of Narragansett Brewing Company.
In its early days, its German roots were evident: On the menu was goose liverwurst for $1.95 and a glass of imported German wine for just $0.60.
Apologies to those diners out there with a craving for goose liverwurst, but Simmons and LaGuardia said those kinds of items won't be on the menu.
"The menu is by no means going to be what it was when it first opened," LaGuardia said. "It was a different world."
The new team bringing the restaurant and bar back are playing up on its German roots, but also modernizing it and including some Boston bar staples. They haven't finalized the menu yet and wouldn't go into further detail.
But what they could say was that there will be plenty of beer, served to customers at the same mahogany bar.
When asked about the return of the bar's famous piano singalongs, LaGuardia said that's something they're wanting to bring back, as well as other event offerings: live music, private events, even karaoke.
The owners are mulling over the hours as well, but said there is potential to stay open later on the weekends for the 21-plus crowd. Otherwise, it will be a family-friendly restaurant and bar, catering to those who need a place to stop before or after the Theater District's shows.
As far as what it will look like once renovations are done, the owners plan to hang or display much of the historic items they found when starting renovations. There will be a few TVs for games, too.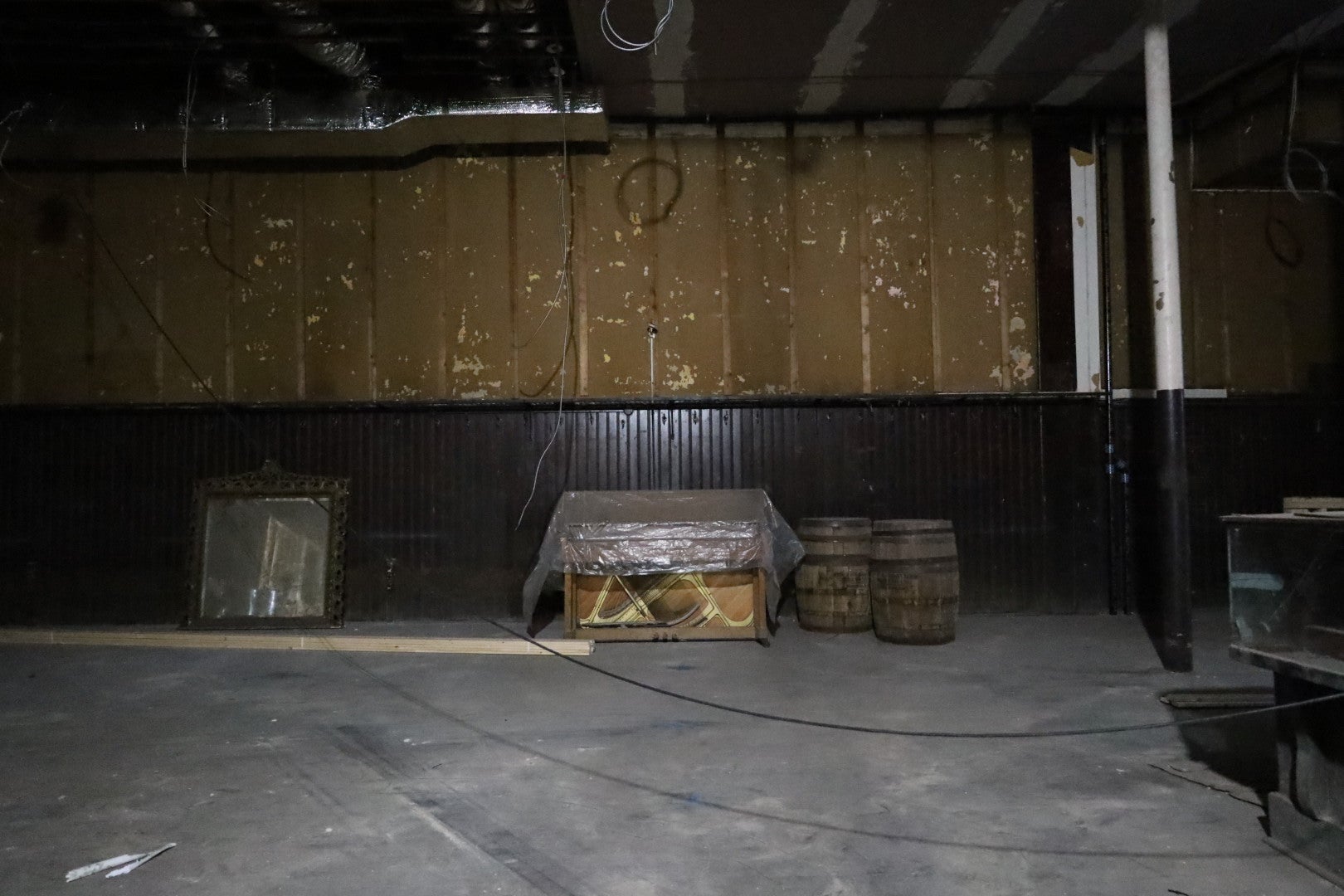 The kitchen used to be in the basement, but because that's not practical, the owners are moving it upstairs next to the bar — which will cut some bar space down. But some news that has been welcomed by those who remember the former restaurant: The women to men bathroom ratio will finally be up to code, meaning there will be more toilet stalls in the women's restroom.
Separate from the restaurant and bar, they're also renovating apartments upstairs.
So when does this iconic bar make its return?
At one point since the $5.3 million sale in February, it was supposed to open in time for Oktoberfest festivities this year. But the team has hit some unexpected delays, mostly due to the fact that they have to work carefully with a landmark building.
When new ownership takes on a historic property designated as a landmark in Boston, they have to go through the Boston Landmark Commission. In the case of Jacob Wirth, the developers have had to get approval for any fix to the public-facing exterior of the building and interior of the bar.
For example, the mahogany bar inside the business couldn't simply be gutted, but rather carefully removed in order to receive updates. The old clock out front isn't going anywhere. Replacement tile must match old tile.
"There's sort of an extra layer of review that goes into this," Simmons said. "This goes a lot slower than a typical build-up because at every stage, you're stopping, checking in with staff, getting approval, talking over options, and then moving along."
They're hopeful the bar will be ready to serve patrons for St. Patrick's Day. Though the delayed timeline has been less than ideal for the team, a bright spot has been community enthusiasm in its eventual reopening. They've heard stories from locals who share their memories of Jacob Wirth with them, from evenings listening to the piano play and meals they enjoyed to shoutouts of beloved former employees that served customers in the 150-year-old establishment.
"We have contractors here all the time, and the doors are open, and people walk by sticking their head in and ask questions — they say, 'Oh, I remember this place back in the '70s, '80s,'" LaGuardia said. "It's pretty fun."
Newsletter Signup
Stay up to date on all the latest news from Boston.com