Business
The wait time for a Peapod delivery in Boston is 2+ weeks. Here's how Stop & Shop is responding.
The delivery service is planning to hire more part-time drivers and shoppers in the coming weeks.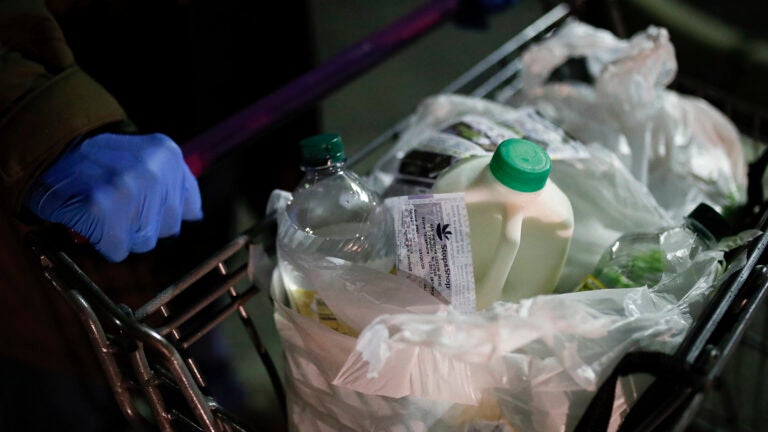 If you've tried to place an order on Peapod, Stop & Shop's grocery delivery service, in the past few days, chances are you haven't gotten very far.
Visitors to the site encounter a pop-up detailing service updates — a signal that indicates just how pervasive grocery delivery has become since the COVID-19 outbreak.
"Delivery time slots are extremely limited," one bullet point states, along with the warnings that "Customer Care cannot assign time slots or place orders," "product availability is limited," and "we have temporarily paused pick-up ordering." "Contactless delivery option is available," another bullet reads — if you are able to secure a delivery time.
While Peapod recommends checking for available time slots before adding to your cart, users will note that, as of April 2, every delivery time listed until April 15 is marked "sold out." There is no option to choose a time slot beyond that date.
Calls to Peapod Customer Care result in a similar outcome.
"Due to the extreme demand for service, our hold times currently are exceeding one hour," a recorded message states. "If you are calling about delivery times, be advised we are sold out as shown on the website. We encourage you to continue to check online for availability. Representatives do not have additional times available."
In an e-mail to Boston.com, Peapod detailed some of the steps the service is taking in an effort to remedy the delivery delays.
"Because of the fact that many customers prefer to stay home, we've seen unprecedented demand with our home delivery services," said Maria Fruci, Stop & Shop's manager of external communications and community relations. "We've expanded the availability of delivery times as much as possible, though customers may still be experiencing delays. We are planning to hire more part-time drivers and shoppers in the coming weeks to help fulfill orders. We apologize for the inconvenience and greatly appreciate everyone's patience as we continue to work diligently to provide alternate solutions."
The company is hoping to fill roughly 1,500 part-time positions for drivers and shoppers across five states, the majority of which will help shoppers fulfill more delivery orders.
Fruci also wrote that Peapod has placed a purchase limit of two per order per customer on select health and beauty care, cleaning, and paper products, and that customers should select "allow comparable substitutions" in their My Account area under Shopping Preferences in order to allow for a faster delivery time when items are out of stock.
Peapod is taking other steps to distribute food during the coronavirus pandemic. In a press release Thursday, the company announced that it will donate 5,000 meals every day for health care first responders in six hospitals across New York and Massachusetts, including Boston Medical Center and Boston Children's Hospital.
"Medical first responders are doing incredible work in extremely trying conditions to keep our communities safe, and we are honored to have this opportunity to help," said Stop & Shop president Gordon Reid in the release. "Stop & Shop's 60,000 associates are working extraordinarily hard each day to ensure that everyone has access to the food they need, and we hope these meals will help in filling an essential need for local healthcare heroes in the days ahead. We also hope that other food retailers and suppliers will do what they can to expand free meals at hospitals across this region and around the country."