Restaurants
Sarah Wade is opening a comfort food restaurant in the old Townsman space
Stillwater will debut in the fall.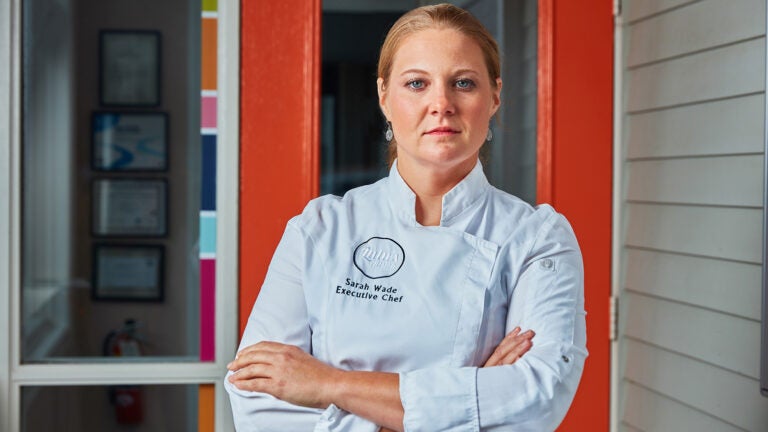 Chef Sarah Wade wants her upcoming restaurant to give everyone "the warm and fuzzies inside."
The former Lulu's Allston chef — and "Chopped: Gold Medal Games" champion — will open Stillwater in the old Townsman space at 120 Kingston St. on the border of Chinatown and the Leather District. Known for cooking stick-to-your-ribs fare at Lulu's, such as Mexican cheetos, shortrib tacos, and decadent burgers, Wade said that Stillwater, which is named after a town in her native Oklahoma, will focus on reimagined comfort food — though that doesn't mean everything will be deep fried or covered with gravy.
"I grew up in the South, and that's where my roots are," Wade said. "I enjoy bringing elements of the South to the Northeast. I think there will be some [dish] elements from Lulu's coming over, but I want them to [have] very separate identities."
When it opens, Stillwater will serve lunch, dinner, and brunch, along with craft beer and cocktails. While Wade said she is still in talks with breweries, she's planning to debut the 12 draft lines with beer from around New England.
Wade said that she had been searching for an ideal location for her first restaurant when the realty company she was working with shot her an email, explaining that they had a turnkey space — and did she want to look at it?
"They told me it was the former Townsman space [run by chef Matt Jennings], and I was like 'Oh yes,'" she remembered. "I walked in and said, 'This is it.'"
Townsman closed in July 2018. To make the space her own, Wade said she is adding banquettes to the dining room, and will add blue and silver tones to give the restaurant a warmer feel. There will be roughly 130 seats inside the restaurant and 25 out on the patio, where diners can take in the busy neighborhood — one that Wade is still getting to know.
"There's a lady that runs the parking lot across the street where I park my car every day, and she's kind of taken me under her wing and shown me around," Wade said. "There's so much growth down here, and the neighborhood is so vibrant. I love walking around the streets and seeing the activity, and I'm excited to share [Stillwater] with the city and be a part of the restaurant scene here."
Stillwater; 120 Kingston St., Boston; opening fall 2019