Cocktail Club
How a fine wine consultant is spending his time during the pandemic
Nick O'Connell, of Post Road Liquors, shares his go-to wine recommendation, working in the family business, and starting his own ventures.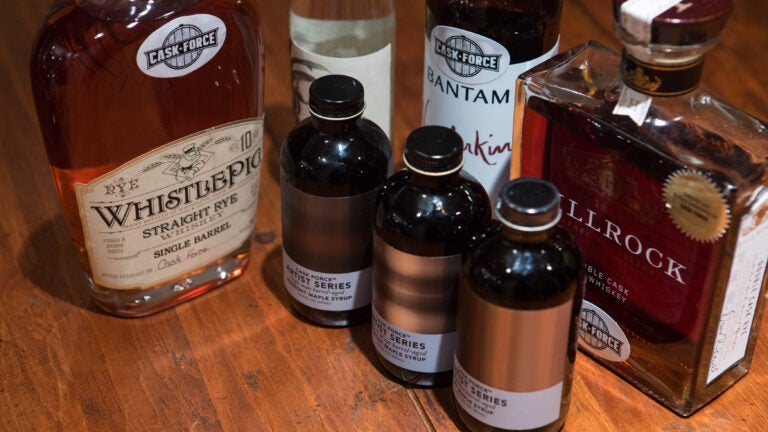 In pandemic times, liquor stores have become a reliable place for exploration. 
Across his family's fine wine and liquor stores in Boston's western suburbs, Nick O'Connell noticed customers have continued to drink the same amount, but their tastes are shifting. 
"They're switching what they are drinking, and switching when they come in," the fine wine consultant said. Customers tend to provide him with a budget and a request to curate a box of wine. "The general curbside pickup is a case of wine — six whites, six reds, a handle of Tito's, and a bag of ice." 
That element of expert curation runs across O'Connell's offshoot ventures, too. Outside of helping people build their wine cellars, O'Connell co-owns Cask Force, a custom spirits company that sources and repurposes single whiskey barrels to create unique finished products from Cabernet-finished bourbon or bourbon barrel-aged Vermont maple syrup. He also launched a new venture last year with a simple concept: Show people how to make their own high-quality Negronis to go. He coined it the "Togroni."
On Thursday, O'Connell joined the Boston.com Cocktail Club for a virtual class mixing cocktails with gin. We spoke with the fine wine consultant about working in the family business, taking "Togronis" around the world, and why a post-pandemic Boston will see a more knowledgeable drinker.
Tell us about your work.
My family's been in business for four generations. We have four fine wine stores in the Newton, Wayland, and Needham areas. I'm actually out here at our Post Road location, which is on the Wayland-Weston line. I handle a lot of Bordeaux, Burgundy, and some of the rarer European wines. [I] basically help customers build their cellars and pick wine down to age, and source vintage wine for them. 
Cask Force started in 2014. Basically, what we started doing was using whiskey barrels to create unique finished products. In 2016, I started the Cask Force Artists Series, which is our maple syrup line with original artwork from Elaine Buckholtz, who's a Fort Point artist. I started taking a little bit of winemaking techniques to maple syrup — the blending process and the aging process — and started making syrups that have extremely unique profiles for roasted vegetables. You can dump it all over your pancakes, too, but it definitely has more of an eclectic feel to it. 
What drink would you recommend a customer?
It kind of varies from store to store. I generally recommend Sicilian wine, like Etna Rosso is a popular SKU [stock keeping unit]. It's very Burgundian: It's got a high mineral content, but it's also not too expensive. It drinks kind of like a pinot noir, but the grape is technically Nerello Mascalese. Etna Rossos are something I recommend to the everyday drinker. Also Soave — those are really nice, crisp Italian table whites. I also get into Premiere Cru and Grand Cru Burgundy depending on what the person is eating. My first question is always: What are you going to be eating?
What's been your go-to pandemic drink?
My girlfriend and I drink a lot of champagne. We definitely don't think it's only for special occasions. Sparkling wines are viewed different by Americans than the French. I think it's a perfect apéritif. Whenever I'm having a wine tasting with a group of friends, we always start off with champagne and then graduate to different offerings, and have a bottle open just to cleanse our palate. 
Did you anticipate the "Togroni" taking off? 
I don't understand how it hasn't been done before. There's a lot of canned and bottled Negronis out there. I've been aging Negronis for years and bottle-aging Negronis, but there's just nothing like freshly opened bottles and the perfect ratio. I thought it was going to take off, but it's quickly surpassed Cask Force, my Cocktailist page, and just about everything followers-wise. It's revolving around the world. I didn't anticipate that. I have been trying to talk with Campari to figure out how to go forward with it. It's the perfect ally-oop to them. I've got a patent pending on the process, so it can be available all over the world.
Will drinking habits change in a post-pandemic Boston?
I think people will become more educated after the pandemic because they're figuring out what they like. A lot of people are calling and having us just mix up a case of wine, giving us a budget, because they want to try a different wine every night. That's a very popular thing to do right now. People aren't really shopping around as much. We're regaining the customer that used to hop around from store to store. Now they're just like, 'I like what you did last time. Let's try something new.' 
What's been getting you through the pandemic?
Cooking. My brother's a really talented chef. I'm not so much, but my girlfriend is a really good chef, too. We've been making pizzas and staying within our pod, but still going out to restaurants — we go out to restaurants like three nights a week. We've done some painting, and activities that we've never really [done]. We don't really watch much TV, so we've been going on walks all around the city.
How can readers support you and your colleagues right now? 
We're doing a Valentine's Day Cask Force gift set with Stone and Skillet. People can also order off the Cask Force website, and reach out to me for local deliveries. Also, I thought it might be important to note giving back to restaurants. I've been fortunate to have my job this entire time. I want to encourage people to buy gift cards to use in the summer. For those that can, I don't see why we wouldn't be buying the biggest gift card we possibly can to get restaurants through the entire winter months. … Come June, July, and August, when it's safer to go in and eat, try to put three months worth of dining into one gift card to help out a restaurant that you love. My favorite restaurant in the city is Troque on South. My girlfriend and I had our first date there. At [reduced] capacity, [owner Chris Campbell] is still doing well, but at the same time, I know I'm going to be there all summer long, drinking rosé on the patio. A couple friends of mine and I have been buying large gift cards and just put them away in our drawers to use when there's no capacity limits. It's just a no-brainer to me.
---
Join our next virtual cocktail class:
Join us at 7 p.m. Thursday, Feb. 11 for Boston.com's Cocktail Club with host Jackson Cannon and special guest Ashley Sullivan from Salt Raw Bar in Plymouth. This week they'll be making cocktails with bourbon, the undisputed heavyweight champion of American cocktail ingredients, catching up about the Boston restaurant and bar scene, and sharing tips the pros use to make great drinks at home. They'll be mixing a classic Whiskey Smash and the underrated Brown Derby Cocktail. Get your ingredients ahead of the event, or purchase your Cocktail Club bourbon kit through Gordon's Fine Wine and Spirits.