Cocktail Club
Salt's bar manager Ashley Sullivan shares why takeout cocktails will remain popular after the pandemic
Plus, watch her virtual class mixing bourbon cocktails.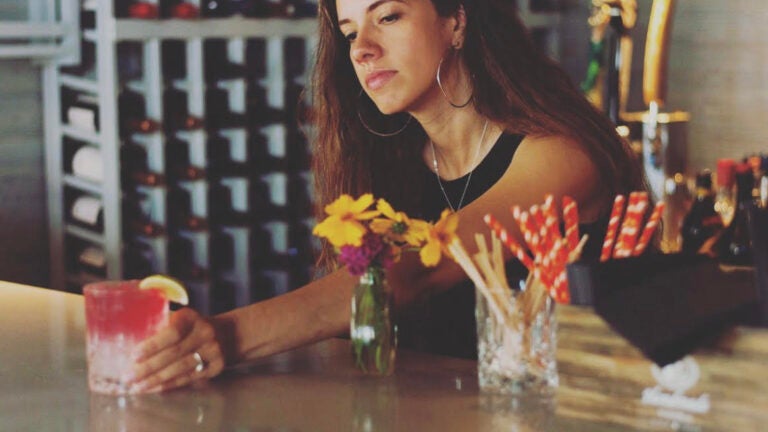 On Thursday, Ashley Sullivan, bar manager at Salt restaurant in Plymouth, joined Cocktail Club host Jackson Cannon to mix cocktails with bourbon. The pair made a classic Whiskey Smash and a Brown Derby cocktail, revealing tips for crushing ice at home and the splurge bourbon to try.
Boston.com spoke with Sullivan ahead of the live virtual class about being part of the opening team at Salt, why those working in the restaurant industry would do well in public service, and why takeout drinks will remain after the pandemic.
Can you tell us about Salt? 
Salt is a modern American restaurant here on the South Shore in Plymouth. The dining experience here is a really fun and immersive one. We have a stellar wine list, a unique style of cuisine, and seasonal cocktails. I've been at Salt for two-and-a-half years and was part of the opening team. I started off just bartending and am now running the bar program here.
During the pandemic I helped get the To-Go cocktail program up and running so people can enjoy their favorites from the comfort of their own home.
Could you share with us your other work in the community?
I became a town meeting member in Plymouth about a year ago. I always felt that people in the restaurant industry would make great public workers. We work with finesse under pressure, are great listeners and conversationalists, and can handle a multitude of tasks at any given moment.
There are articles of legislation that can affect our industry greatly. Something as simple as downtown parking can effect the flow of business to our restaurants downtown and on the waterfront, and I wanted to make sure that there was a vote that had the restaurant industry in mind. I am also a member of the town's energy committee and part of a restaurant sustainability group. As a coastal town with many restaurants on the waterfront I wanted to help move toward more sustainable practices and educate on the harms of waste and pollution within the industry.
What has been getting you through the pandemic?
Reconnecting with old friends and family was really helpful for me. I think all the extra time I had made me realize how distracted we were with our day to day routines and it really only takes a minute to reach out to someone to see how their day is.
How has being a parent to young children impacted you this past year?
Being a parent during all of this was heartbreaking, eye opening, and a huge blessing. Trying to explain to young children that they can't be in school anymore, see their friends, or go to the park were some of the hardest conversations I had to have with them. I had to become an educator to them and this gave me a greater appreciation for our teachers. I will say that I am so grateful that I had the resources to be able to still educate them and get to spend extra time with my girls. I feel like the younger years go by so fast so it was wonderful having them garden with me and turn our yard into a bird observatory of sorts.
What's been your drink of choice?
My drink of choice recently is a daiquiri I make with a spiced syrup. For me, it's the perfect wintertime drink.
What do you like about the Brown Derby cocktail?
I love the simplicity of the ingredients yet the complex flavor when it all comes together. Incredibly refreshing!
Any predictions for the restaurant and bar industry after the pandemic?
I think post pandemic our industry will be booming. I know many people who still aren't comfortable dining out, and they will certainly be back once everything settles. I also think takeout drinks will still be popular. The accessibility to having your favorite drinks made by your favorite bartenders in the comfort of your own home is a really great concept.
---
Join our next virtual cocktail class:
Join us Thursday, February 18th at 7 p.m. with host Jackson Cannon and his special guest, Brother Cleve. This week they'll be making cocktails with vodka, the number one selling cocktail ingredient in America for the past 50 years, catching up about the Boston restaurant and bar scene, and sharing tips the pros use to make great drinks at home. They'll be mixing a classic Vodka Gimlet and the underestimated Kangaroo Cocktail (spoiler alert — it's a Vodka Martini!). Everything you'll need is listed here or purchase your Boston.com Cocktail Club Vodka kit through Gordon's Fine Wine and Spirits.