Food
Cocktail Recipe: How to mix a classic Pimm's Cup
Cocktail Club host Jackson Cannon shares his take on this simple gem of a cocktail.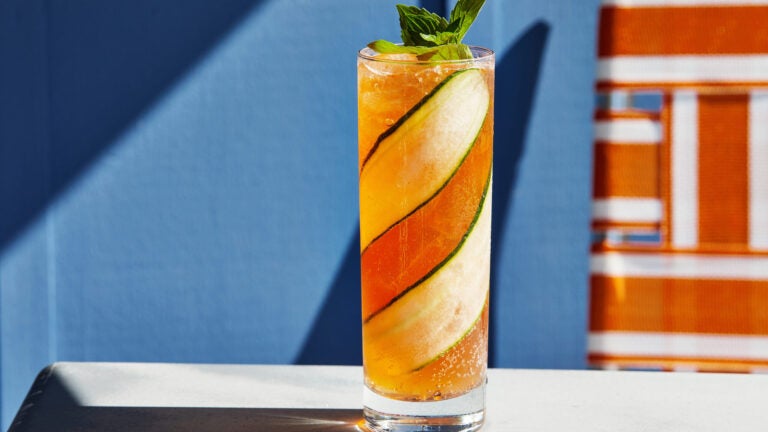 Do you know what it means to miss New Orleans?
Although the origin and history of Pimm's as a British summer favorite cup is unquestionable, it may be that this drink reaches its highest purpose in its simplest form in a place of near perpetual summer: New Orleans. In the "City that Care Forgot," the laissez-faire ethos lends itself to large open container areas and never a frown toward regular day drinking. In this realm, the Pimm's Cup is king.
This refreshing toast of bitter lemon is low in alcohol yet filled with flavor.
At the incomparable Tales of the Cocktail, an annual convention dedicated to hospitality, fine bartending, and craft spirits, and held in a sweltering NOLA in July, the daytime meeting spot is the venerable Napoleon House on Chartres Street in the French Quarter. During the week-long festival of good drinking in the restaurant that's been a public house since 1791, rarely is a single Pimm's Cup ordered.
Instead, a quick tally of one's friends from all over the world is made, and an order for three, four, or more is placed. If by chance a fellow traveler is on the way out, not to worry. Their drink is quickly transferred into a custom travel cup, rendering the slow walk in the heat a celebration of life and culture.
Below is my take on this simple gem of a cocktail.
What you'll need
Pimm's Cup
2 oz. Pimm's No.1
1 oz. fresh lemon juice
1 oz. simple syrup
2 slices cucumber
Lightly crush the two slices of cucumber and shake with the rest of the ingredients over ice.
Strain onto fresh ice and top with ginger ale.
Garnish with either a cucumber ribbon or long slice of cucumber.
---
Join our virtual cocktail class:
Join us Thursday, February 25 at 7 p.m. with host Jackson Cannon and his special guest, Gina Richard Sargeant. This week they'll be making cocktails with Pimm's, the perennial kitchen-cabinet dwelling British aperitif, catching up about the Boston restaurant and bar scene, and sharing tips the pros use to make great drinks at home. They'll be mixing a classic Pimm's Cup and a modern twist on that drink known as the Dartmouth Highball. Everything you'll need is listed here with a link to purchase your Boston.com Cocktail Club Pimm's kit through Gordon's Fine Wine and Spirits.
Jackson Cannon is Boston.com Cocktail Club's host and bar director for Eastern Standard and The Hawthorne.