Cocktail Club
Recipe: Add a kick to your cocktail with a spicy Aperol Spritz
"It was bad, it was bougie, and it was delicious," Tanám's bar director Kyisha Davenport shares her Scotch Bonnet Spritz recipe.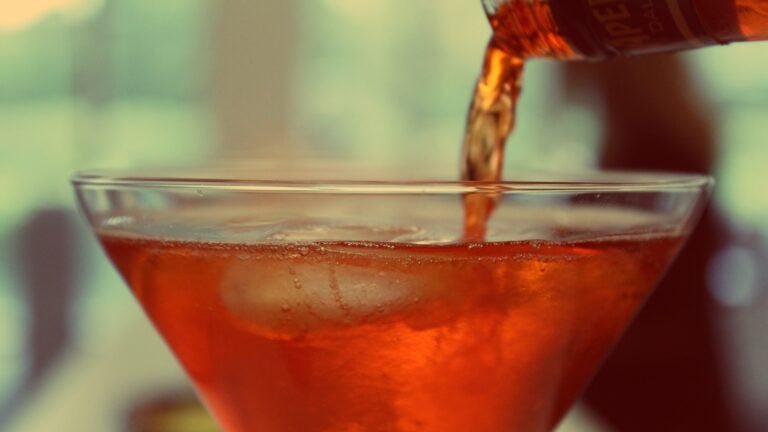 My first memory of having an Aperol Spritz was almost a decade ago in Brooklyn at a friend's wedding. The reception took place on the beautiful patio of a French restaurant (the irony, I know), with delicately tiled floors and trellises lush with green, glimpses of  midday sunlight bouncing off of the glimmering ice cubes swirling around in stemmed crystal.
It was bad, it was bougie, and it was delicious.
And funny enough, I left the reception to catch a bus to visit Boston for the first time — very excited and a little tipsy!
Aperol is an aperitivo — a drink typically served before a meal to invigorate one's appetite — made with a blend of bitter herbs and roots like gentian, cinchona, and rhubarb. Its striking bright hue and signature taste is owed to a balance of bitter and sweet oranges. Fantastically light bodied with a bitter finish that invites you to your next sip, Aperol is a year-round staple, no longer relegated to sitting in your fridge or liquor cabinet because you tried a thing that one time. No shade, I promise.
Though the Aperol Spritz remains the standard for Aperol-based cocktails, bartenders across the globe have turned to the hundred-year-old Italian classic to make modern classics of their own, like the Paper Plane. Whether adding Aperol for a splash of color, or infusing it for a twist like we'll get into shortly, don't hesitate to reach for the orange bottle with the blue label for your next cocktail adventure.
Growing up in Brooklyn, scotch bonnet pepper is essential to almost anything delicious (much like Aperol). A descendant of peppers indigenous to the Amazon Basin, scotch bonnet is most closely linked to and used widely in the Caribbean diaspora. The tropical, fruity pepper is a key ingredient in sauces, blends, condiments, and marinades for chicken, fish, and meat—Jerk chicken being the premier example. We won't get all the way into it, but if the chicken is saucy, or you aren't getting it from a storefront with a big black drum smoking out front on the block, chances are that it's not giving with it needs to give. I don't make the rules — I just eat from the folks who follow them.
I love playing with heat in cocktails, and infusions are one of my favorite techniques for making drinks.
Aperol's profile is very accommodating of spice, making a tropical twist on a classic cocktail almost a no-brainer. In the Scotch Bonnet Spritz, notes of apple, cherry, and tomato in scotch bonnet play well with bittersweet orange, and the OG cocktail ingredients of sugar and lime are a nod to the ancestors, adding tone to the spice of the pepper and amplifying the bright bubbles of Prosecco.
The infusion itself is the scotch bonnet syrup, using what is known as a flash blend infusion. The misconception of infusions is that it takes a lot of tools and time; while some certainly do, a flash blend of your chosen flavor with your preferred liquid offers the freshest flavor and/or color to the final product. Muddling or blitzing scotch bonnet — or any fruit, vegetable, herb, or spice — in a blender with simple syrup is a quick and easy way to create new, interesting ingredients for your cocktails, and stays fresh for weeks at a time.
Just a reminder, though: Spicy infusions will get hotter over time! If you're like me and you want to taste every last Scoville unit in your cocktail, leave the solids in the container. For our friends who prefer to be able to feel their faces, or for controlling the heat levels for a standardized recipe, strain out the solids using a tea strainer, coffee filter, cheesecloth, or nut milk bag.
Now, join me in making a Scotch Bonnet Spritz, and let our imaginations take us to a place where it's always (actual) patio season, every day is a sunny day party, and our glasses are always full. Cheers!
What you'll need
Scotch Bonnet Spritz
1½ oz. Aperol
½ oz. scotch bonnet syrup (see below)
½ oz. lime juice
3 oz. sparkling wine
1 oz. club soda
Scotch Bonnet Syrup
1 scotch bonnet pepper; stem and seeds removed
2 oz. 1:1 simple syrup
Blend scotch bonnet and simple in a blender well, about 30 seconds. Strain solids and store.
For muddled syrup: De-stem pepper. Muddle whole scotch bonnet, seeds included, for 30 seconds or to taste (spice preference level). Strain solids and store.
Add Aperol, scotch bonnet syrup, and lime juice directly in glass.
Add one cube and stir/swirl for ten seconds.
Add more ice to fill the glass.
Top with sparkling wine and club soda.
Garnish with lime wheel.
---
Watch our virtual cocktail class:
Cocktail Club: Aperol Spritz cocktails with Kyisha Davenport

Kyisha Davenport, bar director at the employee-owned Tanám, joined #BDCCocktailClub host Jackson Cannon to mix cocktails with Aperol. They made two versions of the Aperol Spritz, the deceptively savory and delightfully refreshing bubbly cocktail, catching up about the Boston restaurant and bar scene, and sharing tips the pros use to make great drinks at homeMake your own:Aperol Sritz: https://trib.al/bvi1hFhScotch Bonnet Spritz: https://trib.al/Bxjdj4r

Posted by Boston.com on Friday, March 5, 2021
Kyisha Davenport is bar director at the employee-owned Tanám in Somerville.