Cocktail Club
Cocktail recipe: How to make a delightfully refreshing Aperol Spritz
Cocktail Club host Jackson Cannon shares his take on the Aperol Spritz cocktail.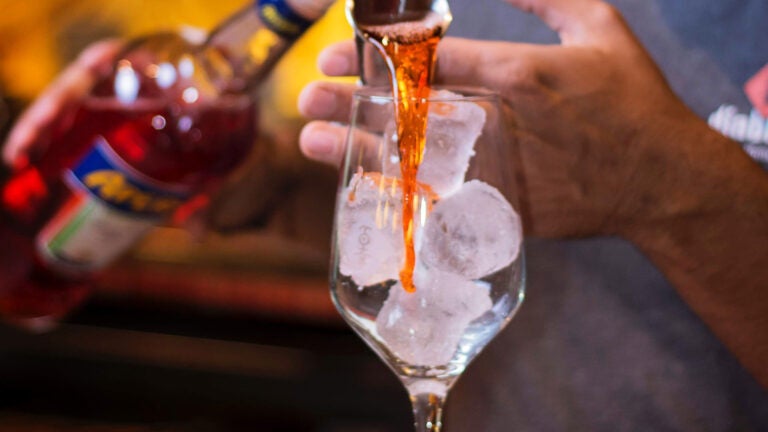 The adage "we eat first with our eyes" is said to have been coined by the ancient foodie Marcus Gavius Apicius.
Cocktails — the way we think of them today — were most definitely not around in the reign of Tiberius. Had they been, the Aperol Spritz would have been proof of the theorem. Bitter, brisk, bubbly, and bright orange, it sends a tingle to your taste buds at first sight.
On first sip, it refreshes and opens the palate, paving the way for a deceptively savory, bittersweet, and luscious swallow. Each sip repeats the ride full of flavor while remaining relatively restrained in alcohol by volume. Its hip hue and Old World pedigree made it the darling of the millennial brunch set, who find the brutish Mimosa the regrettable choice of their boomer parents.
The drink is a joy to build, requiring a simple intention to let the ingredients mix themselves in the proper sequence. And it is oh so versatile when paired with food. It balances salty, fatty foods which lend to ritual charcuterie and cheese boards served with pitchers of Spritz in what we affectionately call the "Spritz Life."
From these associations some would restrict this cocktail to Sundays and summer afternoons, where it shines to be sure. But for me, these first few days in March when the New England sun shines a little brighter (even though it might be 26 degrees outside) is a great time to get a jump on the season with this timeless aperitif.
Join me and Kyisha Davenport on Thursday, March 4 where we will explore the classic recipe and a spicy variation.
What you'll need
Aperol Spritz 
2 oz. Aperol
1 oz. soda water
3 oz. sparkling wine
Build directly in a highball or wine glass by adding Aperol, soda water, and prosecco.
Carefully 'drop' ice into the glass.
Garnish with an orange slice or an olive.
---
Watch our virtual cocktail class:
Cocktail Club: Aperol Spritz cocktails with Kyisha Davenport

Kyisha Davenport, bar director at the employee-owned Tanám, joined #BDCCocktailClub host Jackson Cannon to mix cocktails with Aperol. They made two versions of the Aperol Spritz, the deceptively savory and delightfully refreshing bubbly cocktail, catching up about the Boston restaurant and bar scene, and sharing tips the pros use to make great drinks at homeMake your own:Aperol Sritz: https://trib.al/bvi1hFhScotch Bonnet Spritz: https://trib.al/Bxjdj4r

Posted by Boston.com on Friday, March 5, 2021
Jackson Cannon is a veteran craft cocktail leader and host of Boston.com Cocktail Club.