Cocktail Club
Cocktail Recipe: How to mix an unforgettable Whiskey Sour
Cocktail Club host Jackson Cannon shares this classic recipe using Irish whiskey.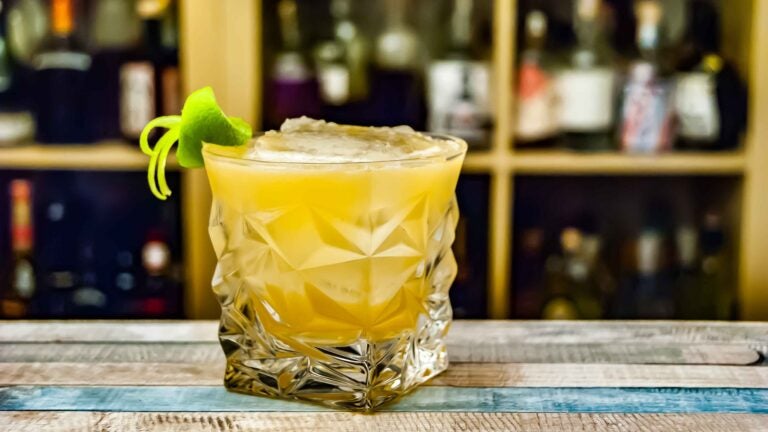 The International Bartenders Association lists the Whiskey Sour in a group of drinks known as The Unforgettables, old-time classics that have remained relevant to this day. This speaks to their durability over time but also in some measure to the blunt architecture that renders them delicious in their original form and capable of endless, subtle tinkering toward the creation of new versions in the line.
While its first appearance in print was in the Jerry Thomas' 1862 seminal bartenders guide, it most assuredly was being well-mixed before. In support of its importance and position in our drinking lexicon, David Wondrich notes in his book "Imbibe" that during the long, dominant run from the 1860s through the 1960s, the Whiskey Sour "was one of the cardinal points of American drinking, and one of the few (drinks) that could come near to slugging it out with the vast tribe of cocktails in terms of day-in, day-out popularity."
The foundation of this cocktail is as solid as a great three-chord rock song. And as with great songs, subsequent versions add depth and shading that reinforces the truth of the original. That original was made of whiskey (likely Rye), with sugar and lemon in a tradition that resembles a redacted punch, but is in fact an extension of the sailors trick of elongating the life-saving qualities of citrus with sugar and alcohol.
At some point, bourbon — with its rich mouthfeel and notes of stone fruit — supplants the rye, and further codifications occur. If you add a touch of red wine, call it a New York Sour. If you add a dash of egg white, you have the standard recipe for a frothy Boston Sour. This is the version being spun from to create the Amaretto Sour. And in an arc of reincorporation, this leads to the (Jeffery) Morgenthaler Sour, an Amaretto Sour that cuts back into a high proof bourbon base.
Below is a recipe that brings in Irish whiskey. With its softer, malted notes, the drink sings like the unplugged version of an epic hit. Lean and evocative, a hair closer to an old style made with rye, but with a mellow resonance in harmony with the original tune.
What you'll need
Whiskey Sour
2 oz. Irish whiskey
¾ oz. fresh lemon juice
¾ oz. simple syrup
(Optional egg white)
Lightly shake above ingredients, then add ice and vigorously shake.
Strain over fresh ice in a lowball glass.
Garnish: orange
---
Join our virtual cocktail class
Join us at 7 p.m. Thursday, March 11, with host Jackson Cannon and his special guest Patty Hernandez, bar manager at Stillwater. They'll be making cocktails with Irish Whiskey, catching up about the Boston restaurant and bar scene, and sharing tips the pros use to make great drinks at home. They'll mix a variation on the classic Whiskey Sour and a version of the ever-popular Mule. Everything you'll need is listed here.