Cocktail Club
Cocktail Recipe: How to make a Mule with Irish whiskey
"Cocktails don't always have to be complicated," Patty Hernandez, Stillwater's bar manager, said.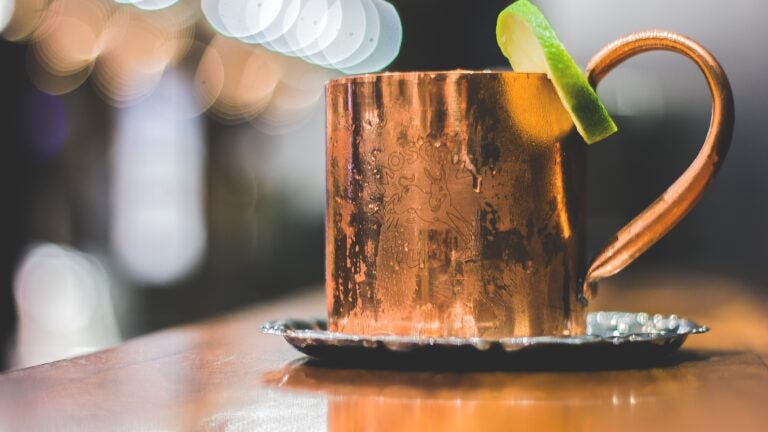 Irish Whiskey and Boston are pretty synonymous, and for a long time so was I.
I have had many memorable (and let's be honest, unmemorable) experiences with whiskey — it is a special spirit. Irish Whiskey is a necessity in any good bar, but in Boston it's a centerpiece. Boston has a huge Irish community that is felt throughout the city. Of course with St. Patrick's Day right around the corner it's only right to shed a spotlight on this wonderful spirit.
A handful of years ago I decided to help move my best friend across the country to Los Angeles, and through our travels we stopped in Memphis, Tenn. It was late and we only had this one night in town. At the first bar we went to, I ordered a Bud Light and a shot of Jameson — a standard order in the industry. The bartender instantly called me out and asked where I worked.
Even hundreds of miles away from Boston, the quintessential beer and a shot of whiskey gave me away. I think that speaks volumes to how people in the industry can pick each other out and how whiskey is a special spirit.
Whiskey and St. Patrick's Day in Boston is a wild event, pre-COVID of course.
Working on Boylston Street during St. Patrick's Day parades unite the entire block and the city's restaurant workers in general. It's a day people in the industry may not look forward to working, but it's one we look forward to getting through and adding to the collection of hard work that make it all worthwhile.
I believe whiskey is a huge part of the city's history and culture. So I encourage everyone to utilize this spirit this St. Patrick's Day and any other time you're feeling up for some tasty libation. Whether it's a long day or a celebration, whiskey is always a wonderful addition.
Despite its reputation, Irish Whiskey is versatile and can be utilized in a number of cocktails, including the one we are featuring below. Although this seems like an ode to Irish whiskey, I cannot go on without a shoutout out the OG recipe of the Moscow Mule. Originally the Moscow Mule was created with vodka, ginger beer, and a squeeze of lime. Back in the 1940s, an over abundance of copper mugs and ginger beer birthed this classic cocktail. While the creator and location of the Mule can still be debated, it's certainly no debate that it is refreshingly delicious.
Substituting vodka for Irish Whiskey like we'll be doing here really takes this classic to another level. The use of lemon juice we'll be using in this twist compliments the whiskey well. Cocktails don't always have to be complicated. Just a few quality ingredients can yield a tasty beverage. So don't overthink things, just have some fun. Cheers friends!
What you'll need
Mule
2 oz. Irish whiskey
1/2 oz. fresh lemon juice
Stir together over ice in a mule mug or other cup. Add more ice and top with ginger beer. Garnish with a lime wheel.
---
Join our virtual cocktail class
Join us at 7 p.m. Thursday, March 11, with host Jackson Cannon and his special guest Patty Hernandez, bar manager at Stillwater. They'll be making cocktails with Irish whiskey, catching up about the Boston restaurant and bar scene, and sharing tips the pros use to make great drinks at home. They'll mix a variation on the classic Whiskey Sour and a version of the ever-popular Mule. Everything you'll need is listed here.