Cocktail Club
'Busy and full of life': Stillwater's Patty Hernandez shares her post-pandemic Boston predictions
Stillwater bar manager Patty Hernandez shares her post-pandemic predictions and looking forward to night games at Fenway.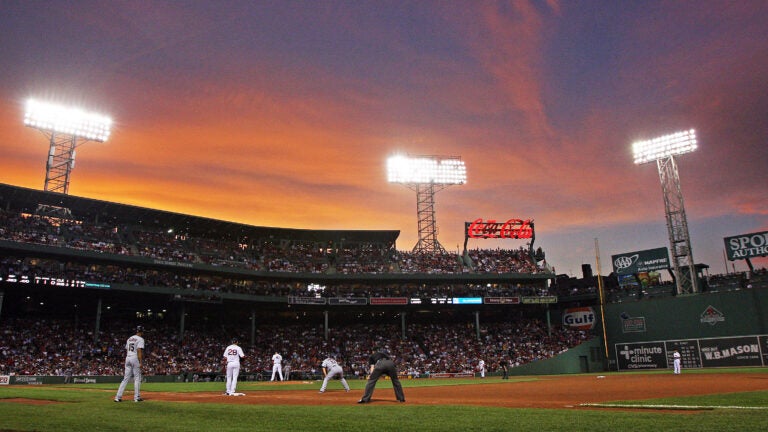 When the time comes where we can watch a night game at Fenway again, Patty Hernandez will be in the stands cheering on her favorite team.
The Stillwater bar manager and avid Boston sports fan hopes to see a bustling city after the pandemic. And with President Joe Biden's recent announcement targeting COVID-19 vaccine eligibility for all adults by May 1, catching a Red Sox game or grabbing a drink may become a stress-free outing for many this summer.
On Thursday evening, Hernandez joined the Boston.com Cocktail Club for a virtual class mixing Irish whiskey cocktails. Ahead of the event, the bar manager shared what's been helping her through the past year, her go-to kicks, and her hopes for a post-pandemic Boston.
Can you tell us a little about Stillwater and your craft cocktail experience around Boston?
Stillwater is named after our chef/owner Sarah Wade's hometown in Oklahoma. Our goal is to provide a comforting experience through Sarah's amazing food and my tasty cocktails. Warm and fuzzy is how we hope everyone feels while dining at Stillwater. My role as the bar manager has allowed me the opportunity to be creative and showcase some of the skills I've picked up over the course of a decade. I'd have to say my craft cocktail days truly began in 2015 at Hopewell Bar and Kitchen in Allston. I had access to some great products for the first time and really fell in love with the craft cocktail scene. Since then I worked at Alcove where I got to learn a great deal from truly talented people.
If you were a cocktail, what would you be?
If I were a cocktail, I think I'd have to pick a margarita. I love tequila, and margaritas remind me of a good time whether it's a tropical vacation or it's a snowy day in Boston. However, I usually skip the fillers and go straight for tequila and soda, or just straight tequila.
What's been helping you through the pandemic?
Wine, movies, tequila, and FaceTime has helped me through this crazy year.
What do you like about the mule?
A good mule is so refreshing and with the combination of Irish whiskey just takes this classic to a different level.
What do you hope a post-pandemic Boston will look like for the bar and restaurant industry?
Post-pandemic Boston, I hope, is going to be busy and full of life. I hope to see patios full and the city come back to life. There's nothing better than walking through the South End or down Newbury and bopping around. Aside from that, I hope people have a newfound appreciation for the loss the industry has gone through and can find a new appreciation for the restaurant industry altogether.
What are you looking forward to about a post-pandemic sports season?
I am a Boston sports gal through and through. I'm looking forward to going to Fenway in the summer and enjoying a night game while the sun sets behind the Green Monster. To me, there's nothing better than that.
Are you a sneakerhead? What's your most prized pair?
I do not consider myself a sneakerhead. I do enjoy a great pair of kicks, but my collection is no where near a true sneakerhead. I'd say my most prized pairs are my Jordan 11s. I generally try my luck on the Nike App, but as some know, most times you have to take a loss.
How can readers support you and your colleagues right now?
If you're comfortable coming out to dine, then I encourage you to support Stillwater or your local establishment. We are also available on third-party apps or ordering takeout right over the phone for pick up. And don't forget about our to-go cocktails! We're happy to provide wine and beers as well. My Venmo is @PatriciaHernandez08 if you'd like to support me directly. Honestly just supporting your local restaurants is so important for us right now, and I thank you all in advance!
---
Join our next virtual cocktail class
Join us at 7 p.m. Wednesday, March 17, with host Jackson Cannon and his special guest Patrick Sullivan. They'll be making cocktails with Irish whiskey on St. Patrick's Day, catching up about the Boston restaurant and bar scene, and sharing tips the pros use to make great drinks at home. They'll mix a a traditional Hot Toddy and a modern riff of the Manhattan Cocktail known as The Dubliner. Everything you'll need is listed here with a link to purchase your Boston.com Cocktail Club Irish whiskey kit through Gordon's Fine Wine and Spirits.
Get Boston.com's browser alerts:
Enable breaking news notifications straight to your internet browser.