Cocktail Club
Cocktail Recipe: Warm up with a Hot Toddy from Patrick Sullivan
Local bartender Patrick Sullivan shares his Hot Toddy recipe and growing up Irish in Boston.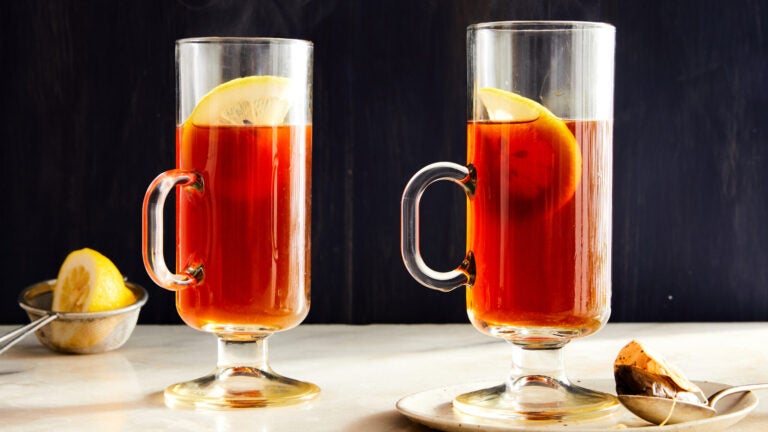 We are living in the golden age of drinking.
With all that's going on in the world currently, it's easy to lose sight of this, but it's true; we eat and drink like kings. We want for almost nothing, even through this pandemic. Our local liquor store's shelves are stocked with the finest French brandies and liqueurs, Italian Amari, and German wine. What the liquor store doesn't stock, we can have delivered to our door in a day from the far reaches of the world. It's truly amazing.
If ever there was a time to pause and count our blessings, pour ourselves a glass of something delicious, and enjoy life's simplest of pleasures, it is now.
Most Irish whiskey, being distilled three times, is quite smooth and light, making it a great base for a cocktail, hot or cold. If you grew up in a big Irish family in Boston in the 1960s and 1970s as I did, the soundtrack of your youth included a heavy rotation of the Clancy Brothers, the Irish Hit Parade on 950 AM WROL, and later, The Pogues. Many of the songs — OK, most of the songs — were sung of whiskey, from how to make it, where to hide it, and the cursing of it.
As a boy, most intriguing to me was the turning of it into something called Whiskey Punch. It wasn't until adulthood when my full understanding of Whiskey Punch came to light and the songs now all seemed worthy, if not necessary.
With Whiskey Punch we see the ever-inventive Irish sweetening their whiskey with sugar, adding some citrus juice, and a bit of spice, all in an effort to find more joy in life. In the summer, it would be served with block ice. In the winter, to brace against the wind whipping in from the sea, it would be served hot; a Hot Toddy.
With Hot Toddies there are no wrong answers. The beauty lies in its elemental nature; it's as simple and important as making a proper cup of tea. A good place to start is below.
What you'll need
Hot Toddy
1 ½ oz. Irish whiskey
½ oz. lemon juice
¾ oz. honey
5 oz. hot water (or tea)
Dash bitters
Clove studded lemon peel
Toddies work with almost any spirit and/or liqueur. If you like the taste of a spirit of liqueur, you'd probably enjoy it in a Toddy. Have fun, mix it up. (See ideas for substitute ingredient below). Stay warm.
Sweeteners: Maple syrup, sugar, brown sugar, agave nectar, flavored syrups, cinnamon Spice: Cinnamon, nutmeg, allspice, black pepper, cardamom
Mixer: Water, tea, cider, coffee, hot chocolate, cream, butter — yes, butter
Citrus: Orange juice, grapefruit, lemon, lime
Bitters: Endless
Happy St. Patrick's Day!
---
Join our next virtual cocktail class
Join us at 7 p.m. Wednesday, March 17, with host Jackson Cannon and his special guest Patrick Sullivan. They'll be making cocktails with Irish whiskey on St. Patrick's Day, catching up about the Boston restaurant and bar scene, and sharing tips the pros use to make great drinks at home. They'll mix a a traditional Hot Toddy and a modern riff of the Manhattan cocktail known as The Dubliner. Everything you'll need is listed here with a link to purchase your Boston.com Cocktail Club Irish whiskey kit through Gordon's Fine Wine and Spirits.
Patrick Sullivan helped spark the burgeoning Boston cocktail scene after opening B-Side Lounge in 1998. He later served as director of bar operations at Legal Sea Foods. In 2012, he co-founded of Brick and Mortar in Cambridge. 
Get Boston.com's browser alerts:
Enable breaking news notifications straight to your internet browser.