Cocktail Club
Cocktail Club: Make a Gin and Tonic your next ritual drink
Here's how to mix a foundational, true cocktail of bitter, sugar, water, and spirit.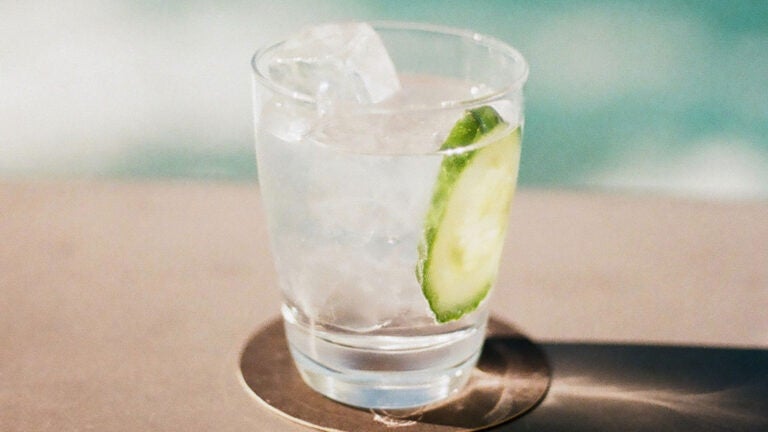 From medieval toasts that sloshed part of everyone's drink together proving there was no hidden poison in the mix to the most luxurious bottle services in modern clubland where all are permitted to doctor their own drink order, drink service rituals have persisted through time and speak to the communal and convivial nature with which we long to imbibe.
I have many favorites among these practices — the sultry and savory bites of citrus and salt served with the finest spirits of Mexico, the romantic drip of water over sugar into the Pastis- and Absinthe-filled glasses at French cafes, and the blatant, outdoorsy simplicity of a platter of rum, tonic, and lime. I come by my love of that last one through its predecessor, the Gin and Tonic.
Most of us first encounter a G and T as a single serve refreshment dispensed one by one in a commercial bar or well-catered party, where everyone is choosing a different cocktail for themselves. The communal seeds of this drink lay in its origin and evolution. Long known to the indigenous peoples of South America was the power of cinchona tree bark to treat the shivering and other symptoms of malaria. Quinine, the essential medicine contained therein, was isolated in the early 19th century and then introduced as a warm tea or tonic en masse to troops of the British empire and workers in brutal tropical projects like the Panama Canal. 
If you add a bit of sugar and a fair amount of effervescent water, this bitter potion becomes palatable. And with refinement over time, it evolves into that luscious ingredient tonic water. Add in a splash of gin ration and viola: you have a foundational, true cocktail of bitter, sugar, water, and spirit.
The story could end with the Gin and Tonic having established its preeminence for lawn parties and high teas, but it doesn't. During the modern craft cocktail age, while American and British bartenders were hyper-focused on sours and stirred drinks as an old source for new experiences, in Spain a revolution in service of one ignored classic was changing the way we all would experience this drinking ritual forever. 
First, remove one superfluous word and say: Gin Tonic. No need for the "and" in this invocation. Next, change the vessel from the tall austere highball glass to something with a larger bowl, more common for red wine than cocktails, and focus on the large, longer lasting ice that this new goblet can accommodate. Lastly, explore an ever-increasing palate of citrus, vegetables, and spice as more than garnish to this beverage. 
Simply by building this drink gin first, accouterments next, tonic third, and ice last, the bartender is creating a brief, secondary infusion of flavor into your drink. And the choices, while needing to be specific to the gin employed, are never ending. Beyond lime comes grapefruit, lemon, blood orange, and tangerine. Herb choices include mint, basil, sage, rosemary, and thyme. Cucumber proves one of the most universally beneficial additions to the many styles of gin. The addition of pink peppercorns, clove, or star anise could push and pull on the flavors of any given gin.
During the first part of 21st century Spain, the pride each establishment took in their version of Gin Tonic fueled public appreciation and international recognition that something very special was happening. Pilgrims of the bar community studying sherry or other Spanish wines would, after a long day in the perpetual warmth and dry climate, find any local bar ready for the troop to enter, make a brief calculation and order up to a dozen ritual Gin Tonics to pass among themselves and cry "salud."
What you'll need
Gin and Tonic
2 oz. gin
4 to 6 oz. Elderflower tonic (or another favorite blend)
Variety of citrus and cucumber slices for garnish
Add gin directly in a large bowled glass
Place sliced cucumber and citrus directly into the gin and let rest a moment
Add tonic water then carefully fill with ice
---
Join our next virtual cocktail class
Join us Thursday, April 1 at 7 p.m. with host Jackson Cannon and his special guest Ashley Sullivan, bar manager at Salt restaurant in Plymouth. This week they'll be making cocktails with Hendrick's gin, catching up about the Boston restaurant and bar scene, and sharing tips the pros use to make great drinks at home. They'll be mixing the classic Southside and building a ritual Gin and Tonic. Everything you'll need is listed here.
Get Boston.com's browser alerts:
Enable breaking news notifications straight to your internet browser.