Cocktail Club
'A cocktail you can definitely play with': Here's how to mix a Sidecar drink
Lone Star Taco Bar's Sabrina Kershaw shares her take on a classic Sidecar cocktail.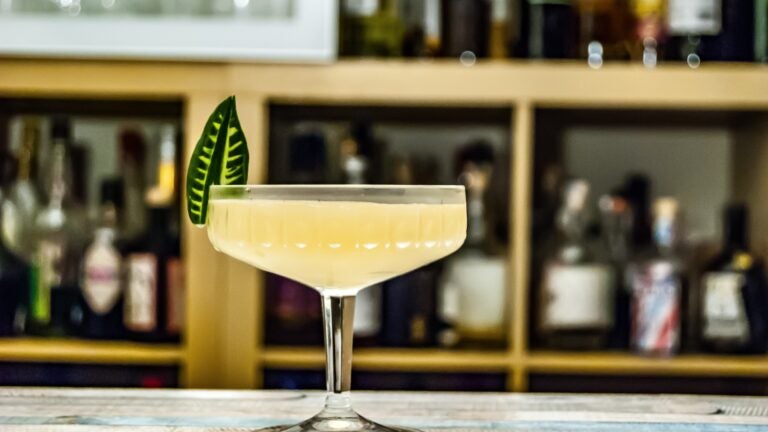 The Sidecar, like many classic cocktails, has several debated origins and recipes. Was it invented in London, or was it Paris? Is it equal parts? Do you sugar the rim? No matter the exact origins, it is inevitably a Cognac-based variant of the Daiquiri, or collins. And to that point, there are many written recipes and suggested preferences of proportions in those drinks as well. The most predominant change in this variant (other than the base spirit) is the use of orange liqueur in place of sugar as the sweetener.
I was first introduced to this cocktail when I started working at my first real cocktail bar, Noir in Harvard Square sometime in 2007. It was a staple on our menu and I was totally unaware of its history or even that it was a classic. Around this same time my coworkers brought me to the much loved (and very missed) B-Side Lounge where they had their take on the Sidecar, "The B-Sidecar." I was excited to see a familiar drink on the menu and ordered one. Their rendition called for the addition of grenadine and was a beautiful pink color, it became my go-to drink whenever I was there.
Personally, my preferred proportions are 2 oz. Cognac, .75 oz. orange liqueur, .75 oz. lemon juice. (This is my preferred proportions for Daiquiris as well.)
I go back and forth on the sugared rim, but if I am going to do it, it's going to be a half-sugared rim rather than the whole thing. This is a cocktail you can definitely play with when it comes to proportions, substitutions and slight additions, have fun with it!
What you'll need
2 oz. Cognac
¾ oz. Cointreau
¾ oz. lemon juice
Add all ingredients to a shaker and fill with ice. Shake well and strain into a cocktail glass rimmed with sugar.
---
Join our next virtual cocktail class
Join us Thursday, April 8 at 7 p.m. with host Jackson Cannon and special guest Lone Star's Sabrina Kershaw. This week they'll be making cocktails with Cognac, catching up about the Boston restaurant and bar scene, and sharing tips the pros use to make great drinks at home. They'll be mixing the Sidecar cocktail and a French Quarter Old Fashioned. Everything you'll need is listed here.
Sabrina Kershaw has nearly two decades behind the bar in New Hampshire and Boston, and has spent the past six years has behind the stick at Lone Star Taco Bar in Allston.
Get Boston.com's browser alerts:
Enable breaking news notifications straight to your internet browser.