Cocktail Club
Recipe: This is how you elevate a classic Old Fashioned cocktail
Cocktail Club host Jackson Cannon shares the revival of Old Fashioneds, and his version of the classic recipe.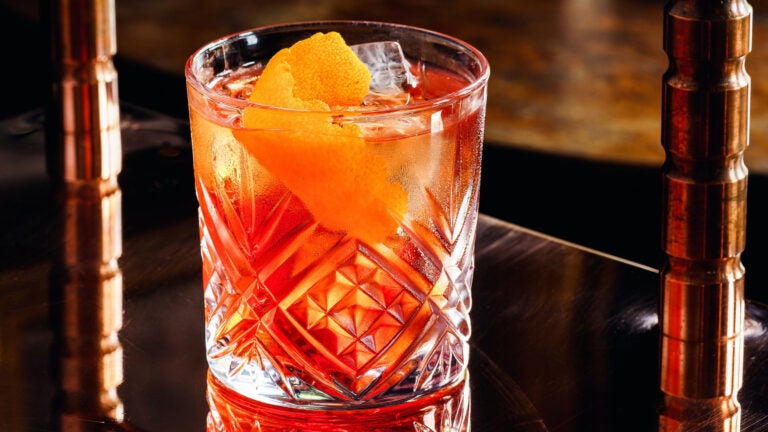 At the beginning of the cocktail revival in the early 2000s, craft bartenders struggled to rescue Manhattans that had hardly any vermouth in them, vodka martinis instead of gin that had virtually no vermouth, and Old Fashioneds that were a hodgepodge of various traditions smashed together into a kind of post-prohibition fruit salad of whiskey, orange, cherry, and soda.
The Manhattan, still closer to its original than the others, was easier to get back. Proportions moved from three to one of bourbon and vermouth, from to two to one of rye and vermouth, with a healthy dose of aromatic bitters, presented an older version of the cocktail full of the flavors that lovers of this drink enjoy.
The Martini was much harder. Usually ordered by brand name spirit and served dry, the expectation was that it would be a few ounces of vodka mixed with no vermouth at all. After fruitless attempts to suggest gin and vermouth instead, the astute tender would endeavor to dig up old references to variations on the theme. If they couldn't convince a guest to try a different version of their martini, they could publish an Astoria or other variation on the cocktail menu, and deliver a version that included two parts gin and one part vermouth, with orange bitters, an olive, and a twist instead.
In the case of Old Fashioneds the rescue effort had a particular lift to it. This drink, once the austere building block for all cocktails — the trunk of the family tree — had for a hundred years been made through the simple application of sugar, bitters, water, and spirit. In the Golden Age of cocktails of the late 19th century, exotic fruits and garnishes made their way atop this noble beverage as examples of that early era of flair.
During prohibition, as the art was lost, a misguided practice allowed this garnish to become a muddle of orange and cherry trapped in with the base spirit as a chewy, sweet offspring of the original. This was the cocktail for many decades after repeal.
What young barkeep could successfully argue that a patron was wrong to love their Old Fashioned the way their mother or grandfather taught them?
So subtly developed an awkward version of the Jedi mind trick: Do you like the fruit muddled in or just lightly pressed into your drink? Would you like an original Old Fashioned? No? You'd like more of a 20th century style with the fruit all smashed in? Coming right up!
All of these small suggestions and a kind of deniable shaming was slowly leading us forward to a version of this cocktail from long ago with just rye whiskey, sugar, bitters, over ice with a twist of lemon and/or orange peel.
But once this was accomplished, a continual amount of controlled creativity could be applied.
New sugar sources of maple, honey, pineapple, and agave could be merged with all types of whiskey, brandy, rum, or tequila. If the technique was clean, and the new name had the ring of a classic, anything new could be old again. And so were born many new Old Fashioneds; Kentucky River, Georgetown, Oaxacan, Bootlegger, Navy Strength, Smoke Show, County Cork, and more.
The French Quarter Old Fashioned is one of these variations that undoubtedly was served in some form before it was given a name and added to a section of Old Fashioneds on the menu at Eastern Standard in 2007.
Here we have taken a brandy version and elevated our choice with the venerable fine French variety from Cognac. Using Peychaud's bitters from New Orleans leads us to name this cocktail for a section of the city revered for its drinking culture. And by gently swirling in the orange and cherry we pay homage to the way millions of happy tipplers first encountered this style of cocktail.
What you'll need
French Quarter Old Fashioned
2 oz. Cognac
2 dash Peychauds
2 dash Angostura (optional)
2 sugar cubes
Orange slice
Brandied cherries
Crush the sugar cubes into a ½ oz. of either still or sparkling water
Add bitters and stir together until well mixed
Add Cognac, and stir again
Add ice, stir, and strain over fresh ice
Garnish with cherries and orange slice
---
Join our next virtual cocktail class
Join us Thursday, April 8 at 7 p.m. with host Jackson Cannon and special guest Lone Star's Sabrina Kershaw. This week they'll be making cocktails with Cognac, catching up about the Boston restaurant and bar scene, and sharing tips the pros use to make great drinks at home. They'll be mixing the Sidecar cocktail and a French Quarter Old Fashioned. Everything you'll need is listed here.
Jackson Cannon is a veteran craft cocktail leader and host of Boston.com Cocktail Club.
https://bgmcreative.survey.fm/cocktail-club-low-abv-or-non-alcoholic-drinks