Cocktail Club
'A light and lovely globetrotter': How to mix a springtime Bamboo cocktail
"For a cocktail with no liquor, the Bamboo and her bamboozling variations delight any drinker."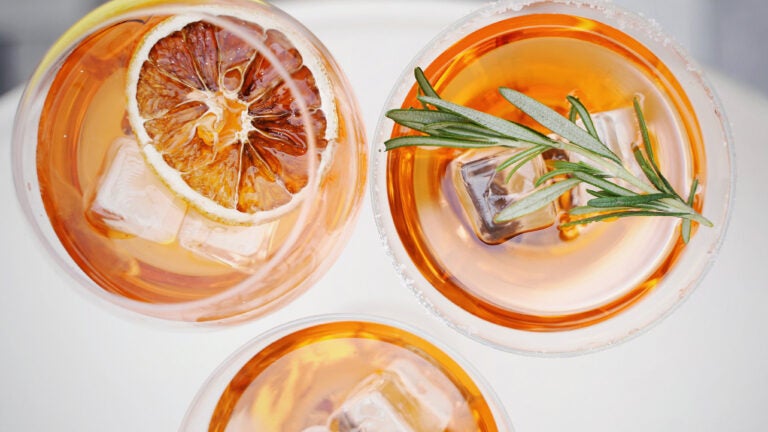 From whiskey slingers, tequila tipplers, to rum bums, I have a cocktail for you! If I had a skylight in the shape of a coupe glass, I'd light it up now.
The Bamboo cocktail, or Bambú as we stylize it at Taberna de Haro and Straight Law Bar, is a light and lovely globetrotter. Originating in Japan (sake and sherry lovers abound), with sherry from Spain and vermouth from France, she's a shapeshifter across borders.
Here in Boston, I've loved this low-alcohol concoction for some time now. The Bamboo, to me, is sort of the catch-all name for an easy aperitivo that fluctuates like a mood ring. Light sherry, dark sherry, red vermouth, white vermút — there's really no battle; we're going to choose them all.
For a cocktail with no liquor, the Bamboo and her bamboozling variations delight any drinker. Boston to Kyoto, fireplace to waterside, we can craft a Bamboo for you.
Here's the low down: The Bamboo is simply equal parts sherry and vermouth, with a dash of bitters, and garnish from simple to whimsical. Classically made with a nutty, oxidized sherry such as amontillado or palo cortado, dry red vermouth, and the expression of a lemon peel, her seeming simplicity knows no bounds. Feel free to spice her up with a combination of sherries, vermouths, or flavored bitters. You name it.
From dances with the dark to opposites attract, you can mix using a red, white, dark, or light. I've even made a sparkling 'boo with fino, white vermút, mint, and a cava topper. One of my personal favorites in the style of a digestivo is a Sherry-Cherry Bamboo with sweet red vermouth, palo cortado, cherry bitters, orange peel, and a luxardo cherry. The colors, the body, the sweetness, the aromas, are all in your hands. The point being, the world is your freaking Bamboo!
Now, let's follow the light and make a springtime refreshment to celebrate the commencement of patio season again. Manzanilla is the chalkiest, briniest, driest of all sherries, and she's balanced by the Mediterranean plushness of Vermút Blanco, all wrapped in a botanical bow.
What you'll need
The Bamboo
Mixing glass (or measuring cup, mason jar, whatever you've got)
1-2 oz. jigger (or a shot glass, or your eyeballs)
Bar spoon (or literally any spoon)
3 oz. chilled coupe glass (or any vessel you like to drink from)
Ice ice baby
Ingredients
1.5 oz. Lustau Manzanilla Pasada Almacenista
1.5 oz. Lustau Vermút Blanco
2 dashes The Bitter Truth Olive Bitters
1 sprig of rosemary (garnish)
1 cornichon (garnish)
Add all ingredients to your mixing glass, stir, strain, garnish, and enjoy!
Recipe notes and substitutions: I'm using Lustau here as they're the biggest exporter of sherry to America. If you can't find a Manzanilla pasada (for that extra oomph of toasty with albariza), any Manzanilla and any Spanish-style lightly sweet white vermouth will do. Play around with different pickles if you don't have cornichons on hand. Have fun, be creative, make it yours!
---
Join our next virtual cocktail class
Join us Thursday, April 15 at 7 p.m. with host Jackson Cannon and special guest Katie Hubbard, bar manager of Taberna de Haro and Straight Law Bar. This week they'll be making cocktails with sherry, the often misunderstood and always evocative wine of southern Spain, catching up about the Boston restaurant and bar scene, and sharing tips the pros use to make great drinks at home. They'll be mixing a Sherry Collins and The Bamboo cocktail. Everything you'll need is listed here with a link to purchase your Boston.com Cocktail Club Sherry kit through Gordon's Fine Wine and Spirits.
Katie Hubbard is a Boston-based interdisciplinary artist and bar manager of Taberna de Haro and Straight Law Bar.
https://bgmcreative.survey.fm/cocktail-club-low-abv-or-non-alcoholic-drinks