Cocktail Club
How art and mixing drinks come together at this Brookline bar
"I was surrounded by a new style of creativity," Katie Hubbard, Taberna de Haro and Straight Law Bar's bar manager, said.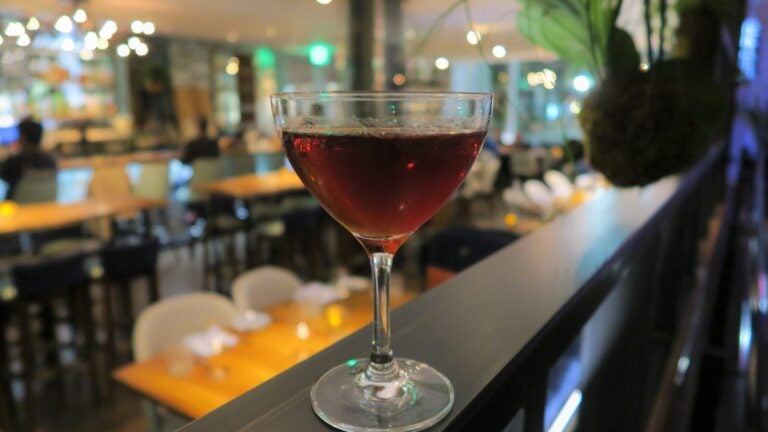 Could the most invigorating space for an artist be your neighborhood bar?
When Katie Hubbard starting working at Taberna de Haro to fund her fine arts degree, she ended up falling in love. "I was hooked," the bar manager said. "All of the sudden, I was surrounded by a new style of creativity, the rush of a bustling restaurant, all these new colors and flavors."
The 22-year-old restaurant on Beacon Street in Brookline is run by Deborah Hansen and specializes in authentic Spanish fare with 84 sherries and over 300 all-Spanish wines to pair. Nestled inside Taberna is Straight Law Bar, named for the cocktail that consists of two parts sherry to one part gin.
Hubbard, who found a way to combine her love for art and mixing drinks, is bar manager for both.
"I'm able to pull from my fine arts background all the way from recipe testing to design of the menus," she said.
The self-described "meat-and-potatoes Massachusetts girl" even discovered a new passion for wine. She's pursuing her sommelier certification.
On Thursday, Hubbard joined to the Cocktail Club to mix sherry cocktails, including The Bamboo and Sherry Collins. Ahead of the event, the local bartender shared what's behind her specialization in sherry and gin, how to reinvent Boston post-pandemic, and crediting her dog Benji for getting through the past year.
Cocktail Club: Sherry Cocktails with Katie Hubbard

Boston.com Cocktail Club: Katie Hubbard, Bar Manager of Taberna de Haro and Straight Law Bar, joined #BDCCocktailClub host Jackson Cannon to mix cocktails with Sherry. They made two cocktails- a Sherry Collins and The Bamboo while catching up about the Boston restaurant and bar scene, and sharing tips the pros use to make great drinks at home.Make your own:Sherry Collins : https://www.boston.com/food/cocktail-club/2021/04/14/cocktail-recipe-how-to-mix-a-sherry-collinsThe Bamboo: https://www.boston.com/food/cocktail-club/2021/04/13/how-to-mix-a-springtime-bamboo-cocktail

Posted by Boston.com on Friday, April 16, 2021
You specialize in new wave sherry and gin cocktails. What does this mean?
New wave cocktails, to me, is anything other than classic. This doesn't mean these contemporary cocktails don't pull from the same foundation, just that they take more risks. Why not put carrots and sherry vinegar and orgeat together? All a cocktail enthusiast needs to know is balance.
If you were a cocktail, what would you be, and why?
I love this question! If only this year I could've personified a tart little Sunflower instead of going through all the trials and tribulations of COVID: absinthe, gin, floral notes — there's absolutely everything sunny and complex about this classic. I'm obsessed recently with that fennel-licorice coolness in my cocktails, so lately at home I've been making a riff on a Bees Knees that subs ouzo for gin, and adds fresh dill right in the shaker.
What's been helping you through the pandemic?
My dog, Benji. Seriously, the archangel of 2020. But also, realizing that there's no darkness without light. I've been incredibly lucky to have had my family and I stay healthy through all this. And, in the most twisted sense, I've been given the gift of time. Time to spend with my partner and dog, time to work on my art, time to be holed up inside with my roommates and do weird bits.
What do you like about the Bamboo cocktail? 
Absolutely everything. First and foremost, I love a low-ABV cocktail. It's the perfect aperitivo, two fortified wines together at last, nothing to strip your palate as you move on to wine with dinner. The marriage between one of my greatest loves, sherry, and one of the most quintessential yet overlooked classic ingredients, vermouth (a martini without vermouth is booze, not a cocktail) is straight magical.
The viscosity of vermouth perfectly balances the lean body of sherry, the herbaceousness playing upon the nuttiness or chalky albariza aromas. It's a cocktail that can be suited for any drinker. You can truly pick your poison! From red to white, sweet to dry vermouths, any sherry from manzanilla to oloroso, and your choice of bitters and garnish, it's really the choose-your-own-adventure book of cocktails.
What does your ideal post-pandemic Boston look like?
Post-pandemic Boston is somehow something I've been dreaming of since pre-pandemic. 2 a.m. is a hard and fast close time for a night owl like me. I want Boston to rise from the ashes and take its rightful place as hub of New England back. There has been a mass exodus out of the city due to COVID, and I want the bustle back.
This past summer seeing patios on carriageways from Allston to the North End made me realized that this is exactly what Boston should have always been! We spend our winters waiting for warmth, and as soon as it's here, we shuffle into the A/C? I loved seeing everyone outside, enjoying our beautiful city. Then, when we moved into the colder months and our resilient Bostonians still sat on our patio, I realized something else: We don't mind the cold! If we're outside all winter long ice skating, sledding, watching Pats games, watching tree lightings, and fireworks, why not be outside drinking a lovely Ribera del Duero and noshing on some oxtail?
Can you tell us about your work as an artist?
I am a printmaker, papermaker, and poet, but I do dabble in just about everything. I've recently been published in Tinderbox Poetry Review and 86 Logic 'zine, a magazine that highlights members of the hospitality industry. Check it out! We've got some extraordinarily creative people in our industry. And, I'm currently printing, binding, and self-publishing my chapbook "For Nothing, And No One, Not Even Myself." You can find me on Instagram at @mediumhotregula if poetry piques your interest.
How can readers support you and your colleagues right now?
Readers can support me and my colleagues now with compassion. If you come into the restaurant, please wear a mask. If your service in any restaurant right now is slightly slower or different than in years past, please be understanding.
We're all going through this madness together. Restaurants, and small businesses especially, have been hit hard for well over a year now. We're still serving to-go cocktails at Straight Law Bar, and we have both indoor and outdoor dining. And, if you feel like it, my Venmo is @KTHubbard.
---
Join our next virtual cocktail class
Join us Thursday, April 22 at 7 p.m. with host Jackson Cannon and special guest Nick Pratt, general manager of Hojoko. This week they'll be making cocktails with Seedlip, a non-alcoholic distilled spirit that is reshaping what it means to leave out alcohol without giving up cocktails, catching up about the Boston restaurant and bar scene, and sharing tips the pros use to make great drinks at home. They'll be mixing versions of the classic Mule and an Eastside, and evocative spin on the classic Southside cocktail. Everything you'll need is listed here with a link to purchase your Boston.com Cocktail Club Sherry kit through Gordon's Fine Wine and Spirits.