Cocktail Club
Recipe: The non-alcoholic cocktails to sip on this spring
These non-alcoholic cocktails have "all the depth and range of a traditional drink."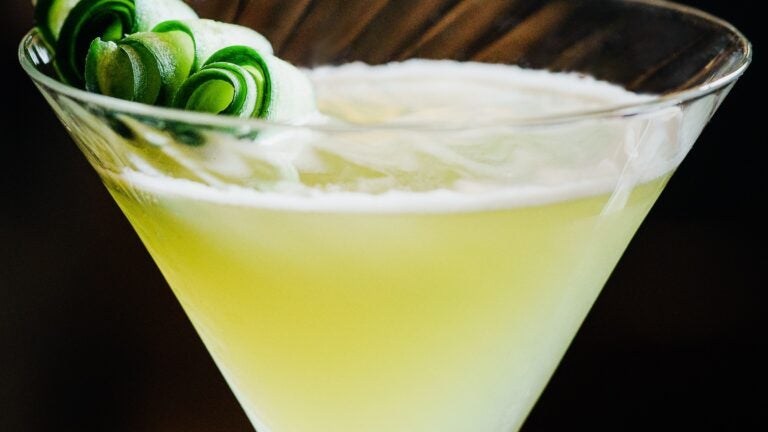 There are many reasons why a patron to a craft bar or restaurant might not be interested in consuming alcohol in the amount and style with which classic cocktails deliver it, and practitioners of hospitality have long been ready to accommodate the occasional or consistently abstinent guest. 
Major factors for avoiding booze include pregnancy, recovery, allergy, other medical and devout prescription against distilled or fermented products. New diets require limited if any booze, and avoiding the sugary additives used to make the most popular sweet and sour cocktails. Many bartenders themselves observe Dry January as a way of promoting a healthy approach to their work, solidarity with the sober community and to highlight their creative, culinary concoctions as year-round alternatives to the high life.
For a time, many of us found the word "mocktail" useful for highlighting these drinks on menus. Much like the term "mixologist" (a 19th century hype-word that was reintroduced to help dignify the reemerging craft bartending, but is now reviled and avoided by bartenders), "mocktail" has decidedly fallen out of favor. So much so the ever-clever Camper English has distilled a thousand discussions about this into a user-friendly and helpful Mocktail Thesaurus found on the Alcademics website. And in case one was inclined to think this all a passing trend, also on Alcademics is the Non-Alcohol Spirits List. The 112 distilled spirits that do not have alcohol in them stand as an important indication that the industry takes seriously the desire of guests alike to have more than lemonade versions of the traditional spirituous drink, and for craft bartenders instead to have a full range of flavors and effects at their disposal. 
These distilled non-alcoholic spirits behave in cocktails like their boozy counterparts. They can be introduced as a base with other modifiers, pushing the drink to lower ABV (alcohol by volume) territory, rendering a Negroni as potent as a half glass of wine, or used to entirely remove and replace the intoxicating ingredient delivering a thoroughly refreshing, balanced, and uplifting cocktail with all the depth and range of a traditional drink.
What you'll need
Garden Mule
2 oz. non-alcoholic spirit
Squeeze of half a lime
4 to 6 oz. ginger beer
Cucumber ribbon garnish
Stir the non-alcoholic spirit and lime juice together over ice in a highball glass or mug
Add more ice and top with ginger beer
Garnish with a lime wheel
Eastside
2 oz. non-alcoholic spirit
¾ oz. lime juice (can be lemon/lime split)
¾ oz. simple syrup
¾ 5 to 6 mint leaves
Lightly muddle the mint and simple syrup in the base of a cocktail shaker
Add the rest of the above ingredients and shake over ice
Strain up into a cocktail glass
Garnish with a slice of lime and/or mint
---
Join our next virtual cocktail class
Join us Thursday, April 22 at 7 p.m. with host Jackson Cannon and special guest Nick Pratt, general manager of Hojoko. This week they'll be making cocktails with Seedlip, a non-alcoholic distilled spirit that is reshaping what it means to leave out alcohol without giving up cocktails, catching up about the Boston restaurant and bar scene, and sharing tips the pros use to make great drinks at home. They'll be mixing versions of the classic Mule and an Eastside, and evocative spin on the classic Southside cocktail. Everything you'll need is listed here.
Jackson Cannon is a veteran craft cocktail leader and host of Boston.com Cocktail Club.
Get Boston.com's browser alerts:
Enable breaking news notifications straight to your internet browser.