Cocktail Club
How Six West's Alex Larochelle envisions a post-pandemic Boston
"A lot of rules and regulations were modified in order for businesses to be open and to make money, and it ended up benefiting a lot of people," Six West bar manager Alex Larochelle said.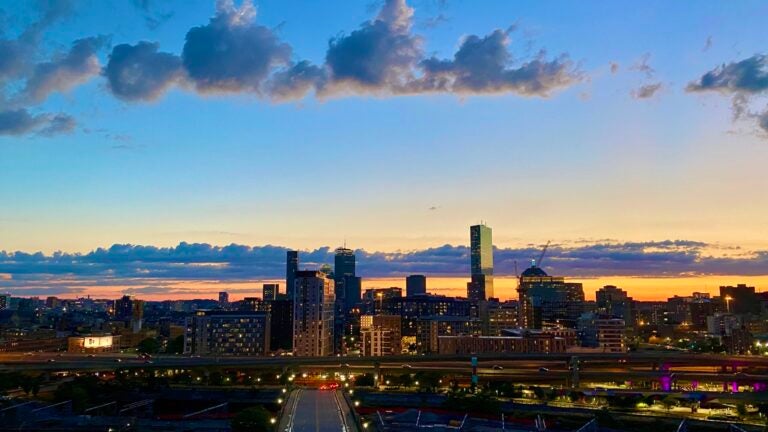 Alex Larochelle's specialty is making fun, elevated cocktails.
"[I] couldn't quite put my finger on the way to express my creativity," she said. "I can't draw, I can't paint, I can't write music, but what I can do is create something that is both beautiful and tastes amazing."
An alumna of the high-speed bartending competition Speed Rack, Larochelle found her niche in mixing drinks as bar manager at Six West. Located in South Boston just over the Broadway bridge, Six West operates a year-round rooftop bar which offers breathtaking views of the city, and a separate cocktail bar in the lobby that plans to reopen soon.
On Thursday, Larochelle joined the Cocktail Club to mix whiskey bourbon cocktails in anticipation of the 147th Kentucky Derby. Ahead of the event, the local bar manager shared what she loves about mint juleps, the official Derby Day drink, her vision for a post-pandemic Boston, and the temptation of rare spirits.
If you were a cocktail, what would you be?
I would have to say I would probably be a margarita. Classic, timeless, but can be a little fun, a little different and sometimes even spicy.
What do you find most fun or interesting about the Kentucky Derby?
Definitely the fashion of it all. From the hats, to the suits, to the dresses, there is so much fashion that goes into the Kentucky Derby; it is a social event, the place to be seen. There is so much buildup leading to the grand event that lasts all of two minutes. But the lead up to it is quite fascinating to me — and also the mint julep.
What do you like about the mint julep?
The back story of the mint julep is so interesting. It was originally drunk by farmers as a way to cure their stomach aches. Now it gets all of the glamour being the official drink of the Kentucky Derby. Not to mention the collector's julep cups and fancy special edition glasses they make for the occasion.
What's been helping you through the pandemic?
A lot of my relationships with friends and family have become a lot stronger since the pandemic started. Maintaining these relationships have made each day a little bit better. Whether I'm FaceTiming with my niece in a different state or I'm FaceTiming with my friend that lives down the street, it's just the connection I've been fortunate to develop with people that has really kept me going.
What does your ideal post-pandemic Boston look like?
Like most people, I would love for life to go back to as close to pre-pandemic Boston as it can. Restrictions are starting to be lifted more and more, which is a relief. I miss the rush and bustle of the bar scene. It would be nice for the city to have fewer restrictions on patio dining going forward. A lot of rules and regulations were modified in order for businesses to be open and to make money, and it ended up benefiting a lot of people. Being able to sell cocktails to go was a huge win for the restaurant industry and I hope they will allow it in the future as well.
It was recently announced that the oldest known whiskey bottle will be up for auction this summer. What are your thoughts on the rare spirits market?
Rare spirits are such a temptation to me. I would love to crack the bottle open and try it, but of course you can't do that. I feel like that would generally be frowned upon, but aren't you curious how it's going to taste?!
What's something readers should know about you that we might not know?
I love to collect sneakers. I've always loved shoes, heels more than anything. A few years ago I herniated a few disks in my back and it hindered my ability to walk, let alone wear heels. From there a new obsession with sneakers started and I've been hooked ever since.
How can readers support you and your colleagues right now?
Six West is open five days a week right now. Once the weather starts to get warmer, we will be open 7 days a week for lunch/brunch and dinner. Our rooftop offers amazing views of the city which is a great way to enjoy a night out with friends.
---
Join our next virtual cocktail class
Join us Wednesday, May 5 at 7 p.m. with host Jackson Cannon and guest Gabriel Bastos, bar manager at Atlántico. They'll be making cocktails with Cazadores tequila, catching up about the Boston restaurant and bar scene, and sharing tips the pros use to make great drinks at home. They'll be mixing a traditional Margarita and a riff off the incomparable Negroni. Everything you'll need is listed here with a link to purchase your Boston.com Cocktail Club Sherry kit through Gordon's Fine Wine and Spirits.
Get Boston.com's browser alerts:
Enable breaking news notifications straight to your internet browser.