Cocktail Club
Here's how to make a traditional margarita cocktail at home this Cinco de Mayo
Join us in making tequila cocktails for a special Cinco de Mayo edition of the Boston.com Cocktail Club.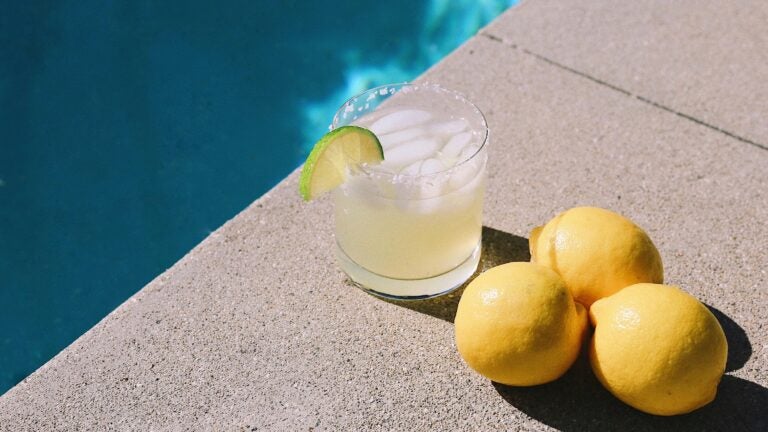 In her book "Spirits of Latin America," Ivy Mix explains why the margarita successfully embodied the 20th-century popularity of tequila as a cocktail ingredient, then became synonymous with bad premixed drinks, before being rescued by the great cocktail awakening of the 2000s.
"Unfortunately, like everything popular, it's easily butchered. (I'm looking at you, sour mix and cheap tequila!)," she writes. 
Mix, an internationally-beloved bartender and co-founder of the high-speed bartending competition Speedrack, brutally levels a critique of the worst parts of capitalism and shoddy practice. 
Although unknown with certainty who and where exactly the classic margarita was created, it is agreed upon that it's a Prohibition-era drink and certainly a variation of the pre-Prohibition drink called The Daisy, a mix of booze, citrus, and syrup. The gin version was very popular, as was one with brandy. The applejack version took the name Jack Rose, likely to keep the flower theme intact, while also possibly referring to an underworld celeb who used that handle as a contract killer. Early recipes for a Tequila Daisy, use tequila, orange liqueur, lime juice, and soda. Seems of interest here that the Spanish word for daisy is margarita.
In the 1990s when I was learning to drink better it was a fight to find a place willing to use fresh juice in cocktails. Oh, those sour mix days! I can still taste the citric acid in those cheap powdered mixes and remember the weak, fake sweeteners in sour mix off the soda gun.
At the time the bar owners argued it wasn't cost effective to use fresh juice. That lie to cover up laziness has long been refuted, but for a time an enthusiast might need to trick the tender into making an actual margarita by putting a bit of orange liqueur into a full measure of tequila (100% blue agave, please) and just squeeze in a few lime wedges before giving it all a shake. We learned this move from local DJ and cocktail historian, Brother Cleve, who observed this style of making the drink on his frequent trips to Mexico. I copied it and put it on the cocktail menu at a local music venue where we weren't allowed to use fresh juice as a workaround calling it the Margarita Actúal. 
I'm glad we've come a long way since then, with many fresh hand-shaken versions, frozen examples that use fresh citrus, and, of course, with the legendary Tommy's variation. 
To say the Tommy's variation of a margarita, which replaces orange liqueur with agave nectar, is the best one (as I may have said a time or two) doesn't quite describe it perfectly — the Tommy's is a wonderful, high impact and acutely pleasurable version of the drink, and as such has made inroads to becoming the default recipe for the current generation of bartenders. However, the original has a lot more going for it than just its history. The delicate balance in this drink of the light, sweet, floral orange liqueur, with tart citrus and herbaceousness of tequila, makes it the subtler choice for the discerning imbiber. 
What you'll need
Margarita
2 oz. tequila
¾ oz. lime juice
¾ oz. Cointreau
Shake the above ingredients vigorously over ice and strain up into a cocktail glass or on the rocks.
Garnish with a slice of lime and optional salt rim.
---
Join our next virtual cocktail class
Join us Wednesday, May 5 at 7 p.m. for a special Cinco de Mayo edition of Boston.com's Cocktail Club with host Jackson Cannon and his guest Gabriel Bastos, bar manager at Atlántico. This week they'll be making cocktails with Cazadores tequila, catching up about the Boston restaurant and bar scene, and sharing tips the pros use to make great drinks at home. They'll be mixing a traditional margarita and a riff of the incomparable Negroni. Everything you'll need is listed here with a link to purchase your Boston.com Cazadores Cinco de Mayo cocktail kit through Gordon's Fine Wine and Spirits.
Get Boston.com's browser alerts:
Enable breaking news notifications straight to your internet browser.