Cocktail Club
Atlántico's bar manager shares the 'true artistic genius' behind agave spirits
"It has a sense of terroir that you don't find in other spirits," Gabriel Bastos said of tequila cocktails.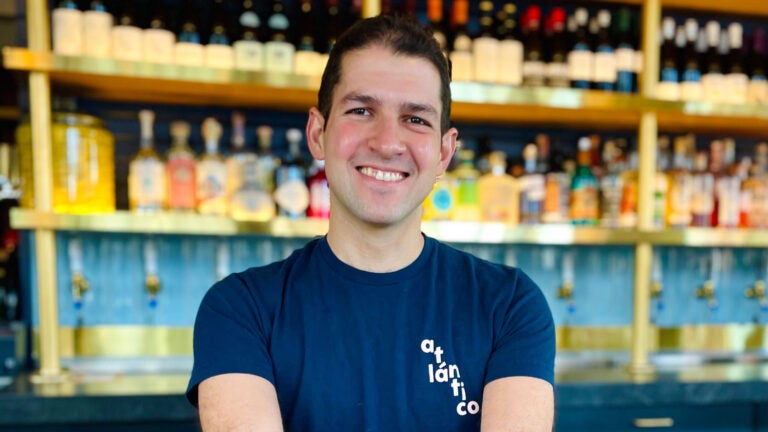 Gabriel Bastos first "got the bug" after trying a glass of I Clivi RBL. "I remember thinking, 'Oh wow. I understand none of this," he said.
The self-described beer dork was just beginning to learn about wine, and on a path toward a PhD in organic chemistry. He started working as a host at the Tim Maslow-run Strip-Ts and Ribelle during a break from school one summer when he was first introduced to the sparkling Italian wine. The more questions he asked about grape varietals and winemaking, the more he wanted to fully understand it. He said, "I was in absolute awe of all those people in both of those places."
Bastos never went back to organic chemistry. The experience set in motion a burgeoning interest in the service industry. He'd begun to imagine opening his own place someday.
"I kind of wanted to see this thing through," he said. 
Today you'll find Bastos behind the stick at Atlántico where he works as bar manager. Last week, Bastos joined the Cocktail Club for tequila cocktails mixing a tequila Negroni and a traditional margarita. Ahead of the class, we spoke with the bar manager about his love for agave, how the second lockdown and Michael Serpa got him into competitive e-cycling, and why it's so important to dine out in bad weather. 
What's your go-to cocktail? 
I've always really loved a mojito, but made with cognac instead of rum — it's delicious, refreshing, and bubbly. I like carbonation. I like things that are bubbly. But I also like the cognac mojito thing. There's sort of a trans-continental thing that can seem really odd at first, but once you drink it, it's pretty enjoyable. 
What the heck is competitive e-cycling and how did you get into it? 
For as long as I've worked with Michael Serpa [owner of Atlántico, Grand Tour, and Select Oyster Bar], he's like, 'You're a long distance runner, you should give [cycling] a try. I think you're going to like it.' …Then the pandemic happened, and I was looking for any sort of activity. So I bought a bike…I ended up loving it.
The second lockdown happened, and I couldn't go on outside bike rides anymore. But I was getting so used to that exercise…getting faster and fitter. So I got a smart trainer — I removed the rear wheel from my road bike and I put my chain around something that has variable resistance.
I was invited to join a team that is sponsored by the manufacturer of the real bike I ride… So every Tuesday night, the team gets together to race other teams online. I'm competing against people who are in Boston, the West Coast, some people are in Europe. Each week is a different course, you race as teams, and at the end of the season the team that has the most points wins.
What do you find most interesting about your work? 
I like getting other people hyped up about things that I'm hyped about. In a restaurant, there's always going to be something that I want to talk to you about. Whether I just put a new cocktail on the list or chef has a beautiful special, or you want to ask me about tequila, or you want to ask me about this wine. Sharing that connection with another human being that's in front of me, [about] this thing that I know a little bit more than they do, but I'm very passionate about — I find it extremely cool.
What's been helping you through the pandemic?
Well, the whole bike riding indoors, that's a huge help. Especially the second lockdown, I felt very sad that we had to shut down again. For some reason that second lockdown hit me emotionally a lot harder than the first one did. So having a little bit of a distraction, some goals to stick to, like I want to get better at [cycling]. Or even just knowing I have six hours to write today. That was helpful. I also have two lovely adopted greyhounds from the racetrack. They are the world's greatest therapists, shoulders to cry on. They are such gentle, soulful animals. Anytime I need some sort of perspective in my life, they are able to offer that.
What do you love about tequila Negronis? 
I just think that that's a beautiful drink. In terms of balance, I like things that are a little bit bitter and boozy. I also have some sentimental attachment to it because I think it was the first classic cocktail that I really understood what it was and started seeking out as I was going out and asking for cocktails.
Agave spirits whether they are tequila or mezcal I just find them fascinating. …There's someone with a true artistic genius behind that. …Like agave: I'm going to roast it, and then I'm going to destroy it, and then we're going to turn into something that tastes very elegant — more than just elegant — it has a sense of terroir that you don't find in other spirits.
What's your best memory of São Paulo? 
There's one experience in São Paulo, which is where I'm from, that I highly recommend to anyone who enjoys the finer things in life. So if you're in São Paulo, there is this big public market where you can find a mortadella sandwich that is as big as your face. You can find the world's best cachaças. There's a little stand that sells only beautiful cachaças you literally can't find anywhere else, even within Brazil. Adjacent to the little cachaça stand, you can buy very cheap Cuban cigars. It's not for everyone, but if that's your thing, my great memory of São Paulo is sitting with my friend on a curb, enjoying all three of those things at once.
How can readers support you and your colleagues right now?
I would ask people to remember to support restaurants on nights like this — when it's in the middle of the week and the weather is not the best. I know it's asking a lot, but that's when we need it the most. …I'm very happy about where we are on Fridays. I'm very happy with where we are on Saturdays. I'm very happy with how we see business during the week when the weather is beautiful and everyone wants to sit outside. But it gets tricky because most of us aren't collecting unemployment anymore. Most of us are still, for better or for worse, on a tip payment system. Nights that we all have to be there, and then no one comes, that is really hard on a lot of levels. That's a lot of food that goes to waste. That's people losing money. The business not making money, especially restaurants with very fresh seafood, any night when it's completely dead because everyone understandably wants to stay inside because it's gross out, that really hurts. 
So, even if it's a delivery or takeout, or buy a gift card that day and use it later — any sort of business you can give to restaurants when the weather isn't perfect during the week would be really helpful. The last thing is, right now, there are two people in the service industry that are going through some pretty tough personal challenges. And there are GoFundMe pages available for both of them: Will Good Recovery Fund and Help Support Marcellus' Family. 
Readers can also directly support Atlantico's bar manager on Venmo at: alexmarcelle17
---
Join our next virtual cocktail class
Join us Thursday, May 13 at 7 p.m. with host Jackson Cannon and special guest Joe McGuirk, The Lexington and Highland Kitchen. This week they'll be making cocktails with Grey Goose vodka, catching up about the Boston restaurant and bar scene, and sharing tips the pros use to make great drinks at home. They'll be mixing a Palmyra, a local gimlet variation, and the classic Gypsy Queen. Everything you'll need is listed here with a link to purchase your Boston.com Grey Goose Vodka cocktail kit through Gordon's Fine Wine and Spirits.
Get Boston.com's browser alerts:
Enable breaking news notifications straight to your internet browser.