Cocktail Club
How to make a Gypsy Queen, a Golden Age drink for cocktail aficionados
"The Gypsy Queen allows Bénédictine to show off its honey and spice."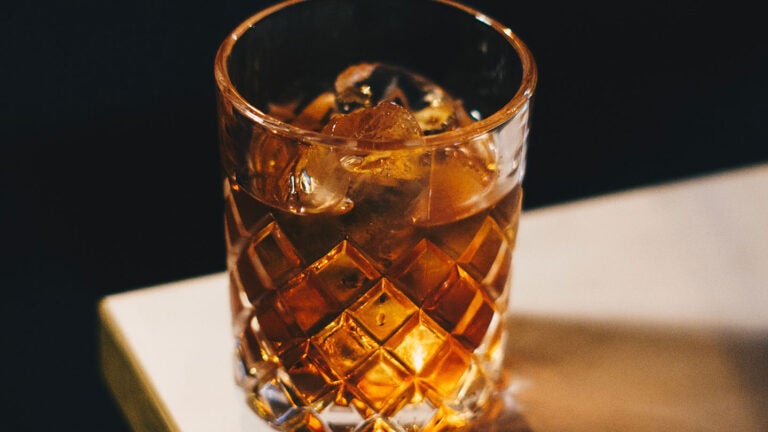 Vodka gets a bad rap. You know what I am talking about, you've seen mixologists roll their eyes when someone asks for a Cosmo (or any other vodka-based cocktail). I get it, the bartender wants to practice her craft and vodka is pretty straightforward, without complexity, and lacks interesting and unique flavors. However, I would remind those who scoff at the spirit (and, subsequently and unforgivably, the guest who ordered it), that you've got to give the people what they want. Vodka offers versatility and can be the backbone of many interesting drinks. Furthermore, it offers a chance to introduce the timid to the world of craft cocktails.
So I present the Gypsy Queen, a noble libation from the post-Prohibition era, a Golden Age for cocktail aficionados.
While it is difficult to really nail down the provenance of drinks from our pre-internet era, most experts agree that this is probably the first American vodka cocktail. The story goes that this was concocted at the Russian Tea House in New York around 1935 as vodka had been making inroads among the city's elite. It is a combination of vodka, the French liqueur Bénédictine (you probably know the odd shaped squat bottle even if you have never ordered a glass), and aromatic bitters. It is similar to a martini in build — a stirred cocktail, strained and served up in a chilled cocktail glass — and finished with a lemon peel. It's also very elegant, with a name that is exotic, regal, and mysterious.
Speaking of mysterious, what the hell is Bénédictine? It is another one of those ubiquitous bottles that for decades gathered dust on the back of every well stocked bar, getting pulled down for a Bénédictine and brandy every three or four months (unless its sister spirit B&B sat next to it, equally dusty).
The modern era of craft cocktails has seen a revival of its fortunes, as it is an excellent component in many great drinks. Like many great spirits and cocktails, its origin is probably equal measures of myth, fact, and marketing, but the truth should never get in the way of a good story. The legend goes that in the late 19th century, a winemaker discovered a recipe created by a monk in 1510. The winemaker faithfully reproduced it, using 27 local plants and spices. Now that recipe is guarded very closely, with only three people knowing the exact recipe at any given time. It is herbal and sweet, with notes of honey and warm spice.
The cool thing about vodka in certain cocktails is that it offers typically complimentary flavors in a drink the chance to be the star of the show. The liqueurs, who tend to be too sweet for modern tastes to be taken on their own, are now often combined with other spirits to create a complex (and hopefully delicious) cocktail. Since the liqueurs tend to be used in smaller measures, their subtleties are somewhat muted. The Gypsy Queen allows Bénédictine to show off its honey and spice, while the vodka cuts its sweetness and gives it some backbone, without overpowering the subtle notes of the cordial.
So go ahead, order a vodka cocktail. I heard the tsarina loved 'em, and if it's good enough for Russian royalty, any good bartender should be proud to build 'em. (I have no evidence that the tsarina ever had a cocktail, but see above.)
What you'll need
Gypsy Queen
Tools
• Mixing glass (any glass that is at least 16 oz. that can accommodate your strainer)
• 2 oz. over 1 oz. jigger (or any measuring tool that can measure a fluid ounce accurately, you can double it for the vodka if you don't have a 2 oz. measure)
• Bar spoon (or anything that can stir your drink, I have used knives, forks, even a honing steel)
• Julep strainer (or anything that will keep the ice from falling out of your mixing glass as you strain, hit me up for creative substitutes)
• Vegetable/fruit peeler or a paring knife
• Chilled glass, preferably stemmed so you don't heat up the drink with your hands, but if you like the drink, it may not matter
Ingredients
2 oz. vodka
1 oz Bénédictine
1 dash Angostura bitters
1 lemon
Cubed ice, enough to really fill a pint glass
Method
• Put garters on your sleeves (optional)
• Scoff at the vodka cocktail order (mandatory if you went with the garters)
• Fill your mixing glass with ice. All the way up.
• Pour the ingredients over the ice, adding the bitters last (because it looks cooler that way)
• Stir 30 or so times
• Strain into chilled glass
• Peel a swath of lemon skin, (careful not to go too deep to avoid the bitter pith) and twist the peel over the drink to express lemon oil on the surface, then rim the glass with the outside of the peel.
• Imbibe
---
Join our next virtual cocktail class
Join us Thursday, May 13 at 7 p.m. with host Jackson Cannon and special guest and bartending legend Joe McGuirk. This week they'll be making cocktails with Grey Goose vodka, catching up about the Boston restaurant and bar scene, and sharing tips the pros use to make great drinks at home. They'll be mixing a Palmyra, a local gimlet variation, and the classic Gypsy Queen. Everything you'll need is listed here with a link to purchase your Boston.com Grey Goose Vodka cocktail kit through Gordon's Fine Wine and Spirits.
Get Boston.com's browser alerts:
Enable breaking news notifications straight to your internet browser.