Cocktail Club
Cocktail Club: Meet Joe McGuirk, the people's bartender of Cambridge
We spoke with The Lexington's bartender and Cambridge City Council candidate about his career, the pandemic, and his Matt Damon story.
Joe McGuirk realized early on that he was good at connecting with people. It's what kept him in the service industry as a bartender for more than three decades.
The pandemic shook that all up.
"We haven't had bar patrons, except one time in the fall. We just make drinks for our guests sitting at tables," McGuirk said of The Lexington in Cambridge where he currently works. "I am behind the bar, but it doesn't really, completely feel like what I do."
It's no surprise then that the career bartender and third-generation Cambridge resident is finding another way to connect. Instead of serving patrons, McGuirk wants to serve his city. He announced a run for City Council earlier this spring.
In between tending bar and campaigning, McGuirk joined the Cocktail Club Thursday for vodka cocktails, mixing a Gypsy Queen and a Palmyra. Ahead of the class, we spoke with The Lexington's bartender and Cambridge City Council candidate about the tell tale signs he's a Cambridge resident, a run-in with Matt Damon and Conan O'Brien, and protecting the working class.
If you were a cocktail what would you be, and why?
I'd be a Salty Dog. [It's] grapefruit juice and vodka with a salted rim — a Greyhound with a salted rim. Why? Because I'm outdated, bitter, and basic, yet playful and refreshing.
Tell us about your journey in the service industry.
I started in high school as a dishwasher in a kitchen at a nursing home. I ended up learning some cooking skills while I was there as well. And when I went to college that translated well as a college job. … And after finishing school, that was my part-time job as I tried to break into the world of publishing, working for Houghton Mifflin or something. And while I was cooking, the opportunity opened up to train as a bartender — and this is the early '90s. I was like, sure. I mean, if it means more money, I'll do it.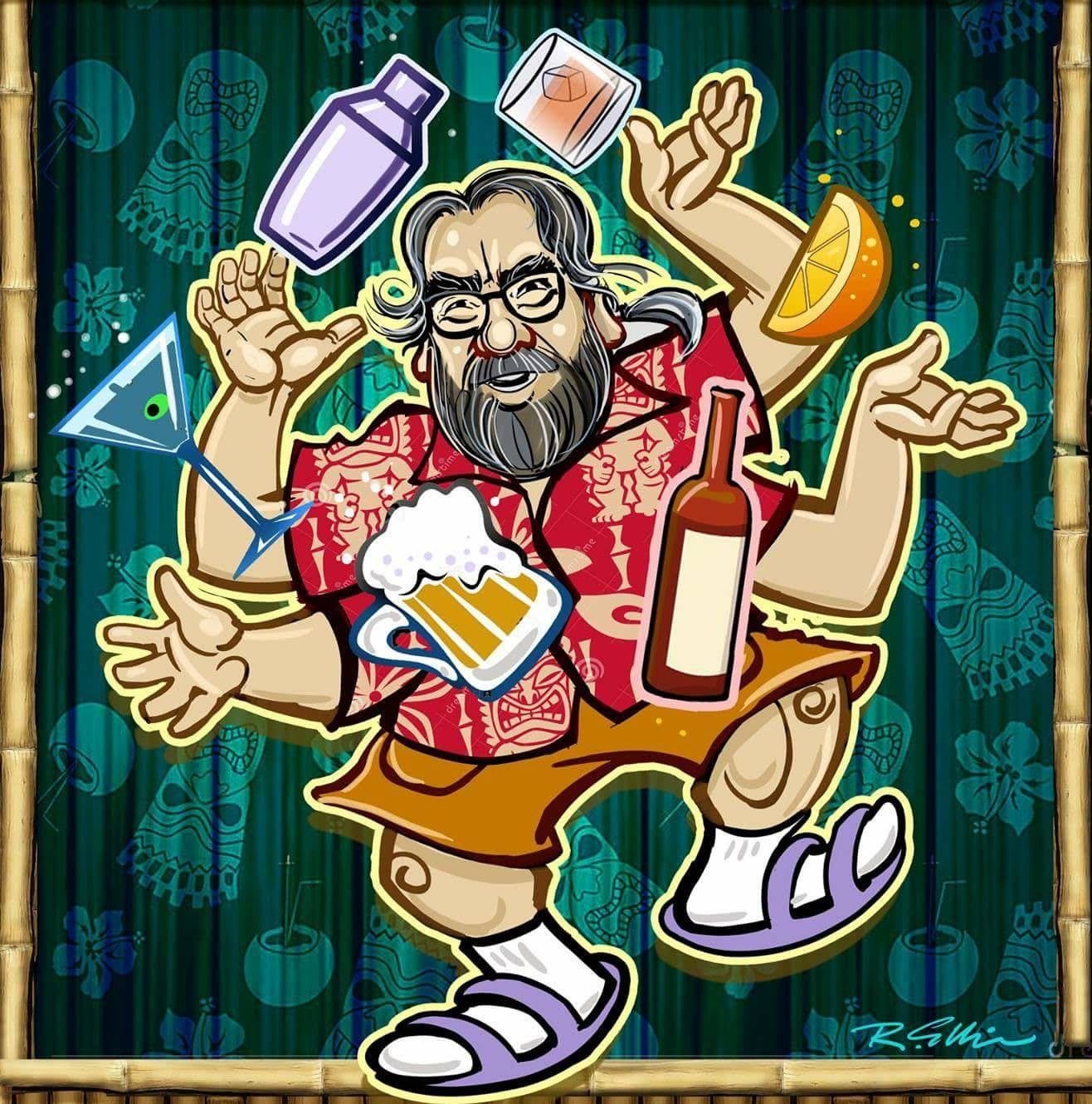 At the time, my day job was a textbook buyer at the Coop, and it just didn't pay terribly well. Tending bar did. I got into the industry out of necessity, right, like it was just a better paycheck. I found that I was really good at it. I wasn't terribly good at being a textbook buyer. I wasn't terribly good at a lot of the things that I thought I wanted to do. But I was particularly good at connecting with people as their bartender. This is at a time when tending bar wasn't really considered a long-term job for most people. Certainly, people with college educations weren't trying to become bartenders, that wasn't really a life goal. Certainly wasn't mine. … The money was very good. And I really liked it. I love the social aspect of it. It really works with my natural rhythms. I've worked nights. Even when I was a kid, I was late to go to bed, late to get up. And I woke up one day in my mid 30s and realized that I'd been tending bar for 10 years, and was that what I was going to do?
I decided that I'd rather be really great at doing something than be mediocre at something else.
As a bartender, I've seen the burn out in almost every other profession. And the truth is, I'm 56 years old, and I still love being behind bars. I still enjoy the interaction with the patrons. I still enjoy a lot of the aspects of how it all works. Like the immediate acknowledgement of a job well done in the form of a tip. The connection with myriad people from everywhere and awesome conversation. It has made me a smarter person. It's made me a more patient person. And it's maybe a little more self reflective.
What's the wildest thing you've witnessed while working the bar—that can be published?
There's no one incident. The coolest thing that happened one time in 2000 or 2001 was watching Matt Damon approach Conan O'Brien and the earnestness of their conversation. It was just wicked fun to be an observer that — like, I wasn't there, right? I was standing in front of them, but I wasn't there. Matt Damon said, 'Oh, Mr. O'Brien, it's so nice to see you.' And Conan was like, 'Oh how are you doing, Matt? I remember we met in the elevator at NBC studios.' And Damon says, 'Yeah, and I was a guest on your show.' That was like, one of my favorite things.
Can we ask about your recently announced run for Cambridge City Council?
Hundred percent, yeah. So I'm a lifetime Cambridge resident. I'm a renter. COVID kind of put a focus on how hard small, local businesses have been hurt. In having that time off, I haven't been out of work for four months since I was 11 years old. It was strange. Having the ability to put my head above water and kind of look around, I saw how Cambridge has changed over the last 30 years. It's a really wealthy city, and it's come down particularly hard on people of more modest means.
I don't mean this to become a campaign speech, but one of the reasons why Cambridge became a destination beyond the innovation, biotech [industries], and everything was people wanting to move and live here. Not just because it was close to work, but because of all the other things that it offered: the cafes, the progressive values — a lot of the things that working class people helped create. And for Cambridge, to retain that authenticity and retain that uniqueness, it's important to try to preserve people of more modest means the ability to stay here. That's really what got me in. As we continue to grow, the people who helped create the city should get to enjoy the fruit of their labor.
What has been helping you through the pandemic?
Well, obviously, I've been out of work. So from a practical standpoint, unemployment [benefits] — thankfully, we have a government that is trying to do what they can to help unemployed people. And making some economies at home by cooking a lot more than I ever have. It's pretty cliche, but I've become wicked good at making bread and a lot of other dishes, too.
Fortunately, like the two big supports are [laughs] playing Dungeons and Dragons on a virtual tabletop game, online with friends, which I hadn't played since 1982. So that's been really fun, really something I've looked forward to as we were isolated. That was a really great way to get social. And having a cat get introduced to my life. We have a new cat at home, and my little cat Paris…rather than focus on my own anxieties, I'm taking care of my little kitty.
Tell us you're from Cambridge without telling us you're from Cambridge.
This is the toughest question. Well, there's the pizza fight in Cambridge. Some people think Pinocchio's is the best pizza. Some people think Armando's is the best pizza. … I wear a hoodie, shorts, and sandals until it hits the 20s [degrees]…[and] I'm dropping my compost out wearing those. … I identify as, 'I'm in the People's Republic.'
The bar?
No, we call it the People's Republic of Cambridge. His [owner Robert Blair's now-shuttered The People's Republik bar] name comes from the moniker for the City of Cambridge. People call Cambridge the PRC and the bar took its name from that.
What do you like about the Gypsy Queen, or vodka-based cocktails?
I think that there's a trend in younger bartenders to scoff at vodka cocktails because they think vodka is insipid. It's certainly not as complex as other spirits. It's a simpler process. But when I came up, vodka was the most popular spirit by far. It was the spirit that we sold the most of. So there's a certain snobbery about people who drink vodka drinks, and I think that's wrong. … Vodka gives the drink a backbone, it gives it strength, brings up the alcohol level, cuts some of the sweetness that a lot of these cordials have. And it lets that cordial shine as the star of the show, as opposed to being just a supporting actor.
It's bulls*** for bartenders to criticize people drinking any spirits they want because ultimately, the goal of spirits is to elevate your mood. And if elevating your mood is by having vodka and cranberry juice or a cosmo there is no reason to judge them for that.
For our cocktail enthusiasts, what is your best tip for making cocktails at home?
Always squeeze your juice fresh and don't be afraid to fiddle with recipes to suit your tastes. Like the Gypsy Queen, it might be too sweet for some people. So the ratio right now is two parts vodka to one part Benedictine. You might try that and think I don't like it. But if you put it as four parts vodka to one part Benedictine, you might love it. So always be willing to to make the recipe yours.
How can people support you and your colleagues in the service industry right now?
Be mindful that we're in an awkward position now for enforcing the rules. In an industry that's hospitality based, a lot of us are timid about, like, we have to enforce the rules, but we're caught between what our immediate goal, which is to have you come in and spend money, and the rules that allow us to stay open. We're just trying to do what's right.
My Venmo is Joe-McGuirk. Also, people should play my daughter on Spotify, Ali McGuirk. She's an incredibly talented musician.
---
Join our next virtual cocktail class
Join us Thursday, May 20, at 7 p.m. for Boston.com's Cocktail Club with host Jackson Cannon and his special guest Tersillia Valentini, bartender at Black Lamb. This week they'll be making cocktails with Bombay Sapphire Gin, catching up about the Boston restaurant and bar scene, and sharing tips the pros use to make great drinks at home. They'll be mixing the sensational local Bohemian cocktail and a classic gin martini. Everything you'll need is listed here with a link to purchase your Boston.com Grey Goose Vodka cocktail kit through Gordon's Fine Wine and Spirits.
Newsletter Signup
Stay up to date on all the latest news from Boston.com