Cocktail Club
'I do love a good pisco sour': How to make a classic cocktail with this Peruvian spirit
Salt bar manager Ashley Sullivan shares a classic pisco sour recipe to make at home.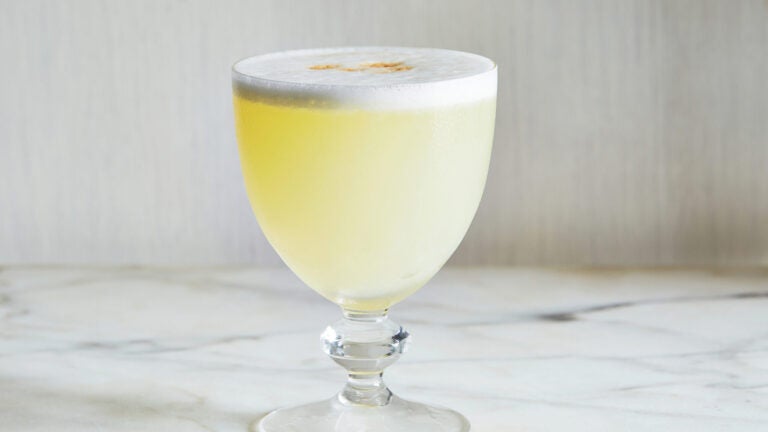 As summertime is approaching and with restrictions being lifted for restaurants, there is a glimmer of normalcy for those of us working in the industry and guests alike.
I will admit, it was a bit overwhelming for me personally having the bar open back up. I've spent the past eight months doing service bar for the restaurant. However, seeing all of the familiar smiling faces and many new ones has been comforting.
One of my favorite parts of having guests actually sitting with me at the bar are the questions I get asked. People are always intrigued when you are making a cocktail. They want to know the steps, the ingredients, or how they can recreate their favorite at home. I was asked a while back how to make the perfect whiskey sour and if there were any other spirits I would recommend in place of whiskey. I was rattling off the usual suspects when I took a pause and thought about how I do love a good pisco sour.
Pisco is a Peruvian spirit that is distilled from grapes. As with wine, pisco uses different grape varietals. This leads to very different styles depending on the brand you choose. One can impart a fruitier aspect to a cocktail whereas another may lend a deep and earthy component to a drink.
To make the classic pisco sour at home you will need your preferred bottle of pisco, lime juice, simple syrup, egg white, and Angostura bitters.
What you'll need
Pisco sour
Ingredients
2 oz. pisco
1 oz. freshly squeezed lime juice
1/2 oz. simple syrup
1 egg white
3 dashes Angostura bitters
Directions
Add two ounces of pisco, one ounce of freshly squeezed lime juice, half an ounce of simple syrup, the whites of one egg into a shaker tin.
Dry shake vigorously.
Add ice to the shaker tin and shake again until chilled.
Strain into a chilled coupe or Nick & Nora glass.
Garnish with 3 drops of Angostura bitters
---
Join our next virtual cocktail class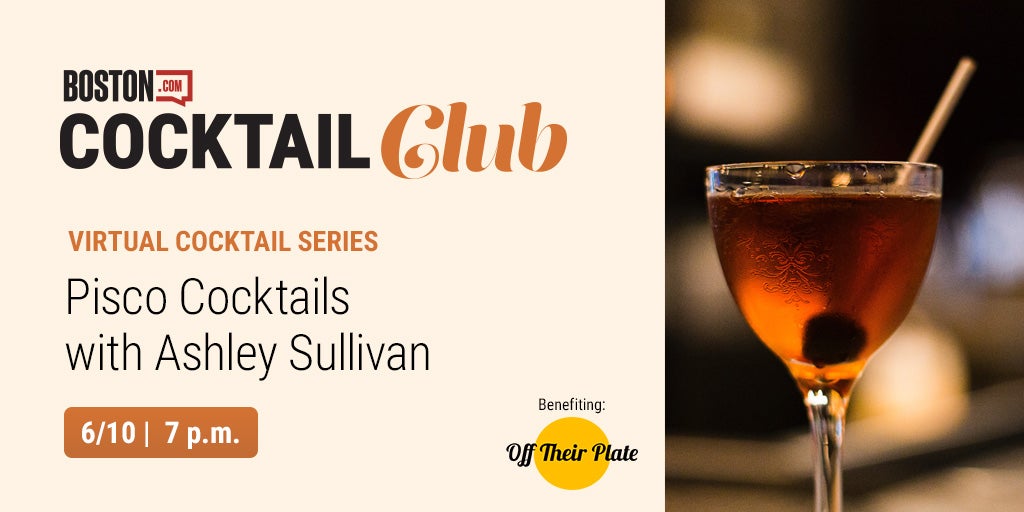 Join us Thursday, June 10, at 7 p.m. for Boston.com's Cocktail Club with host Jackson Cannon and returning guest bartender Ashley Sullivan. This week they'll be making cocktails with pisco, the ever-intriguing Peruvian brandy, catching up about the Boston restaurant and bar scene, and sharing tips the pros use to make great drinks at home. They'll be mixing the classic pisco sour and a sultry take on the Manhattan cocktail known as El Capitán. Everything you'll need is listed here with a link to purchase your Boston.com cocktail kit through Gordon's Fine Wine and Spirits.
Please note: There will be no Cocktail Club virtual class the week of June 17.
We're looking for your feedback for our summer schedule. Take our survey below or e-mail [email protected].
Ashley Sullivan is bar manager at Salt and a town meeting member for Plymouth.
Newsletter Signup
Stay up to date on all the latest news from Boston.com