COVID
Iggy's Bread embraces social media — and delivery — to reach a new audience during the pandemic
"It's pretty obvious from our Instagram account the moment they took over," said Pedja Kostic, who helps run Iggy's.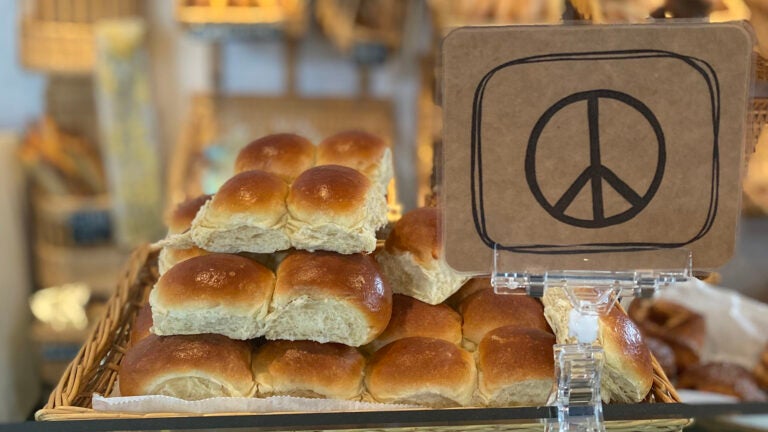 In our "My restaurant's story" series, restaurant owners in the Greater Boston area share how COVID-19 has affected their business. If you're a restaurant owner, you can share your story here.
Iggy's Bread has never really been one to post glamour shots of its loaves and sticky buns.
The bakery, which has operated out of its Cambridge digs since 1999, has long focused the majority of its business on wholesale, delivering fresh bread and pastries to restaurants, cafes, catering companies, and hotels. But when COVID-19 hit, those accounts dwindled significantly. To make up for a fraction of the lost revenue, Iggy's pivoted to home delivery — and, with the help of founder Igor Ivanovic's daughters, began utilizing social media in a way the bakery had never considered.
"It's pretty obvious from our Instagram account the moment they took over," said Pedja Kostic, who has been working at Iggy's Bread alongside Igor's brother, Nikola Ivanovic, for the past 25 years. Kostic said that two of Igor's daughters, Mishka, 20, and Tamara, 28, quickly set up a separate website for Iggy's delivery, where customers in select towns can place orders before 8:30 a.m. for next day drop-offs (Iggy's retail store is also open from 7 a.m. to 4 p.m. daily). And Instagram posts have grown from roughly one per week to a couple each day.
Kostic spoke with Boston.com about how Iggy's has revamped its business during the pandemic and how social media has played a huge role.
Entries may have been lightly edited for clarity or grammar.
Name: Pedja Kostic
Restaurant: Iggy's Bread, Cambridge
What is Iggy's COVID-19 story?
It's been an interesting time. The [bakery's] restaurant business went away pretty quickly because, of course, the ordinance came for restaurants to close. A few have come back to offer takeout and pickup: Craigie on Main, Coppa, Field & Vine started back up. But there was a very abrupt stop. Retail was one of those things that you watched bleed out. At first there was a rush on the stores — some customers even upped their orders — and then slowly, as further restrictions were placed, retail just further went down. It seems like supermarkets and [other] retail shops are doing the most business, but artisan bread that's made without any preservatives — it's perishable, and people must be playing it safe. So that's been fascinating to watch: The business just completely melting in front of your eyes.
How have you made changes to your businesses since this started?
[Mishka and Tamara] are back from school and are helping by doing home deliveries. They're using their millennial skills — they made a website in a day, started to control our social media — to help feed people who can't leave their homes, either because of quarantine, because they're afraid, or because they're in a high risk category when it comes to COVID-19 [Iggy's offers free delivery for anyone over 65]. Deliveries have taken off, and so far the feedback from customers has been heartwarming and has motivated all of us to continue and expand our offerings. Families are writing things like, 'thank you for delivering,' and 'when they saw Iggy's in the house, our kids felt things were a little more normal,' while the elderly are sincerely grateful that they can get baked goods without having to risk going out.
It's a lot of reinventing. It keeps us busy, which is really nice. This is a logistical challenge that keeps your mind off of how bad things are.
Do you think social media is vital in a time like this?
I definitely feel that way. Especially if you're a chef at a restaurant, you're trying to reach the younger, hipper generation that wants to eat fun food. You're trying to speak to them, and they're mostly on social media. I'm learning about it as I go along. I think it's helping people get the message out, and you can inform people about a new menu or special order or something exciting, and they're seeing it at home. This is a lovely distraction, I think, for everyone. Of course, if you look at the economics of it, [the chefs] do all this work with limited staff and they're trying to entertain as much as possible and bring customers in, and sometimes it works and sometimes it doesn't. Older generations are more used to cooking, and they'll order when they don't feel like cooking anymore. Younger generations cook less, and this is a great time for them to learn or start because they have the time to do it.
How has your staff been impacted by COVID-19?
We had to temporarily lay off almost a third of our staff. We had to reduce hours for a bunch, although thankfully it seems like with the relief that's coming, we'll be able to push them back up to 40 hours. So that's one positive thing. A lot of people were happy to stay home and stay safe rather than have to work reduced hours, and we support them in that decision. I think the unique situation here is that apart from snowstorms every now and then, where you're concerned for the wellbeing of your drivers and the people that have to come in and make bread, you rarely have this looming worry of the health of your staff on top of all the economic hardship — which seems completely irrelevant once you put it in perspective.