COVID
Trader Joe's won't offer online ordering, grocery delivery, or curbside pickup. Here's why.
Trader Joe's employees explained why the grocer hasn't offered services like online ordering during the coronavirus pandemic.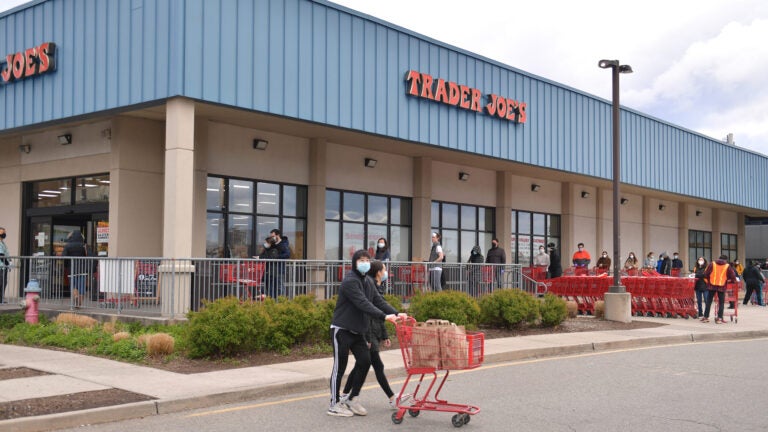 With social distancing in effect amidst the coronavirus pandemic, many grocery stores have moved to emphasize their online ordering, delivery, and curbside pickup services for customers.
One grocery chain that doesn't currently offer these services is Trader Joe's. And the company doesn't plan to start in the near future, either.
In the April 20 episode of the Trader Joe's podcast, marketing director Tara Miller and VP of marketing Matt Sloan discussed why the company has no plans to institute these services, despite Miller saying that many customers have asked for them.
"Creating an online shopping system for curbside pickup or the infrastructure for delivery, it's a massive undertaking," Sloan said. "It's something that takes months or years to plan, build, and implement, and it requires tremendous resources. Well, at Trader Joe's, the reality is that over the last couple of decades, we've invested those resources in our people rather than build an infrastructure that eliminates the need for people."
Unlike other stores, Trader Joe's has never offered the services, stating in the FAQ section of its website that they are "still just big 'ole fans of the neighborhood grocery store where we can say hello when you're looking around."
Miller opined that when social distancing ends, Trader Joe's will be stronger for having invested in its employees, calling its crew "our most valued resource."
"While other retailers were cutting staff and adding things like self checkout, curbside pickup, and outsourcing delivery options [before coronavirus], we were hiring more crew, and we continue to do that," Miller said. "We know that this period of distancing will end, and when it does, our crew will be in our stores to help you find your next favorite product, just as they've always been."
Despite what Sloan and Miller said, Trader Joe's has faced criticism from its employees for insufficiently protecting workers during the COVID-19 pandemic. Additionally, the company has pushed back against employee efforts to unionize, sending a memo to store managers nationwide with anti-union talking points, according to the New York Times.
A recent petition created by the Trader Joe's Union Coalition asking the company to provide time-and-a-half "hazard pay" for its workers received more than 21,000 signatures. While Trader Joe's has not done that, it did recently announce employees would receive temporary "thank-you pay" raises of $2 an hour and that it would offer additional ways for employees to "qualify for and maintain health insurance" through the company.