COVID
Black restaurant owners band together to stay afloat amid pandemic
The Boston Black Hospitality Coalition aims to help Black-owned businesses in Boston.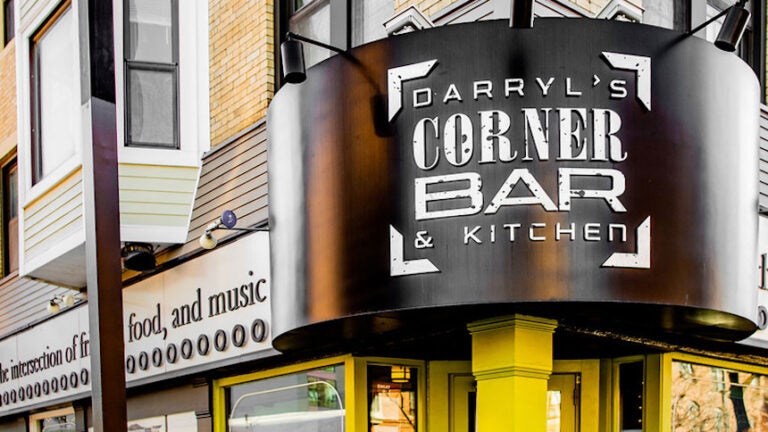 Nia Grace had finally hit her breaking point.
It was Mother's Day, and the owner of Darryl's Corner Bar & Kitchen in the South End found herself in a predicament. She became the owner of the bustling restaurant two years earlier, but the shutdowns associated with the COVID-19 pandemic had decimated her revenue. She'd spent the last two months trying to keep her business afloat.
Before COVID-19, Darryl's offered live jazz music, cocktails, and Southern-style food such as chicken and waffles and fried catfish strips. Grace said the restaurant has brought in just 2 percent of its typical revenue since mid-March, when Gov. Charlie Baker's dine-in ban forced restaurants to pivot to takeout and delivery only — or shut their doors. Forty-four of her full and part-time staff members dwindled to six, and 50 of the bands she had employed were out of a gig.
All of this impacted Grace emotionally, too, she said. She thought of her restaurant, which has been around since 1957 and was formerly known as Bob the Chef's. She thought of the people she employed. She also thought of the community, and how her customers would come into Darryl's to unwind after a long day of work.
"For us culturally, we're like, dang, let's think about that guy that we always see on Tuesday nights who always has a story to tell us, be it good or bad. That's therapy for him. What is he doing now?" Grace said. "Or, for that mother who makes this her stop on her way home, what's her therapy like? For this kind of industry where we thrive on people, we're suffering. This is a depressive state. I look up and see all the chairs removed from the restaurant … and I continuously look at no bodies. I didn't get into this business to just hand a bag out and be done. I got to do it because of personal interactions, because that gives us life."
Grace first visited the restaurant nine years earlier with one of her sorority sisters, and recalls saying to her: "Wow, girl. If I ever own a place, I want it to be just like this." Having grown up in Roxbury and Dorchester, she felt like the restaurant offered a warm atmosphere, from the exposed brick to the artwork by Black artists. Knowing the history of the South End — and that the restaurant was owned by a Black business owner — she was impressed.
"Wow. Somebody who looks like me," she remembers thinking. 
Taking over the restaurant was a dream come true, and she took pride in being a female Black business owner heading an establishment that has been a staple of the community for decades.
And yet she recently found herself wondering: "Am I going to make it?"
All of this prompted Grace and Royal C. Smith, who owns District 7 Tavern in Roxbury, to form the Boston Black Hospitality Coalition with the goal of supporting the city's Black-owned hospitality community. Additional members include Wally's Cafe, Soleil, and Savvor Restaurant and Lounge. The owners realized they were in similar situation: The coalition estimates that its five restaurants have lost at least $1.2 million in March, April, and May. They reported laying off 88 percent of their workforce, an impact to 116 households in the city.
Frank Poindexter, who helps to manage Wally's Cafe, which was founded by his grandfather Joseph L. "Wally" Walcott in 1947, knew that his family's historic jazz club needed additional support to continue operating during the pandemic. 
"We are disproportionally affected in terms of health, finances, instructional organizations, and so the only way we're going to be able to get any support is if we work together," Poindexter said. "That's the whole emphasis of it. The best thing that came out of it is we knew we had to band together."
Eddy Firmin, owner of Caribbean soul-food restaurant Savvor, emphasized all of the ways these businesses serve the community.
"We think it's imperative that we all make it because we are more or less like the pillars of the community. We all serve a certain purpose. My place, we do a lot of fundraisers, community things, [and] networking events, whether it's the Black nurses, Black accountants, engineers, teachers. Darryl's, they've had Congresswoman Ayanna Pressley, politicians, Mayor Marty Walsh, award-winning musicians."
Right now, the coalition is focused on increasing funding for its members, which Grace hopes can extend to helping other Black- and minority-owned businesses in the city. The restaurants were awarded grants from the NAACP's Boston branch, which were distributed to each member. They are also looking at other needs, such as paying rent and liquor license fees, as well as how to give more visibility to Black-owned businesses on social media.
"I think Black-owned businesses haven't received a lot of the adequate funding that has come out of a lot of the funds, such as PPP," said Faarooq Sahabdeen, the coalition's director of communications. "Black-owned businesses have always faced major obstacles, especially when it comes to the reopening plans. A lot of these restaurants and bars don't have that outdoor space."
Such is the case with Savvor, which shut down March 14 and laid off its staff.
"Right now, it's a matter of trying to find a way to come back, and even when we do, it's alarming because things are going to be so different," Firmin said. "We'll be operating at maybe 25 percent capacity, if that."
As the state's reopening progresses into Phases 3 and 4, Firmin worries that certain parts of the city will get more funding and attention than others.
"At the end of the day, if it happens that one of us doesn't make it, we may not get that opportunity again and it may not show itself," he said. "It's definitely harder for us at the end of the day. We feel like when things do get better, a certain section will start thriving first prior to us. The North End will take off before us, the waterfront, the Fenway. It's definitely much harder for us, for me, to survive. It's already a hard industry to survive and make it, but it makes it harder to be a small, minority-owned business."
"We have been conditioned to deal with adversity," Poindexter said. "We historically have been conditioned to know that, OK, this is what we have to deal with. … Other than that, we have learned that the only success we're going to have is if we create organizations, network, and plant that seed [so] then other businesses will flow through that."
The coalition's businesses have also been trying to find ways to support the community. Darryl's has been experimenting with "consumer conscious" menu options such as a new neighborhood combo meal that allows diners to choose among their classic dishes with a side and a corn muffin. Wally's runs Jam Sessions for local musicians through a nonprofit organization and plans to use a neighboring building to open a production space and student cafe.
Grace also emphasized the importance of the community banding together.
"For me, it's more than just a business that I'm involved with, especially since we have so many touch points with the community [and] the people," she said. "We are nested here in the neighborhood, and if it was not for my neighbor-hoods and neighbor-hers, we would not be here this long."
In light of the recent protests in Boston and around the world due to the killing of George Floyd in police custody, Grace feels like it's even more important now to support Black-owned businesses and communities of color as they deal with adversity.
"Community is more important now than ever, and I think it's because when we live near each other and grow up with each other and patron each other's establishments — and I'm not just talking restaurants — but our businesses [and] cornerstones," she said. "I think right now it's more important than ever because I think that we all have some similarities in how we feel. It's hitting us more personally now, and so on top of us trying to save our businesses within the community, we're just trying to save ourselves, too."