Restaurants
A running list of local restaurants that have reopened for the season
After temporarily closing due to COVID-19, Boston restaurants have started to reemerge.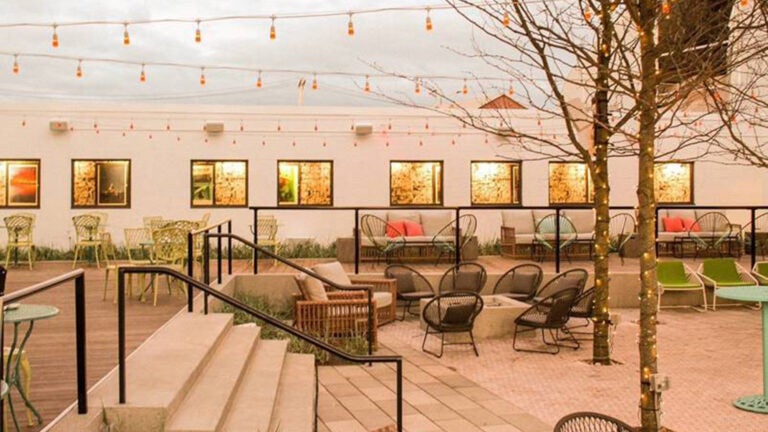 Restaurants are steadily reemerging after temporarily closing this past winter.
Paola Ibarra's Somerville bar, Barra, first debuted in February 2020, just a few weeks before the shutdown. She and co-owner Yhadira Guzmán temporarily sent Barra into hibernation in early January. They reopened the bar on Feb. 24.
"Closing was a financial decision — as was everybody's — but it was also an exhaustion decision because we're understaffed," she said. "So we just wanted to focus on other stuff and regroup."
That included putting together pantry items like condiments, salsas, and DIY kits to sell through Barra's website, as well as offering private events. Ibarra said that now that the weather has improved, the patio is open, and they're offering limiting reservations for seating inside the restaurant.
"The thing that makes us happier, and what we opened for, was the inside service," she said. "Because it's the whole experience: the music, the food, everything else. We feel energized because of that. That's what we love."
May reopenings:
Here are some of the latest restaurants that have announced May reopenings:
Casa Caña: The Allston restaurant came out of hibernation on May 5, relaunching as a Mexican taqueria and tequila bar with tacos, burritos, nachos, and more.
Catalyst: Back in action on May 4, the Kendall Square bôite returned with a seasonal lunch and dinner menu alongside a brand new cocktail list.
Hennessy's: Just steps from Faneuil Hall, landmark watering hole Hennessy's reopened May 5 with an outdoor patio and freshly shucked oysters.
Lamplighter Brewing Co.: The Cambridge brewery reopened its beer garden on May 1, featuring a new cafe menu from Pepita Coffee.
Night Shift Brewing (Lovejoy Wharf): Night Shift reopened its Lovejoy Wharf brewpub on May 6, partnering with Little Branch Hospitality to introduce a new menu that includes Detroit style pizza, a Nashville hot chicken sandwich, and Eastern Standard Provisions Co. pretzels.
Pier 6: Soak in the skyline at this waterfront restaurant, which reopened on May 1 just steps away from the USS Constitution in Charlestown.
Shore Leave: Tiki haven Shore Leave reopened its outdoor concept, The Life Raft, on May 1, offering a brand new food and drink menu on its South End patio.
Spoke Wine Bar: The wine is flowing again at Spoke Wine Bar, which reopened May 5 in Somerville. Stop by for a glass of vino, sunchoke doughnuts, and butter-poached scallops.
State Park: The Cambridge restaurant and bar reopened on May 18 for patio service, takeout, and delivery, bringing back their signature fried chicken and seasonal house cocktails.
T&B Wood-Fired: Formerly known as T&B Pizza, T&B Wood-Fired relaunched May 6 with a new spring menu featuring wood-fired Neapolitan-style pizza and shareable plates.
Time Out Market: The Fenway food hall reopened on March 13 with a slew of opening celebrations, 12 vendors, and a new seasonal tiki bar.
Already open:
These restaurants recently reopened for the season:
A&B Kitchen • Bar – March 24
Atlántico – April 1
Back Deck – April 28
Bar Lyon – April 28
Bar Mezzana – April 1
Barra – Feb. 24
Beantown Pastrami Co. – April 3
Bistro du Midi – March 17
Black Lamb – April 1
Brownstone – April 9
Burro Bar – March 4
Cambridge Brewing Company – Feb. 18
Canary Square – March 25
Cask 'n Flagon – March 19
Ciao Roma – April 8
City Bar – March 4
Cityside Tavern – Feb. 5
City Winery Boston – April 28
Colette – April 30
Commonwealth – April 28
Coppersmith – March 11
Daddy Jones Bar – March 25
Daedalus – April 7
Dali – April 7
Delux Cafe – March 17
Dorchester Brewing Co. – March 1
Dovetail – April 9
Elm Street Taproom – April 22
Fenway Johnnie's – April 15
Five Horses Tavern – Early April
Flatbread Company (Somerville) – Feb. 19
Flora's Wine Bar – March 17
French Quarter – April 7
Galway House – March 8
Game On! Fenway – March 13
Ghost Pepper – March 22
Grand Tour – April 1
Gray's Hall – April 30
Guy Fieri's Tequila Cocina – March 23
Haley.Henry – April 5
Ivory Pearl – March 25
Joe's Waterfront – April 7
Little Donkey – April 12
Little Dipper – April 3
Lobstah on a Roll (South End) – March 23
Lord Hobo Cambridge – March 26
Mamma Maria – April 8
Miracle of Science Bar + Grill – April 15
Nathálie – April 2
Nico Ristorante – March 25
Oak + Rowan – March 10
OAK Long Bar + Kitchen – April 1
Orinoco Kitchen – April 16
Rail Stop Restaurant & Bar – April 1
Reign Drink Lab – Feb. 20
Rosebud American Kitchen & Bar – March 31
Row 34 – April 1
Samuel Adams Boston Taproom – March 24
Select Oyster Bar – April 1
Shojo – April 9
Silhouette Lounge – March 17
Sligo Pub – Late April
SRV – March 18
State Street Provisions – March 25
Summer Shack (Back Bay) – March 25
Tambo 22 – April 1
Terramia Ristorante – Feb. 11
The Gaff – April 2
The Greatest Bar – March 12
The Harp – March 25
The Kenmore – April 21
The Lansdowne Pub – March 13
The Painted Burro – April 1
The Quiet Few – April 1
Tip Tap Room – April 15
Trillium Brewing Co. – April 1
Trina's Starlite Lounge – March 21
Ward 8 – Feb. 18
Worden Hall – April 12
Still hibernating:
Below is a list of restaurants that announced they were hibernating for the winter and plan to return in the spring.
Clerys – Reopening May 26
Honeycomb Creamery – Reopening May 24
The Emory – Reopening May 27
Get Boston.com's browser alerts:
Enable breaking news notifications straight to your internet browser.