Entertainment
You can bid on a vintage Dunkin' Donuts box used on 'Mad Men'
Actual doughnuts not included.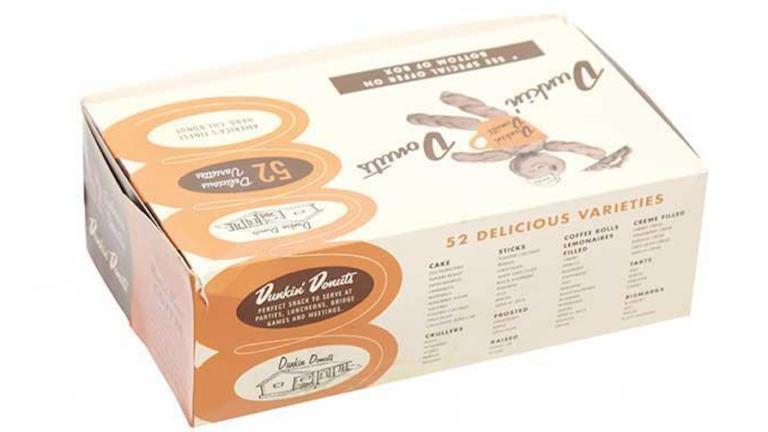 Want to own a piece of Dunkin' Donuts (and television) history? The chance could be yours if the price is right.
As first pointed out by Boston magazine, you can now bid on a vintage Dunkin' Donuts box used as a prop on AMC's Emmy-winning '60s-era drama Mad Men, which chronicled the lives of the employees of fictional New York City advertising firm Sterling Cooper. The show aired from 2007 to 2015.
Hollywood memorabilia company ScreenBid retained Mad Men's award-winning prop master Ellen Freund to help curate the prop auction, which features almost 1,500 items from the show.
"Every item that appeared on Mad Men was chosen with painstaking care to be both historically accurate for the time period and to help tell the characters' stories through the objects around them," Freund said in a press release. "With this auction, it's exciting to give fans a chance to take home a piece of American and television history."
Dunkin' Donuts was featured in the 11th episode of season two, when Sterling Cooper account executive Ken Cosgrove attempts to win the Canton-based company's advertising business, and brings in doughnuts for the whole office.
Dunkin' Donuts was a willing partner in Mad Men's celebration of the company's history, providing the show with 1960s-style boxes for the scene and working with real-life advertising firm Hill Holiday to create a vintage advertisement for a Mad Men-inspired retro issue of Newsweek in 2012, complete with the chain's old mascot, Dunkie.
Right now the Dunkin' box can be had for $50, and comes with a certificate of authenticity. That may seem like a lot, but with items like Don Draper's watch going for $4,600 and even hilariously pedestrian items like Paul Kinsey's old dirty T-shirt and Michael Ginsberg's spice rack going for $100 each, that box of sweetness might be one of the more cost-effective gifts for the Mad Men and/or Dunkin' fan in your life. If you're looking for another auction item with a Boston connection, Peggy Olson's John F. Kennedy portrait is currently available for $225. Bidding is scheduled to end in a little over a week.