Entertainment
Boston celebrity pastry chef Thiago Silva stars in Netflix special
Thiago Silva appears alongside seven other top pastry chefs on "School of Chocolate," as they're coached by world-renowned chocolatier Amaury Guichon.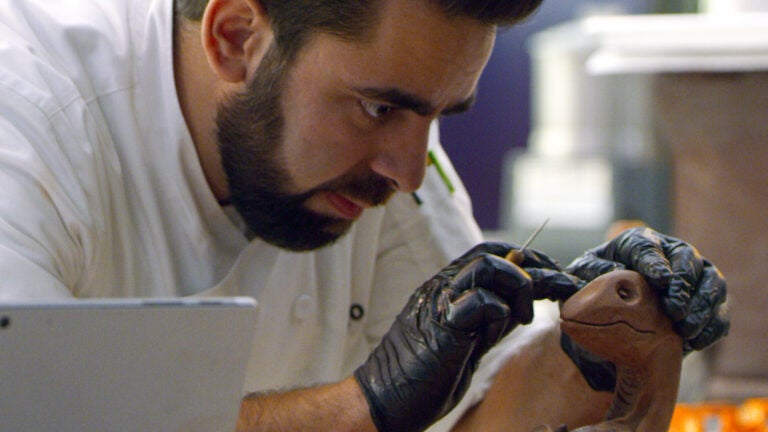 Chef Thiago Silva and a handful of the world's top pastry chefs put their skills to the test in Netflix's new special, "School of Chocolate," which debuted Friday. Silva will bring his new chocolate expertise to the bakery he's opening in Newton's Piccadilly Square this winter, SALT.
Silva is no stranger to the world of baking shows—he's already shown his stuff on Food Network and beyond. In 2007 he won the first all-baking version of "Chopped," and since then he's won "Dessert Games" and was a finalist on "Best Baker in America." He's also served as a judge on Netflix's "Sugar Rush" and "Chopped Sweets."
In his newest show, Silva stars as one of eight pastry chefs taking their work to the next level under the guidance of Amaury Guichon, a renowned French pastry chef who founded The Pastry Academy in Las Vegas. Guichon's jaw-dropping whimsical chocolate creations have earned him over 4 million Instagram followers, and inspire the eight pastry chefs as they compete for the winning prize: $100,000.
"This show was different," said Silva, comparing his experience filming "School of Chocolate" to his other television shows, "because the main point is to learn and grow."
"There's a great prize, but we all get some one-on-one lessons with Chef Amaury, so it's a win-win," he said, explaining that many challenges required contestants to work together, which you don't often see on cooking competition shows.
"I had no idea that I could sculpt chocolate the way I did," said Silva, although his pastry-making talents have certainly got him noticed in other ways — he's made custom creations for the tables of celebrities like Sophía Vergara, Derek Jeter, John Legend, and Miranda Kerr.
Silva worked as the executive pastry chef at New York City's EMM Group (now Catch Hospitality) for several years before moving to Boston in 2016 to accept a position as director of chocolate with food innovation lab, CHEW, until he recently left to pursue his new Piccadilly Square venture.
At SALT, Silva plans to sell morning pastries, bread, grab-and-go items, cakes, and coffee. He plans to utilize some of the chocolate sculpting skills he honed on "School of Chocolate" on specialty cakes at SALT.
Silva said viewers should tune into this new Netflix special because it's unlike other competition shows that follow the same model.
"We all genuinely want to see each other grow and succeed," said Silva of his co-stars, "during the show, and after the show."
Viewers can watch the first season of "School of Chocolate" on Netflix now. "There is just some truly amazing artistry happening," said Silva.
Newsletter Signup
Stay up to date on all the latest news from Boston.com