The Boston Calling food line-up looks intense (and delicious)
It includes a cone-shaped waffle filled with mac and cheese, meat, barbecue beans, coleslaw, and jalapeños.
The high-profile bands and performers slated for the next installment of Boston Calling may face some tough competition when it comes to maintaining the audience's attention, thanks to the just-released list of food vendors at the festival.
In addition to its all-star music lineup and new location, the festival is doubling the number of food vendors serving up eats to hungry festival-goers.
New highlights include the Shuck Food Truck, which will offer New England classics like lobster rolls and oysters, and the Smoke Shop, which will serve the BBQ Bomb, a waffle cone filled with mac and cheese, barbecue beans, meat, and coleslaw, topped off with jalapeños. Moyzilla, FoMu, Stone and Skillet, and six other vendors will be there for the first time in general admission, too.
The festival will also add a food-centric element to its VIP and Platinum tickets, offering a larger selection of vendors with special menus from chefs like Will Gilson, of Puritan & Company, Nookie Postal, of Commonwealth, Michael Scelfo, of Alden & Harlow, and Brendan Pelley, of Doretta Taverna & Raw Bar.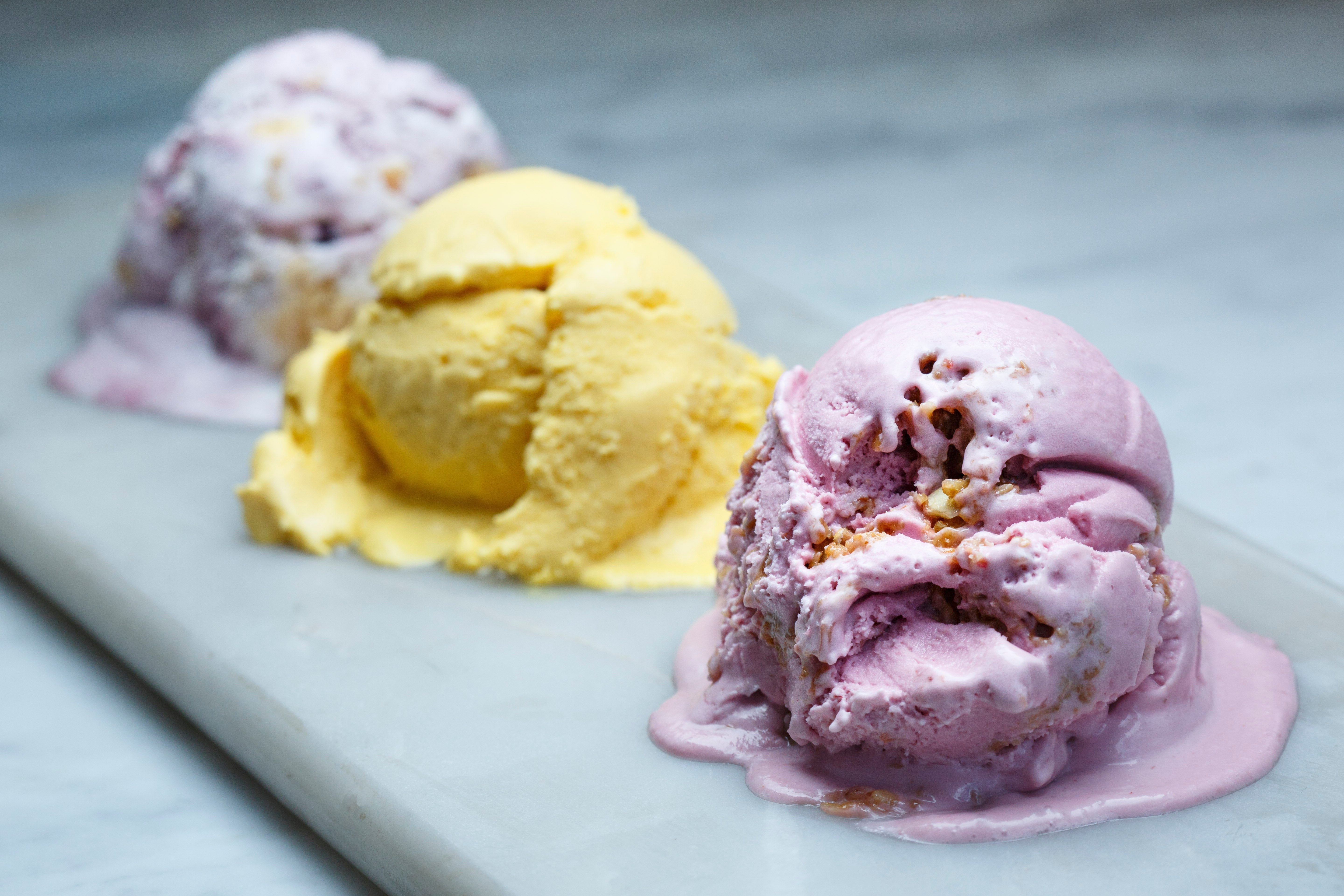 See below for the entire, subject-to-change lineup for Boston Calling, which will take place May 26-28 at the Harvard Athletic Complex in Allston.
General admission food menu
Arancini Bros

Classic ragu  (Saffron risotto with tomato meat sauce, peas, and mozzarella)
Bianco verde (Basil pesto with mozzarella)
Buffalo ball (Roasted chicken with gorgonzola cheese)
Bucatini fritti (Italian-style mac and cheese)
Pizza vall (Margherita tomato, basil, mozzarella)
Our Famous Nutella (Hazelnut chocolate and cinnamon sugar)
Granito pops (Lemon, pistachio, and watermelon)
Big Mozz
Mozzarella sticks
Bon Me

Signature Vietnamese sandwiches and soba noodle salads with choice of filling:
–Spiced rubbed chicken
–Chinese barbecue pork
–Roasted soy and paprika tofu
CopperDome Crust

Artisan wood-fired pizza with a variety of toppings
El Pelon Taqueria
Steak or chicken tacos with rice and black beans
Steak or chicken bowl with a flour tortilla, salsa, Mexican rice, and black beans
Chips, salsa, and guacamole
Firefly's BBQ
St. Louis ribs
Pulled pork sandwich
Pulled chicken sandwich
Barbecue bowl with pulled pork or pulled chicken, mac and cheese, beans, and coleslaw
Pulled pork mac and cheese
Pulled pork mac and coleslaw
Crazy Roo wings
Big side of mac
Barbecue beans
Coleslaw
Cornbread
Potato salad
Flatbread Pizza
Pizza by the slice
FoMu
Ice cream scoops
Ice cream sandwiches
Baked goodies

Joe's American Bar & Grill
Joe's Original New England Clam Chowder
Classic chili
Moyzilla
Katsu- and panko-crusted pork tenderloin with cabbage, aioli, and optional jasmine rice
Rice and cabbage salad with soy ginger dip
Hand-folded pork and red cabbage dumpling
Riceburg
Rice burgers, rice bowls, and salad bowls with the choice of filling:
–Spicy sweet and sour crispy chicken
–Bulgogi shaved steak
–Spicy sweet and sour vegetarian chicken
–Shiitake mushroom
Roxy's Grilled Cheese
Hot honey bacon
Green muenster
Classic grilled cheese with roasted tomato
Grillos pickles
Chocolate chip banana bread
Ruth's Chris Steak House

Steak sandwich
Salad with steak sandwich
Salad with lobster or lobster roll
Vegetable wrap
Sate' Grill
Brown rice with choice of chicken, tofu, or beef
Rice noodles with choice of chicken, tofu, or beef
Mixed greens and veggies with choice of chicken, tofu, or beef
Crispy rolls
Gyoza dumplings
Shuck Food Truck
Oysters on the half shell
Lobster roll, Cape Cod cold
Lobster roll slider
Stone and Skillet
English muffin cheese pizza
English muffin pepperoni pizza
English muffin Hawaiian pizza
The Sausage Guy
Sweet, hot, and Bourbon sausages
Sausage guy brats
All beef hot dogs
Steak tips
The Smoke Shop
Queso mac and cheese
Chopped brisket sandwich
Pulled pork sandwich
Smoked chicken sandwich
Tacos (3 per order) – with salsa verde and cabbage slaw; choice of chopped brisket, pulled pork, or smoked chicken
BBQ Bomb – waffle-filled cone filled with queso mac and cheese, barbecue beans, coleslaw, and choice of pork, brisket, or chicken, and topped with jalapeños
Sides: Barbecue beans, coleslaw, corn bread with honey-sea salt butter
Butter cake
Tasty Burger

Hamburger
Cheeseburger
Bacon cheeseburger
Veggie burger
Veggie burger with cheese
Tots
Chips
Whole Heart Provisions
Veggie bowls with a choice of a base of greens or grains in the following styles:
–Tazon style bowl – Pineapple, corn salsa, Korean black beans, smashed cucumber and tomato, red cabbage slaw and lime vinaigrette with corn nuts
–Miso style bowl – Roasted broccoli, shaved Brussels sprouts, smashed cucumber, pickled carrots, red cabbage slaw with orange miso sauce and toasted sesame seeds
–Viet style bowl – Roasted Broccoli, smashed cucumber, tomato, pickled carrots, savory green beans spicy peanut sauce, and peanut crumble
–Sides: Seared avocados, Food Should Taste Good chips

Zinneken's Belgian Waffles
Sugar Belgian waffle
Toppings: Nutella, banana, maple syrup, cookie butter spread, caramel
VIP food menu
Ruth's Chris Steak House
Beef sliders
Shuck Food Truck
Oysters on the half shell
Love Art Sushi
Shoyu Ahi tuna poke bowl – Hawaiian marinated yellowfin in soy, sesame, chili, garlic, nori with scallions over seasoned sushi rice
Spicy crawfish sushi bowl – Tender crawfish tossed in Sriracha wasabi aioli, topped with panko over seasoned sushi rice
Avocado ponzu boat – Half an avocado surrounded by microgreens, filled with citrus ponzu, topped with furikake over seasoned sushi rice
Puritan & Company (Friday and Saturday)
The choice of tacos, a bowl with grains and greens, or a sandwich with the choice of the following proteins:
–Grilled pork
–Organic salmon, raw or grilled
–Free-range chicken
Doretta Taverna & Raw Bar (Sunday)
Chicken Souvlaki with tzatziki, pickled onion, and tomato
Ancient Grain Salad with dried fruit, nut and seeds, and cumin yogurt
Platinum food menu
Collettey's
The Amazing Cookie
Michael Scelfo, of Alden & Harlow (Friday)
Broccoli with squash hummus and smoked cashews
Kale salad with pistachio and lemon
Pickled corn pancakes with maple, buttermilk, and shishito
Pulled pork with fennel slaw and potato rolls
Nookie Postal, of Commonwealth (Saturday)
Snap pea Greek salad, feta, cucumbers, olives, chilis
Smoked chicken thighs, grilled peach, and scallion relish
Grilled chorizo with red cabbage curtido, lime, spicy crema
Parkerhouse rolls
Will Gilson, of Puritan & Company (Sunday)
Salad with vegetables, grains, and cheese
Salad with spring greens, lemon vinaigrette, herb croutons
Grilled marinated chicken
Herb-baked salmon with preserved Meyer lemon relish
Rice and black-eyed peas
Roasted potatoes with mustard butter
Sautéed broccoli rabe with roasted garlic and Parmesan
Beer and wine menu
Beer
Samuel Adams Raspberry Lemon Gose
Samuel Adams Porch Rocker
Samuel Adams Rebel IPA
Samuel Adams Summer Ale
Miller Lite
Miller High Life
Henry's Hard Soda Orange
Angry Orchard Easy Apple
Truly Spiked and Sparkling, Colima Lime
Pilsner Urquell
Peroni
Mikkeller Windy Hill IPA
Mikkeller Peter, Pale and Mary
Mikkeller Waves IPA
Mikkeller BC Dream Hoppy Pilsner
Mikkeller Raspberry Blush
Mikkeller Hop Geek Breakfast
Mikkeller May 6th Hazy APA
Mikkeller Beer Geek Breakfast
Wine
Dark Horse Cabernet
Dark Horse Rose
Update: The Smoke Shop has told Boston.com that the BBQ Bomb will be made with a waffle cone, rather than the previously reported cone-shaped waffle.